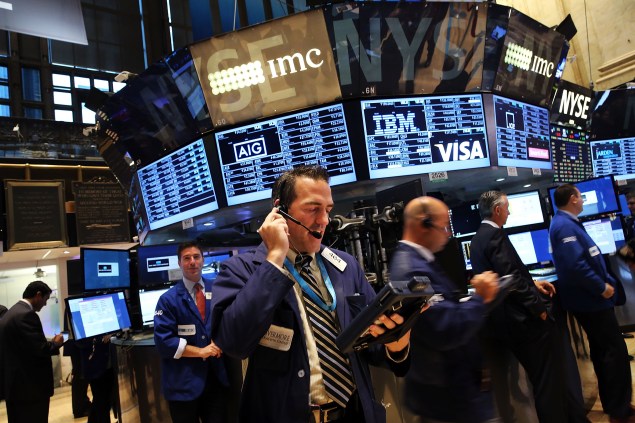 During yesterday's shutdown of the New York Stock Exchange, many analysts worried about catastrophic effects, and conspiracy theorists on Twitter stoked fears about a Y2K-style tech meltdown.
But when the smoke cleared, it turned out the NYSE's computer glitch had done little to stop the momentum of worldwide financial markets—and indeed, the stock exchange's own network had come to its rescue.
No longer solely reliant on the Big Board, investors now use private off-exchange channels called "dark pools," which allow investors to trade stocks away from the public eye—in fact, dark pools comprise about 40 percent of modern stock trades.These pools are controlled by individual actors, who are not necessarily on Wall Street—thus it is harder to disrupt the stock system.
This fragmentation of the market seemingly means more nodes can hack bigger hunks of the market, but as yesterday's events show it has actually had the opposite effect—when more alternative channels are available, Black Tuesday-style crises can be more easily averted.
The reason for this is that the NYSE has transformed itself into a resilient network. The architects behind systems like the NYSE's have identified probable challenges and risks, and used methods such as distributed processing to prevent them from occurring. This allows the network to keep up normal operations even if service is interrupted, giving investors an alternative to dark pools.
The current stock exchange structure is a perfect example of resiliency. There are 11 stock exchanges in the United States, of which the NYSE owns only three—this accounts for about 24 percent of all trades (down sharply from 80 percent in 1997). All 11 work together, however, so when one of the NYSE systems went down, the other 10 stock exchanges (especially the NASDAQ) sprang into action, thus avoiding a flash crash (the momentum continued today—the Dow was up $118 this afternoon.)
Many Wall Street investors are rightfully annoyed that a simple software update gummed up the works for three hours yesterday. But thanks to the NYSE's multi-tiered setup, things ended up much better than they could have.
So rather than bemoaning the lost time on the trade floor, we should give credit to the resilient tech tools that prevented stock market calamity, and continue strengthening them to meet the needs of modern investors.