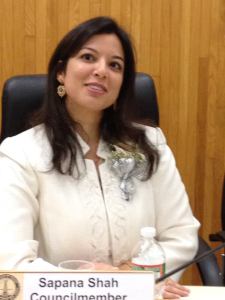 Mild fang-bearing in Edison this week underscores the divide that persists between the Edison Police Department and the town's South Asian community, and the delicate balance newly installed Edison Democratic Committee Chairman Keith Hahn attempts to employ as he tries to lead the party while also wearing a PD uniform as a veteran member of the force.
For Councilwoman Sapana Shah, silence is not an option.
A much publicized incident in which a police officer sent a racist text-message and subsequently ate a 95-day suspension, has Shah, a local attorney by trade, in full-blown fact-gathering mode as the Middlesex County town struggles with the image of a PD built on politics. To the department's entrenched critics, the text message underscores the fact that no Indian Americans or women occupy brass or detective positions at the department.
Last month, Hahn upset the establishment choice to lead the party in part with support from the Democratic Committee's Indian community, but as a cop by trade he has to be careful in his handling of police issues, a notorious battle zone in Edison.
Shah wants answers, but the Local union doesn't want rank and file members supplying those answers if they don't feel like it. In the aftermath of the text message episode, the councilwoman, sources say, has been making phone calls into the department, and her queries got the back up of the local Police Benevolent Association (PBA) President, who fired off a cautionary note.
"Brothers and sisters, it has come to my attention that Councilwoman Shah has been calling members of the Police Department asking numerous questions regarding various subjects," PBA Prez Sal Della Fave wrote this week in a text to union members. "While I can't stop the council from calling people, I can remind you that you under no obligation to answer any questions. In fact, u don't even have to answer your phone. If you wish to talk with her I remind u not to discuss any union business. Our contract, for example."
Dell Fave did not return an email for comment, while Hahn declined to comment on the matter. A source close to the department noted that it is standard procedure at the PD for officers to refrain from talking to elected officials. But Shah questioned the union leader's communication, and responded to PolitickerNJ's request for comment with an emailed statement critical of Della Fave.
"PBA President Dellafave's [sic] text message to his union brethren is curious and upsetting for a couple of  reasons: First, he makes it quite clear: An elected Township Council member has no right to speak with taxpayer-paid police officers," Shah wrote. "Second, Officer Dellafave's text message appears to be an attempt to prevent any independent questions from being asked or answered about recent events involving a well-liked patrolman whose cell phone allegedly contained racially-charged epithets, including derogatory ones about other cops and PBA members.
"How, in God's name, could any reasonable person believe it is right, appropriate, or ethical for a union leader and a sworn law enforcement officer to throw roadblocks in the path of disclosing the facts and finding the truth?" the councilwoman added. "Thankfully – and to their credit – most of Edison's police officers are professionals with great integrity. Many of them have contacted me in strict confidence to discuss what goes on behind-the-scenes in our Police Department. More than ever, I believe that the Edison Township Council should undertake an independent inquiry into recent events and it should publicly support state Sen. Peter Barnes recently proposed legislation."