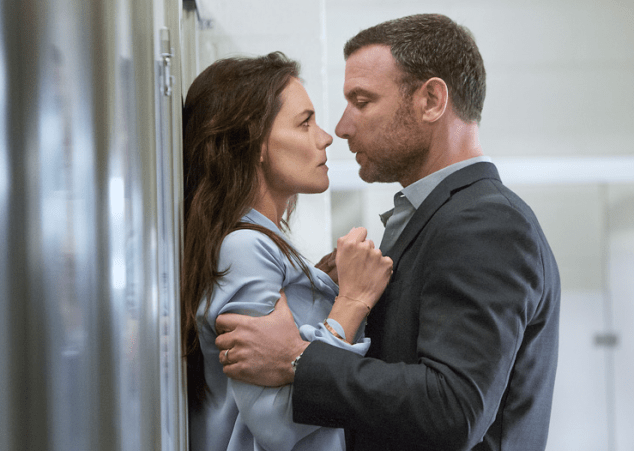 What drives the aging LA hatchet man? Why does Ray Donovan get up in the morning, grab his phone, and start loading all of West Hollywood's corpses into his trunk? For two seasons, Ray's operated on professionalism, an instinct to protect the weak, and a flair for brief bursts of strategic sociopathy. The secret sauce, though, has always been his devotion to Ezra Goodman, his west coast benefactor and erstwhile substitute father. It was a literal secret– never much dramatized on the show and abruptly ended last week when Ezra succumbed to cancer.
"The Ding" finds Ray deflated by the freelance lifestyle and everyone in the Donovan ecology questioning the roles that they've backed their way into. Will Ray settle in beneath the wing of a new fatherly taskmaster? Will Mickey find a sense of purpose and stability in the world of prostitution? Can Abby put Ray behind her and start anew with a stray dog the size of a mechanical bull? It's Ray Donovan, so some of the answers may somewhat surprise you…
THE MAIN EVENT
Paige Finney, high-powered sports agent and even higher-powered prestige television casting coup, summons Ray to the sunny climes of San Diego for some football-related bagman work. The local star quarterback has stepped out with the wife of a Navy SEAL, and said SEAL has threatened to kill QB Troy. Ray convinces him to take a half million dollars in exchange for his cooperation, but upon delivering him to a hotel room to sign an NDA and collect his check, they learn that they've been bamboozled. Paige has arranged for them to arrive at a hotel where QB Troy and SEAL's wife are having another fling, intending for SEAL to assault QB Troy and to deliver himself into the arms of the law. SEAL breaks QB Troy's arm but evades capture, and Ray insists on offering SEAL the agreed-upon half million, which is ultimately underwritten by Ian Finney. While he's got Ray's ear, Ian offers to hire Ray and and buy his entire business, but Ray's feeling too blue to consider that type of transaction.
THE UNDERCARD
Mickey Donovan calls a staff meeting of the prostitutes who served under the pimp he's just drowned. He learns in short order that he's lost touch with the day-to-day practicalities of the flesh trade. Undaunted, he embarks on a scheme to borrow ten thousand dollars to purchase cocaine for his (his?) prostitutes to distribute. He makes these arrangements all while shepherding Ginger's daughter Audrey to an audition, because Ray Donovan is tonally bold.
Bunchy attempts once again to collect dues from the Fight Nite's resident luchador squad and misses once again by a country mile. Teresa complains that the locker room is dirty and draws Bunchy into a very strange performance of psychosexual domination, forcing him to clean the floor with a toothbrush as she castigates him. Later, as Teresa continues to rehearse, Bunchy retires to the office and masturbates.
We finally check in on Terry, whose life in prison is almost as grim as his life on the outside. When a jail yard scuffle reveals his pugilistic skills, Terry becomes the target of a gang of huge trapezoidal white supremacists. The prison doctor warns him that being beaten and stabbed repeatedly will aggravate his Parkinson's Disease, and he's shipped off to solitary for his own protection.
The Abby Update: Abby catches Connor masturbating, Abby takes an afternoon nap with The Colossal Dog, and Abby fails to entice Ray to come home for dinner.
Ray Donovan is largely about men and women struggling against the ties that bind. Ray can't rid himself of Mickey, Abby can't get by without Ray, Bunchy can't escape the long shadow of Father Danny, and so forth. As the wheels of season three begin to spin, the show is most satisfying when characters show some caution about lashing themselves to new problems. The Finneys seem like trouble even to long-time disaster manager Ray Donovan, and it's gratifying to see him spurn their advances. Similarly, Terry has become the most relatable character on the show simply by choosing to turn his back on the chaos and take his lumps.
Everyone else has stomped on the gas pedal and driven the show into some of the silliest territory that it's explored. There is not much sense in Paige's shenanigans, nor in Mickey's fresh start as a bumbling pimp, nor in Bunchy's budding role as a sexual submissive. Ray Donovan has shown that it can deftly pivot from the grave to the glib, and quite frankly, neither of these modes, taken separately, would be worth pursuing. But after two seasons, the show has still to demonstrate that the combination can do more than highlight the emptiness of both.
NOTES FROM TERRY'S MEDICAL FILE
It's the showy prison guard who distributes shoeboxes full of contraband in the cafeteria at lunchtime.
"I'm land rich and cash poor, just like all the big guys," says the ex-con hitting up his grill dealer's mother for a cocaine loan.
Be the hit of your next cocktail party: "Ding" is a derogatory prison term for a person suffering an illness or infirmity.
Didn't catch the name of that there San Diego-based NFL team! It's the Chargers, right? Katie Holmes must have been standing in front of all the Chargers and Qualcomm logos in the Chargers' facilities at Qualcomm Stadium.
Both Bunchy and Conor forget The First Rule Of Masturbation: Keep it simple.
Not recommended: taking a nap with a stray dog the size of a picnic table.
Ray Donovan can't give the same deep examination of prisoners and prison life that Orange Is The New Black does, but Terry's cellmate sings "The Power Of Love" day and night. That's not nothing!