Many shopaholics (this writer included) face a frequent conundrum, especially when tiny New York City apartments are involved. The issue du jour includes having a closet that is bursting at the seams with clothing, sidled with a rather strong desire to just keep shopping. Clearly, these two issues don't compliment each other well. But fret not, fellow fashion obsessives, Reformation has a remedy for that.
Launched just yesterday, the stylish yet eco-friendly brand is introducing RefRecycling. The premise of the program is that each purchase made on the Reformation website will arrive with an extra complimentary postage sticker. Once you've oohed and ahed over your new purchase, simply fill the Reformation box (or any box of your choice) with outcast clothing (including acid wash jeans and lamé dresses), stick on the extra postage sticker and set it out for pickup. Then, your work is done, plus, you'll get a few positive karma points.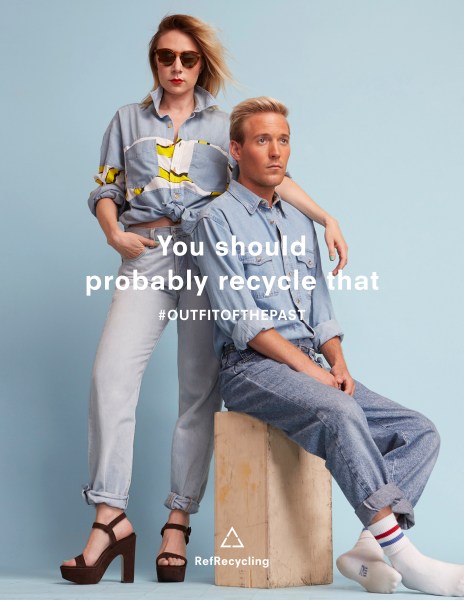 What will happen to your donated outcasts? Reformation has teamed up with Community Recycling, a Pennsylvania-based donation center, which promises to either reuse or recycled your old threads. While winter coats and damaged items won't be accepted, everything else from linens, to shoes and handbags will be taken.
Those who would like to see where their beloved product is headed can log into their Reformation account for those details. The site will also explain the environmental impact of these donations. The brand's founder and CEO, Yael Afalo explained to the Observer: "We are showing people where the clothes are going, so there's a bit of transparency around it that gives them confidence in how they're making a difference."
It turns out, upcycling clothing really does make a big difference. Annually, Americans toss out 68 pounds of clothing, per person. Most times, that clothing just sits in landfills and as it decomposes, it releases CO2 into the air which accelerates global warming. Additionally, recycling fabrics leads to lower water use and less water pollution, which occurs during the textile dyeing and treatment process.
Now, you can finally state, with accuracy, that your shopping addiction is saving the world. Thanks Reformation.