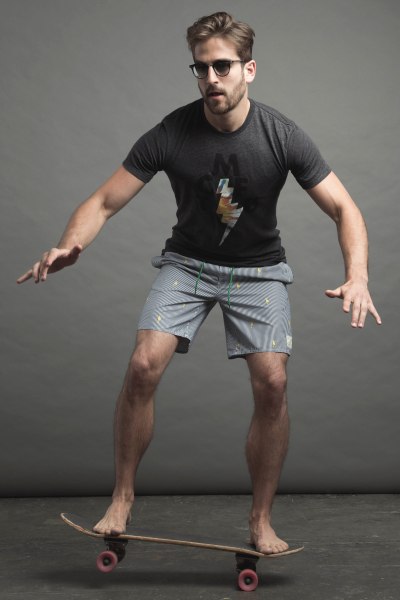 The latest collab to hit the market might have you waiting for the mailman instead of lining up in stores.
In its first ever designer collaboration, men's fashion company Five Four Club teamed up with designer Mark McNairy to launch a camping-themed capsule collection, titled Camp McNairy, which will only be available to Four Five Club subscribers. To boot, the partners in this collab kicked off their latest line with a launch party on Tuesday night at the James Hotel.
This ingenious delivery startup, similar to services like Birchbox, takes the work out of shopping for men who want to look put-together. By choosing and mailing them clothing each month, Five Four Club is ideal for gents who may not have time to peruse stores or style-smarts to follow trends. When signing up for the service, men choose whether their style is classic, casual, forward or mixed which will determine the type of clothing they receive. Then, each month a curated package containing a few items of clothing – all designed in-house – arrives on your doorstep.
"My theory is that 90 percent of men don't enjoy shopping," co-founder and Chief Executive of Five Four Club Andres Izquieta told the Observer. "When you sign up for Five Four Club, you want to make your life easy and we make the choices for you."
All 85,000 of Five Four Club subscribers will receive pieces from the limited-edition capsule collection in their July packages. Featuring quirky button-downs with asymmetrical patterns, eclectic shorts and graphic tees, the collection stays true to Five Four's classic, urban look, yet pushes the boundaries a bit more than usual, creating an aesthetic that is "unique, yet very attainable for someone who is not very fashion forward," Mr. Izquieta said.
Four Five Club has a commitment to keeping its subscribers looking trendy and modern, while still sending them items they'll feel comfortable wearing. This is where the collaboration with Mr. McNairy came in, Mr. Izquieta explained.
"We're telling you what's new and what's cool and what's a trend. It's our duty to our members to always be on the peak of what's cool. We thought that Mark was very relevant and its our job to deliver that to them," he said.
Five Four Club is also providing its subscribers with designer duds at a shockingly low price point. Men will receive several items designed by Mr. McNairy in their $60 monthly package, while items from his personal line are much pricier—short sleeve button-down shirts on his website cost $170 each.
For those who want more of the designer's look, the collection's pieces will also be made available a la carte online, though only Five Four Club subscribers will be able to shop these pieces. Mr. Izquierda also noted that new subscribers this month will receive items from the collection in their deliveries, as long as supplies last.
Five Four is designed so that subscribers get the basic essentials to fill up their wardrobes through the seasons, until "over the course of time, their entire closet is filled with Five Four," Mr. Izquieta said. The pieces from the latest collection are meant to blend seamlessly with the Five Four pieces already in their customers' wardrobes.