The ride-sharing app Uber takes its name from the German word for a "supreme example of a particular kind of thing." Now that its advertisements are on every cable, broadcast and radio station in and near New York City, one guesses it takes its marketing style from another German word—blitzkrieg.
If you live in or near New York City, you know the ads—Jashiel, Lassana and other "Uber Driver-Partners" explain that they make more money and enjoy greater freedom driving for Uber as the company fights Mayor de Blasio's proposal to cap the number of TLC licenses it awards, a plan the company says will "destroy 10,000 jobs."
Packed with hires from political backgrounds, it is no surprise that Uber would take to the airwaves to launch a defense of its business practices that looks more like a presidential campaign than a business dispute. After all, Uber's chief adviser David Plouffe successfully steered Barack Obama to victory twice, and their communications team is littered with political hands, from Stu Loeser (late of Bloomberg Administration) and Alix Anfang, an SKDKnickerbocker vet who cut her teeth with Eric Schneiderman.
But the size of the ad buy is eye-popping. According to an analysis by Jamestown Associates, a political and media buying firm headquartered in Philadelphia (I used to work there), the Uber campaign is on the air on at least 17 cable systems, five broadcast systems and three radio stations. That doesn't even count the Spanish-language radio systems, which the Observer was first to report yesterday.
The single greatest beneficiary of Uber's largesse is WABC Channel 7, which is getting a whopping $968,300 to run :30s between July 16 and July 23. WCBS and WNBC are next with $629,000 and $620,000. On cable, the largest buy is $184,060 on System 3320, which is the system code for the New York Interconnect (known as "NYI Full Market NY DMA")– a patchwork of systems that gives a buyer access to just about anyone in the area with a cable box, regardless of provider. Uber is also running :60s on cable, which ain't cheap. The biggest radio buy Jamestown could find is $40,800 for WBLS –FM the Emmis-owned station at 107.5, which tells you that Uber is hoping to reach an R&B friendly crowd, as one of the arguments for Uber is the problems minority members encounter when trying to hail traditional yellow cabs.
All told, the listed buys come to $3,250,674, and that's just for one eight day period. It's a staggering sum, even for the nation's most expensive media market.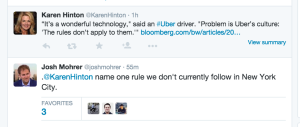 Uber is hardly using TV as its only tactic. With a doomsday app that depicts how awful things will be if Mr. de Blasio's plan is implemented and daily updates to reporters about how in the tank the mayor and the council are for the medallion owners, it's a full-on campaign. To the point of ridiculous, at times. One press release the Observer received was so goofily akin to a political campaign that just running its subject line without comment tells you everything you need to know: "LOCAL CLERGY AND FAITH LEADERS HOLD MEDIA AVAILABILITY WITH UBER EXECUTIVE DAVID PLOUFFE AFTER ROUNDTABLE AT SYLVIA'S RESTAURANT IN HARLEM."
Meanwhile, Uber's New York's General Manager Josh Mohrer has taken to publicly feuding with elected officials and others in government who are attacking the company. He had one Twitter feud with City Councilman Ydanis Rodriguez, who himself has sounded more like a lawyer for the medallion holders than someone with the best interests of all New Yorkers in mind, and is now battling de Blasio spokeswoman Karen Hinton.
With a decision on limiting the TLC licenses expected any day, it's hard to say how the issue itself will resolve. But there are already some definite winners: cable systems and broadcasters during a traditionally slow summer season.
[protected-iframe id="78a00f301a0c5d41757295baaeecf80a-35584880-44406076″ info="https://www.youtube.com/embed/xFOQ6ID6lvk" width="635″ height="315″ frameborder="0″ allowfullscreen=""]