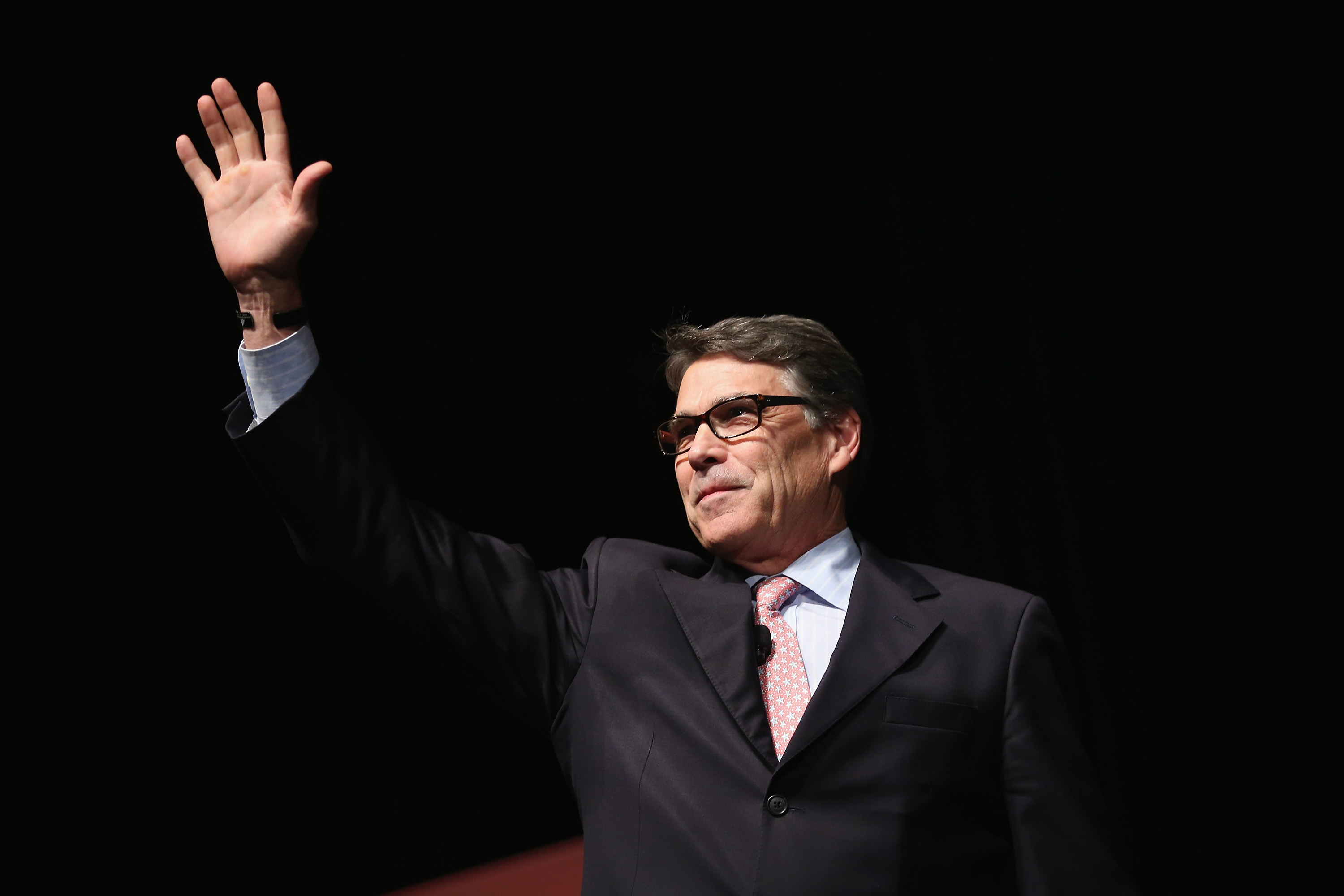 Flaying the Clinton administration of the 1990s for driving the economic collapse of 2008, former Texas Gov. Rick Perry warned in an economic address that the "next crash is on the horizon."
"Distrust with Wall Street and with Washington is probably greater than at any time in our history," Mr. Perry said at a Midtown luncheon for the Committee to Unleash Economic Prosperity, a pro-business group. "Wall Street should not be left off the hook for their bad behavior … instead of them being punished, it was the average American who paid the tremendous price. The fact of the matter is, to be quite frank: we got screwed."
Striking a populist chord heard frequently in liberal circles, the Republican presidential candidate blamed Wall Street and reckless governmental housing policies for the country's ongoing economic malaise. He said he would work to free up credit for small businesses, repeal Dodd-Frank financial regulations and not bail out any large Wall Street banks.
He said Freddie Mac and Fannie Mae, the government-backed mortgage lenders, were part of an effort that turned capitalism into "corporatism," pushing shoddy loans on unwitting borrowers who lacked the resources to afford a home. "I'm tired of politicians bashing Wall Street while ignoring the sins of Washington, D.C. It was Washington regulators who fell asleep at the switch," he said.
"During the good times of the 90s, the seeds were sown to do great harm to the middle class of America," he added, noting that the Clinton economy led to "economic chaos." With Fannie Mac and Freddie Mae still undertaking what he deemed "relaxed credit standards," Mr. Perry said another economic crash was imminent.
In an attempt to separate himself from a packed field of more than a dozen Republicans, Mr. Perry boasted that "no one running for president has a stronger economic record than I do." He blamed former Florida Gov. Jeb Bush, a front-runner for the GOP presidential nomination, for driving economic growth that relied too much on the housing bubble.
But his biggest targets were the Clintons, both the former president and his wife, now the top Democrat running for president. Mr. Perry lashed out at Hillary Clinton for calling for a higher capital gains tax, noting she didn't support the same when she ran for president in 2008, and accused her of holding an antiquated view of the economy and labor.
He attacked "Warrenism," the progressive brand of politics represented by Massachusetts Senator Elizabeth Warren, and said the agency she helped create, the Consumer Financial Protection Bureau, was imposing an unfair regulatory burden.
"Democrats have this 1915 view of the 2015 economy," Mr. Perry said, taking a passing jab at Ms. Clinton and "big city liberal mayors" for trying to clamp the growth of start-ups like Uber. He argued for "regulatory breathing room" for digital currencies like Bitcoin.
Mr. Perry was feted by several business leaders, including John Catsimatidis, the Republican billionaire who ran for mayor two years ago. A governor of Texas for 14 years, Mr. Perry was viewed as a rising star in the GOP until his disastrous 2012 campaign for president. After he struggled in a televised debate to name the three governmental agencies he wanted to eliminate, his stock plummeted.
Now, he is one of many Republicans fighting for oxygen in a field led by Mr. Bush, Florida Sen. Marco Rubio, Wisconsin Gov. Scott Walker and, for the moment, billionaire Donald Trump. (The lone question he fielded from a journalist was about how Mr. Trump had insulted him.)
But Mr. Perry is hoping his experience governing one of the largest states in America will allow him to stand out in the crowd. He promised he would get at least 35 percent of the Hispanic vote, a holy grail for a Republican Party that has struggled to win over nonwhites.
"I know what it takes to get Main Street back on its feet," he said. "If you let people keep more of what they work for, if you give them freedom, they will come to you."