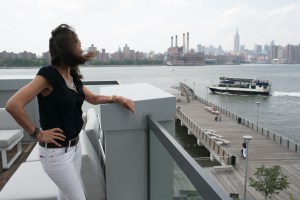 "There's just something sexy about going to work on a boat."
So sayeth Casandra Properties' principal John Pitera. Of course, as a real estate broker working Staten Island's north shore, Mr. Pitera might be accused of talking his book.
Ask around, though—as the Observer recently did—and you'll likely come across plenty more New Yorkers who feel the same way. Underneath every harried straphanger, it would seem, is a yacht-rocking sea dog yearning to be free.
Williamsburg resident Maria Makres began taking the East River Ferry to work each day upon moving to the neighborhood's One North Fourth rental building in March.
"I'm absolutely 100 percent obsessed with [the ferry]," she said. "It changed my life."
How, exactly?
"I've lived in the city since 1996, and this is my first [apartment] outside [Manhattan], and I've always taken the subway, which is obviously a complete nightmare," Ms. Makres said. "Once you use the ferry, you don't ever want to take the subway again. It's the biggest stress reliever. You can just tune out and have that calmness that I think every New Yorker craves."
When you're zipping about underground or navigating forests of skyscrapers, it's easy to forget that New York is basically just an overgrown beach town. With some 520 miles of coastline, the city has more waterfront than Miami, Boston, Los Angeles and San Francisco combined. And as that waterfront sees more and more residential development, ferries are becoming a more prominent, and plausible, part of the transportation mix.
With many recent and planned waterfront projects having less than ideal subway access, developers have looked to ferries as a sort of transportation gap-fill.
New York isn't about to become the new Venice—the city's waterways transport around 100,000 passengers each day, compared to roughly 5.6 million daily passengers for the subway. But ridership and service are up across the city's ferry systems. And in February the de Blasio administration announced plans to further expand water transit starting in 2017 by adding up to six new routes along the East River and subsidizing fares to bring them down to the price of a MetroCard.
With many recent and planned waterfront projects having less than ideal subway access, developers have looked to ferries as a sort of transportation gap-fill. Some, in fact, have gone so far as to subsidize service to their buildings. For instance, in 2006, the developers behind the South Williamsburg waterfront complex Schaefer Landing agreed to a five-year deal in which they paid New York Water Taxi annual fees to defray the cost of running boats to the site.
Owned by the Durst Organization, New York Water Taxi is itself something of a developer's play, though in recent years the company has scaled back its commuter business, particularly along the East River; in 2011, a city bidding process awarded these routes to rival firm NY Waterway.
NY Waterway runs more than 20 routes on the Hudson and East Rivers connecting New Jersey, Brooklyn and Queens to Manhattan. Owner Arthur Imperatore launched the business in 1986, inspired, he said, by a boat trip he took from property he owned along the New Jersey waterfront to Midtown Manhattan.
"At that time I owned a yacht, and I did some runs from my property to a point around 43rd Street, and I realized that my land was closer to so-called New York than many parts of New York," he said. "So I realized that in order to create value I had to tie my land on the west side of the river into the land on the east side of the river. I realized that if I brought transportation [to the Jersey side], I could have access to New York and New York's money."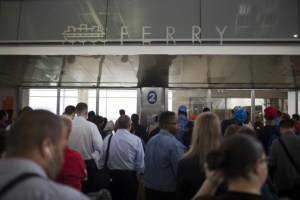 "I wanted to get rich," Mr. Imperatore recalled. Although, he noted, the plan didn't work out exactly as expected.
"Actually, I was already pretty rich. In fact, I was a lot richer than before I started the ferry," he said. "I used to have a large fortune. Now I have a small fortune. The ferry ate up a lot of it."
In recent years, the business has gained a more solid footing, Mr. Imperatore said, calling it "not yet a money machine, but a stable and reliable means of [transportation]."
"Depending on the neighborhood, [ferry service] can really make a big difference," said David Maundrell, president of real estate firm aptsandlofts.com. "Neighborhoods like Greenpoint or Red Hook, having [ferry service] there is a major selling point and it's a real viable option for getting into the city."
Henry Waller, vice president at Toll Brothers City Living, cites the example of his company's Hoboken condo development Maxwell Place.
"A tremendous number of our buyers work in the city, and in order to get to the PATH it's about a 20-minute walk," he said. "So the ferry is probably the best and fastest option for those people to get to the city."
"If we didn't have the ferry, would this still be a great place to live?" he said. "I think so. But having that sort of transportation on the doorstep is certainly a compelling thing."
'Neighborhoods like Greenpoint or Red Hook, having [ferry service] there is a major selling point and it's a real viable option for getting into the city.'—David Maundrell, aptsandlofts.com
"I don't know that [potential residents] actually seek [ferry service] out," said Molly Bonnell, an agent at MNS and leasing director at One North Fourth, "but it is absolutely an added bonus."
"It's a good selling point for sure," said Compass agent Kristin Thomas-Senior, who has worked in a number of buildings along the North Brooklyn waterfront.
"Everyone thinks it's interesting and unique." Whether a resident plans on actually using it, though, "all depends on what their commute is like," she said.
Matthew Gonzalez, a medical student at New York University who is soon to move into The Edge condo development along the Williamsburg waterfront, said that the ferry, which he takes to work most days, factored significantly into his choice.
"I don't know if I would have picked this exact area if the ferry didn't exist," he said. "I probably would have lived a little closer to the L."
And, once residents get used to taking the boat, they may be reluctant to give it up. Ms. Makres said ferry access would be a "huge" factor in choosing a new apartment should she move again.
Katherine Blostein, who moved with her family from Battery Park City to Maxwell Place in March, said that she's taken the ferry to the 38th Street landing, then taken a NY Waterway shuttle to her office at 34th and Park nearly every day this summer.
"I've gone up on the top [deck] to sit and look at the beautiful buildings," she said. "The sun is in my face. It feels good. I love it."
And while the ferry tends to be more costly than the subway (NY Waterway tickets start at $4 for a single ride along the company's East River routes), Ms. Blostein said she's actually saving money by cutting down on the cabs she used to take to avoid the subway.
Of course, money is no object when it comes to the grand old man of New York's waterways—the Staten Island Ferry, which the city has run since 1905. The ride is free. Although, said Mr. Pitera, many borough newbies don't realize it.
"A lot of people who are looking at the Staten Island market for the first time are pleasantly surprised to hear that," he said.
"I've always found it to be quite the attribute [when selling real estate]," Mr. Pitera added. "It's very reliable, and it's free. You can't beat that combination, especially in New York City. Nothing is reliable and free!"
Charles Garone, who moved to the island's St. George neighborhood just over a year ago after spending most of his adult life in Manhattan, agreed.
"Instead of running and getting a taxi or jumping into the subway, all that good stuff, you get to sit outside and feel the wind and watch the city come toward you," he said. "It's a great ride."