Sixteen years is too long. It's multiple lifetimes for an athlete. It's eons for the best soccer players on the planet.
It's been 16 years since the best sports program in the US has taken the top prize and written its happily ever after ending. 16 years since Mia Hamm, Julie Foudy, Brandi Chastain and company inspired a generation after a creatively celebrated penalty kick for the 1999 World Cup Title.
The current members of Team USA know too well about the passage of time. Years, minutes, seconds.   They know intimately about opportunity lost during the final minutes of regulation at the 2011 World Cup Final, when the same rival they'll face tonight sneaked by them to take the prize home to Japan. They know they started the 2015 World Cup slowly and awkwardly. They know the greatest goal scorer in international soccer history will play from the bench. They know their best player is still not at 100%.
None of this matters now. And, still, it all matters. Because time spent and experience earned are what it's about in sport. They dictate what you are capable of handling when the pressure is on. There is no more prepared and capable Team than the US Women's National Team.
Oh, I want them to win. I want the final chapter of Abby Wambach's iconic World Cup career to be glorious and happy. I want to celebrate vicariously with every goal and success. But, that's for me – the fan. I wish something very different for these players.
Dear Team USA,
I wish that you experience each exquisite moment as it unfolds today. There is no future. There is no past. There is only now. This moment in time.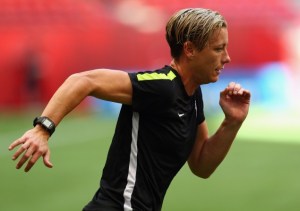 Enjoy the anticipation, the confidence you've earned. Revel in every note of your favorite song thumping on repeat in your Beats. Enjoy breaking bread with your Team – the women who will fight beside you with all the muscle and finesse they have. Double and triple check your gear bag. Leave your phone alone – it will wait.
The travel to the stadium – is it quiet, slightly tense? Is the team comedienne entertaining you like always? Are there horns honking in respect? Mark this moment.
Walking into the stadium. The smell. The hum of the crowd. Their anticipation, hope, and prayer fill the air. Reporters shouting awkward and uncomfortable questions. It is what you've worked so intensely for all these years.
Lace your cleats with purpose. Pay attention. Tie on your pre-wrap head band. Don your jersey with pride.
Mark the first drop of sweat from your warmup. Feel your heart beating in your chest. Feel how every breath you take and every touch of the ball centers you. This is your field tonight. Yours.
Most important of all, pay attention to the women standing with you. Your Team is the single most important part of this moment. Because, no matter the outcome, win or lose – they will travel with you for a lifetime. As you will always travel with them.
The blessing of this day is your Team and all the little moments that built this epic one.
You got this. Go USA!
With all confidence,
A fellow athlete and huge fan,
Ann Swisshelm
Ann Swisshelm is the Head Coach of USA Curling, Women's National Team. As an athlete, she represented Team USA at the 2002 and 2014 Olympics. She is a member of the only US Women's Curling Team to win World Gold – 2003. As nominated by her peers, she is the winner of national and international sportsmanship awards. She has 15 US National Championship medals—5 gold, 7 silver, 5 bronze. Most recently, she was named 2014 US Olympic Committee Female Curler of the Year.