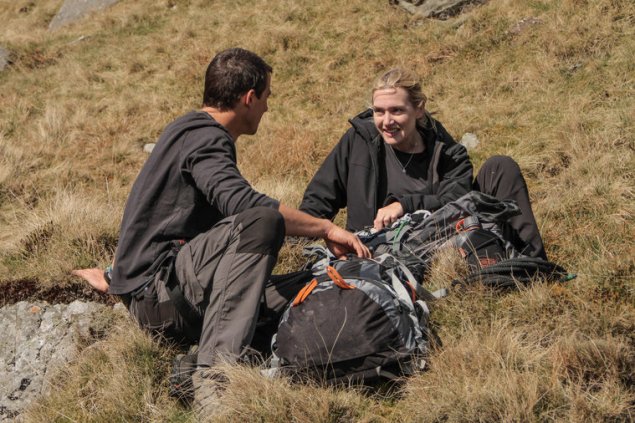 This was a strange episode of Running Wild with Bear Grylls. Not because Kate Winslet isn't a lovely person — quite the opposite, actually. She's almost too lovely? I don't trust people that are that pleasant in any scenario, much less dangling off the side of a cliff-face. But pleasant she was, and pleasant was this episode. The image of Bear and Kate Winslet having tea on a mountainside should probably replace the British Flag, in my humble opinion.
But it was strange in the sense that whoever put this episode together seemed determined, nay, hellbent on reminding the audience that Kate Winslet is an ACTRESS, and BEING AN ACTRESS won't help once she's RUNNING (in the) WILD. I mean, I know there's usually at least one "if they think [insert job] is tough, just wait until Bear Grylls makes them [insert terrifying wilderness scenario]." But this episode had several. It was slightly overbearing (pun so very intended). It wouldn't have shocked me if by the end a voice-over was saying something like  "Once you're, uh, forced to plunge off a waterfall, uh, acting lessons are, um, not going to help a whole lot!"
Luckily, all this show has to do is teach me how to light a fire using lip balm and a tampon, and I'm immediately back on board.
Here are the most pivotal moments of Bear Grylls and Kate Winslet's adventure across Northern Wales' Snowdonia Mountains.
This episode has one of the best Running Wild openings of ALL TIME TWO SEASONS. Bear decides to take a break from his usual "jump out of a helicopter" introduction, and instead straps himself into some sort of…wind parachute flying machine? It's amazing, in no small part because it gives Bear Grylls a more than passing resemblance to the pyromaniac Batman villain Firefly.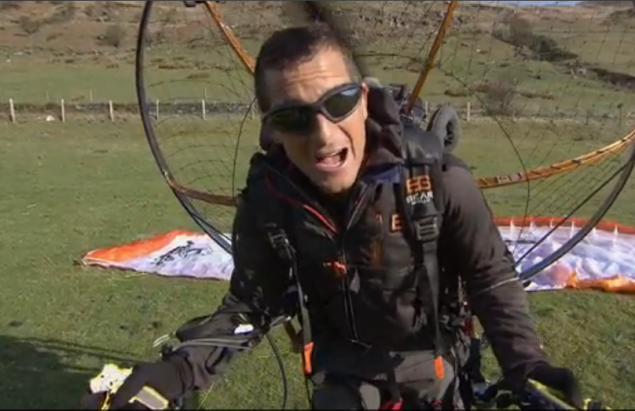 The moment after Bear lands in front of Kate, we're treated to perhaps the most heartbreaking moment in Running Wild history. Because Kate is wearing a backpack, Bear mistakenly thinks she hiked all the way to this point. The happiness, the pure child-like glee in his voice at the idea that someone else likes hiking half as much as him, makes Kate's revelation that a bus dropped her off all the more devastating.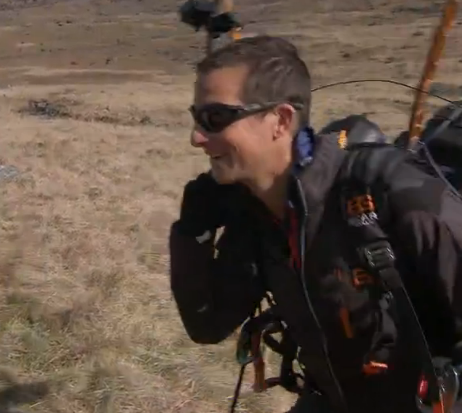 Despite his obvious life-altering disappointment, Bear still finds it in himself to fly Kate up into the mountains. While landing, Bear demonstrates one of my absolute favorite parts of this show: because he is an indestructible hiking robot built in a remote laboratory off the coast of England, sometimes Bear's survival advice in the moment is lacking. Example number one: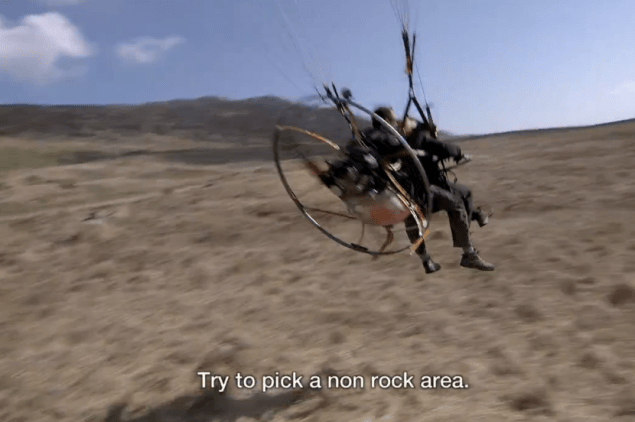 During the first rappelling segment, in which Kate Winslet dangles helplessly off a mountain for an extended period of time, example number two:
I just want to take this time to applaud whoever is in charge of the closed captioning for Running Wild. I highly recommend turning them on during your viewing because of their colorful choices of words. Every single scenario seems more suspenseful if the words [rope creaking] is on your screen. I also must give them props for not once, just for their amusement, sneaking in a completely wrong choice of words.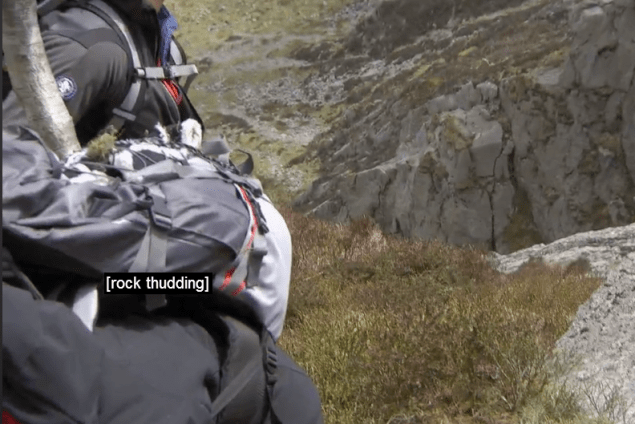 We end up getting our first serious convo of the episode, and it revolves around, of course, Titanic, and Kate Winslet's reservations with being famous. ""Red carpets are fun but…I prefer to be at home," she says. Speaking from experience, the journalists covering red carpets feel the same way only times 1 BILLION. It's a great conversation, until Bear remembers that he'd also be at home. Unfortunately, his home is dangling on a rappel line.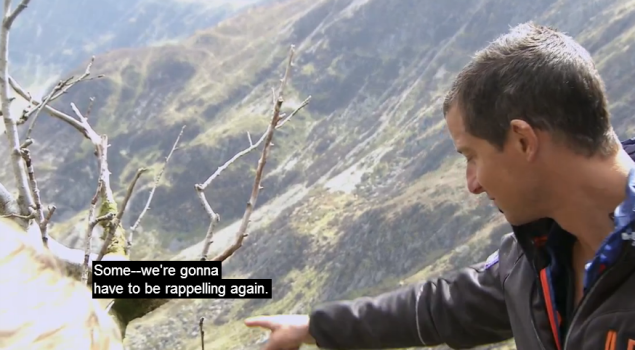 Since Kate had a bit of trouble with her first foray into rappelling, and because they are traversing through some truly precarious areas, Bear decides he needs to keep Kate on a "what's called a short rope." He declines to mention how hilariously short this rope actually is.
IN CASE YOU HAD FORGOTTEN THAT A MOVIE SET IS DIFFERENT FROM THE SNOWDONIA MOUNTAIN RANGE.
I'm going to present these next two pictures, which are basically identical shots of a river fish, without comment and let you decide which quote is from Bear Grylls and which quote is from Kate Winslet.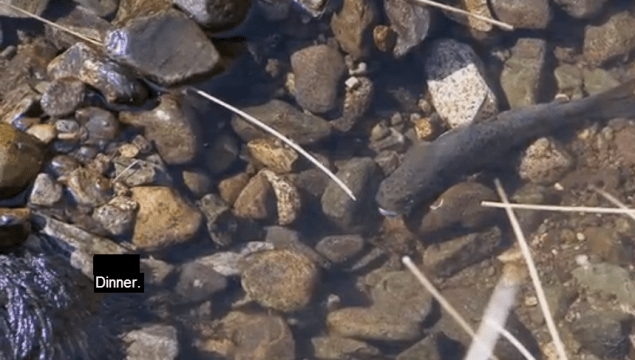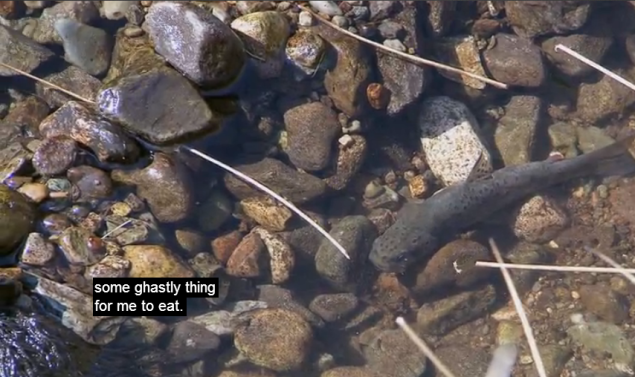 After creating a fire from lip balm and a tampon, which is actually kind've helpful, Bear and Kate have another deep convo. Kate tells Bear a story of how she once saw a childhood bully all grown up and working in a department store, and told her  "thank you for being such a bitch, because it made me stronger." I have never wished for anything as hard as I wish that Kate WInslet said that to the wrong person. Do you know funny that story would be on the other end? "Yeah, that girl from Titanic walked up to my counter and called me a bitch? Not really sure what that was about."
Speaking of Titanic, during the final face-first rappel of the episode, Kate of course recreated her famous "I feel like I'm flying…if you jump, I jump" lines from the movie. Which, yeah, I get it. I think James Cameron snuck a clause into all his actor's contracts that they have to mention Titanic every ten minutes no matter what they're doing. But it really makes you wonder about the fact that these lines which people gleefully quote are taken from a movie about one of the worst real-life disasters ever. Also, "if you jump, I jump" is not a phrase you want to say to Bear Grylls, because that crazy motherf*cker will jump.
If the Titanic references weren't enough, Bear and Kate end this episode on a boat. Kate even makes room for two people! She's learning.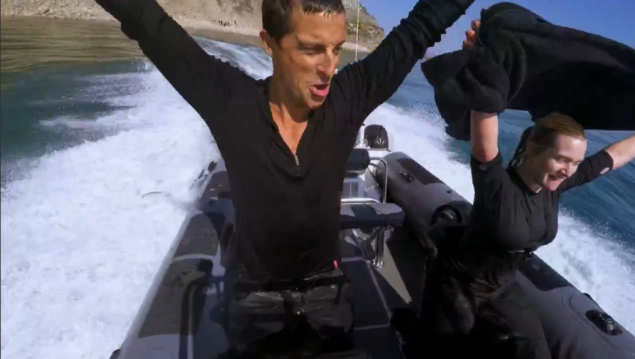 Next week on Running Wild, we have Hangover trilogy star Ed Helms. Let's hope this vacation isn't as much of a disaster as his last vacation.