A penthouse at 25 Columbus Circle has sold for $50.9 million. Which, while no record in this day and age of steroidal sales, is still pretty impressive.
City records show that the seller is Southerdown Inc., which as the New York Times reported in its "Towers of Secrecy" series earlier this year is none other than Russian financier Andrei Vavilov.
The buyer, meanwhile, remains mysterious, at least for now, having the considerably less colorful name for its shell company: Columbus Family LLC.
According to the Times, Mr. Vavilov acquired massive wealth during the first few years of Vladimir Putin's presidency, when in 2003 an oil company he bought for $25 million was taken over by a state-controlled enterprise for $600 million. Like many Russian billionaires, he elected to put some of that wealth into the New York real estate market.
The Time Warner Center penthouse hadn't been Mr. Vavilov's first choice, but when a deal at the Plaza fell through—Mr. Vavilov found the penthouse's low ceilings and bathroom tile to be inferior—he and his actress and dancer wife, Marina Tsargradskaya, settled on the over 8,000 square foot Time Warner Center apartment, purchased for $37.5 million in 2009.
The apartment is the largest full floor penthouse in the building and the couple definitely didn't need to worry about low ceilings—per the listing, they're over eleven feet tall. And we assume that Mr. Vavilov brought the condo's 8.5 bathrooms up to his exacting standards.
Mr. Vavilov placed the 14-room apartment on the market in 2013, asking $75 million, before giving it a breather when it failed to sell. It was back on the market this year, asking for $60 million, with Brown Harris Steven's Paula del Nunzio, who declined to comment.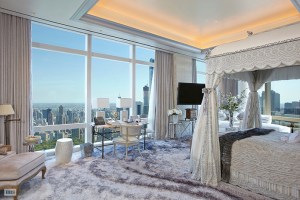 According to the Brown Harris Stevens listing, the six-bedroom apartment has been completely gut-renovated and decorated by designer Tony Ingrao in "international modern style" at the Mr. Vavilov's behest. The penthouse has floor to ceiling glass windows, from which you can see views in all four directions. The only downside, it seems (at least via the listing photos), is that with so little drywall, you may end up hanging your Elizabethian oil paintings on the apartment's support columns.