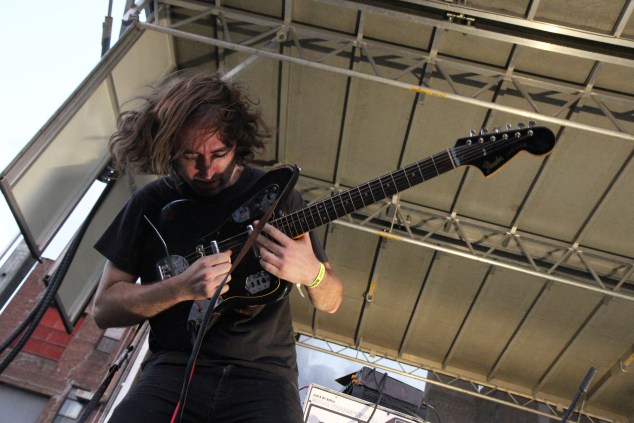 It's no secret New York City is not the musical breeding ground of yore. Anthologized accounts of Patti Smith breaking onto the Max's Kansas City scene, or Brian Eno recording a bunch of bands he discovered at a Tribeca art gallery in 1978 and giving birth to "No Wave"… these are hard origin stories to imagine in our fair city circa 2015. If you're wondering why, look to the all-too-familiar culprits—rising rents, police cracking down on DIY spaces, et cetera. James Murphy of LCD Soundsystem prophesied such gentrification when he sang "take me off your mailing list" in "New York, I Love You But You're Bringing Me Down," but earlier this summer he opened up a wine bar in Williamsburg. It is appropriately named Four Horsemen.
More bands are realizing that having a pack mentality is fast becoming the best way to ensure folks show up to see them play.
Apocalypse notwithstanding, musicians still need outlets for community engagement in this town. Sonic collectives abound, loosely organized, small groups of people who live together in the McKibbin Lofts or studied in the same BFA program, but those often lack the resources to share work beyond the neighborhood. After all, the Internet isn't a great publicist if people don't open your event invitations on Facebook. Brooklyn record labels like Sacred Bones, Mexican Summer, Captured Tracks and Exploding in Sound are healthy outlets for organizing like-minded musicians and fans—the labels will curate a night of their artists at a local venue, which is a great relief to promoters who want some assurance that the acts being booked have a dedicated following. To call such organized line-ups a scene is misleading, though. They are pitched by labels, and as such, are still part of the business. But more bands are realizing that having a pack mentality is fast becoming the best way to ensure folks show up to see them play.
In an effort to deeper understand these phenomena, I showed up to Bushwick's adjoined venues The Wick and The Well last weekend for the three-day Gigawatts festival, which also included a third stage of more local acts delegated to Our Wicked Lady down the street. Gigawatts is the brainchild of Danny Krug, whose Brooklyn zine 1.21 Gigawatts has been documenting music and art in the area since 2012.
Bouncing back and forth between spaces, overtaken at times by the chemical fumes of nondescript warehouses along the walk, the intentions for the weekend were twofold—to discover what emerging bands are really going for it right now, and to ask them if other towns feel as creatively fractured as NYC.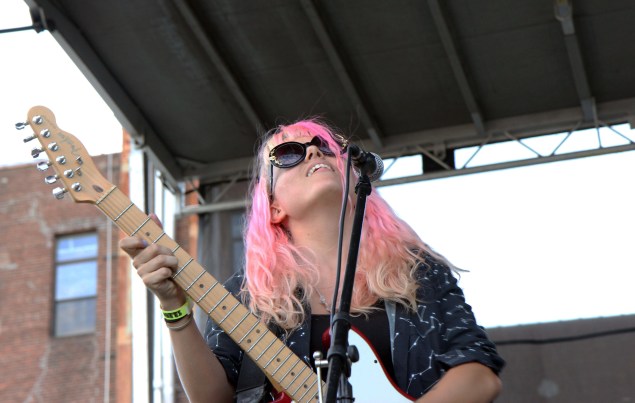 Our Friday at Gigawatts began at The Well's outdoor stage with the band Journalism, apropos of our goals. Their breezy pop was a nice start to the fest, good vibes even if not particularly groundbreaking. But the first day got serious when Amanda X hit that main stage. The riffed-out, Philadelphia three-piece doesn't market themselves as a band of all women to stand out—tunes like "Guatemala" walk the line between sounding heavy and tuneful, post-punk performed with purpose, which made Amanda X the first great act of the weekend.
I caught Brooklyn's A Place to Bury Strangers next, soaking in their earned status as New York's loudest band with the help of guitarist Oliver Ackermann's custom designed amp-top effects box. His community reputation as a pedal-wizard is part of the larger saga surrounding the shuttered DIY spaces of Brooklyn—Mr. Ackermann ran his pedal company, Death By Audio, out of the now gone Williamsburg DIY space bearing that same name, and the band also had a practice space in the back. You shouldn't feel old for listening to this music with earplugs in. It's just smart.
You shouldn't feel old for listening to this music with earplugs in. It's just smart.
Soon after, Palehound began their set inside a former brewery that housed the cavernous, reverb-laden Wick stage. Palehound is the catchy but rocking project of 21-year-old Ellen Klemper, who will release her first full-length next month on Exploding In Sound records. Based on the few songs I caught, it should be a doozy.
I had to leave Ms. Klemper's set early to catch Black Lips, though. I remember seeing the flower-punk band in Cambridge, Mass., before just they signed to Vice Records in 2006. The "flower-punk" tag suits them well—you might get knocked down at a Black Lips show if the crowd gets riled up, but an outstretched hand will always reach down and help you back to your feet. Black Lips are playing the same garage, gang-vocal-laden rock and roll they have for years, only now there's a glut of young bands out for the same niche. The difference is, they're old souls with an encyclopedic knowledge of classic American music, a band that earned their reputation with goofiness and hard work, not nepotism. Rowdy college-aged kids were still erupting for songs like "Sea of Blasphemy" that were released 10 years ago; I couldn't help but feel a little old.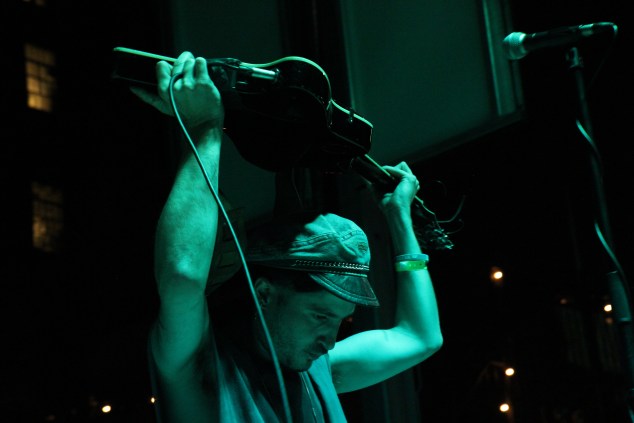 Black Lips weren't having any of that feeling old shit, though. "Does it look like our energy's waning?" lead guitarist Jack Hines asked the Observer. "I'm not tired, I always look like this. We're lean and mean to the grave."
The band's attitude was authenticated when guitarist and singer Cole Alexander confessed to recently piloting a Donzi speedboat on acid. "I was scared, actually," he said. "That's for real."
'I'm not tired, I always look like this. We're lean and mean to the grave.'
Black Lips made a point that though they write music about growing up and being delinquents, they never treated making music as just a phase. "We've seen countless bands come and go, but we're what you call lifers," said bassist Jared Swilley. "It's cool seeing young kids do their thing or whatever, but most kids don't stick with anything—I tried to take karate one time, and it lasted two months."
Now that their contract with Vice Records is up, Black Lips have some big plans. Besides getting back to recording next year, they're also hoping to play 15 shows along the Great Wall of China. "There's over a billion people, I'm sure a few of 'em like us," said Mr. Swilley.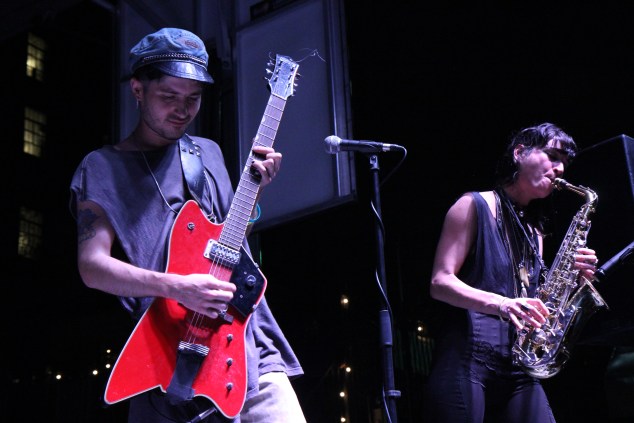 "Mr. WickWell, tear down this wall!" chimed Mr. Hines.
Black Lips agreed that other cities with rich musical histories are lacking strong scenes, not just New York. An aside about their collaborations with psychedelic soul guru King Khan led into a discussion about Mr. Khan's hometown of Montreal, Quebec.
"The way the provincial government is in Quebec kind of stifles creative, free independent entrepreneurship," said Mr. Swilley. "It seems to me that a lot of people who actually have something to do leave there. It's a great breeding ground for ideas…"
When the Observer played devil's advocate and reminded them that the Canadian government funds creative projects, Mr. Swilley took objection. "Well the government shouldn't fund projects, because that's just lazy," he said. "What creates awesome shit is struggling to get something."
Mr. Hines agreed, reminding us, "You can't pick winners. You think Charlie Patton had any government money behind him?"
'Always keep a dry lip and a clean pecker.'
Black Lips said this lack of permanent musical scene was not exclusively north of the border, and that their hometown of Atlanta has the same problem. "You don't wanna stay there, you don't wanna get stuck in the South," said drummer Joe Bradley. "You gotta get out."
Our conversation ended with some advice aimed squarely at our readers—"always keep a dry lip and a clean pecker."
After Black Lips I caught the first song of Brooklyn's black metal outfit Liturgy, whose loud sound was only amplified by The Wick's brick walls. I left early for Surfbort though, down the street at Our Wicked Lady. Surfbort play scuzzy, almost indecipherable rock and roll, two dudes and three ladies, all shouting to be heard above their fuzz. Lead singer Dani Marie hopped into the crowd and literally got in our faces as she sang, frantically flailing around the room in a ripped Harley Davidson shirt. When Ms. Marie attached a leash to a collar around guitarist Charlotte Wimberley's neck while Ms. Wimberley writhed around on the floor, it wasn't clear if that part of performance was scripted or spontaneous.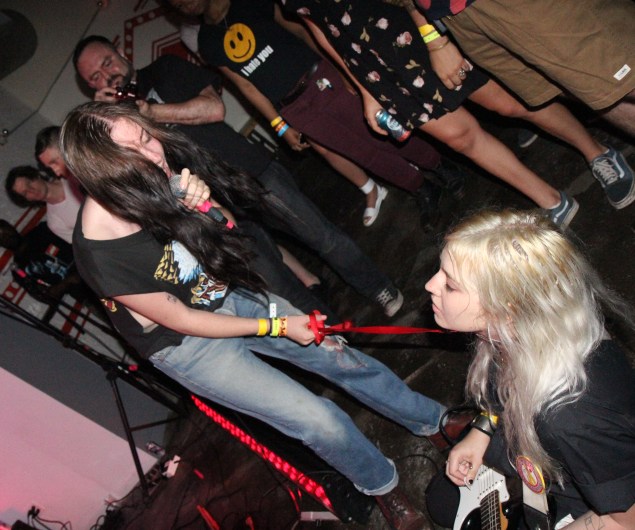 "Surfbort means rock'n'roll, mostly," Ms. Marie told the Observer. "Releasing your teenage angst, dolphins choking on trash, your mom's lasagna."
After a solid night's sleep, it was back to the shit. Saturday's schedule began at Our Wicked Lady, where the chugging Bushwick hard-rockers of Hounds Basket kicked off an early set a little after 1 p.m.
Hounds Basket's upcoming LP is a concept album about the difficulties they've had keeping a venue in the basement of The Tea Factory, a loft complex where they all lived together before the space was forced to close down. Hounds Basket spoke to this Observer about New York's challenges in creating a strong DIY scene from living the struggle firsthand.
"We've got Alphaville and Palisades now, they kind of replaced Death By Audio and 285 Kent," front-man and guitarist James Watson told the Observer.
'It's more high-end DIY now.'
"A spot like Trans Pecos, they had a rough time, but [owner and promoter] Todd P has gotten to the point where he's done it enough times that he knows what he's doing," said drummer Mike Crean.
"It's less secretive. It's more high-end DIY now," added bassist Jesse Fairbairn. "They get the licenses they need before getting shut down. So you don't have to build something for three years and get it busted by the police, you know?"
"That's just fucking smart," replied Mr. Watson.
Then it was back to The Well to catch Brooklyn's Motion Studies. The sound is reminiscent of the early-2000s live-band dance music typically found on DFA records, and suffice to say, their conga player held his own.
Then it was back to The Wick where another local band called Eula played one of the freshest sounding sets of the fest. Front-woman Alyse Lamb uses chords as textures on her guitar, while Bassist Jeff Maleri maxes out his fuzz to harmonize with Kate Mohanty's saxophone. Ms. Lamb is one hell of a front-woman, shrieking and striking poses with a tremendously intense but simultaneously refreshing command of the stage. Ms. Mohanty's saxophone, meanwhile, was reminiscent of No Wave legend James Chance, which isn't a bad thing in the least. Keep both eyes on these guys.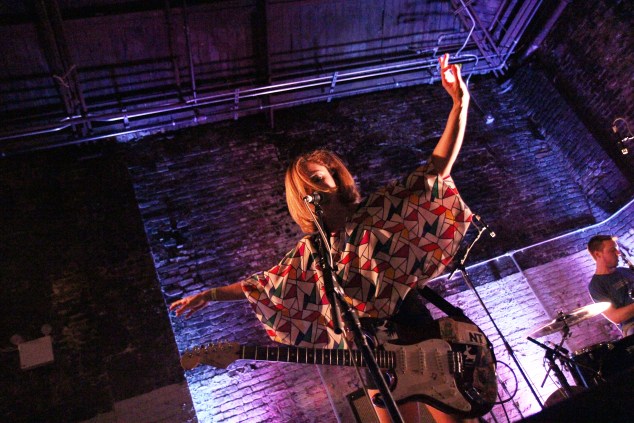 Potty Mouth were the next band on our list, a group of young women from Northampton, Mass., who play their own earnest take of that good ole '90s indie-rock. Having just finished recording their first new music in two years, it's exciting to see such a talented group trying out new material for the first time. The Observer caught up with Potty Mouth to ask them what wisdom they've gleamed about the strength of music scenes, both on tour and at home.
'There are really small divisions and tight-knit pockets. There isn't really one big unified scene. It's just very disparate.'
"We've only done a full U.S. tour once, but one city that always stuck out to me is Las Cruces, N.M.," remembered bassist Ally Einbinder. "This really cool venue called The Trainyard, which I've since heard had shut down, had this really tight-knit scene of people, and everyone was supportive and into all the bands."
Ms. Einbinder contrasted Las Cruces with her home base of Northampton, which she said had a fractured scene much like New York, despite being much smaller. "For a really small area, there are really small divisions and tight-knit pockets. There isn't really one big unified scene. It's just very disparate."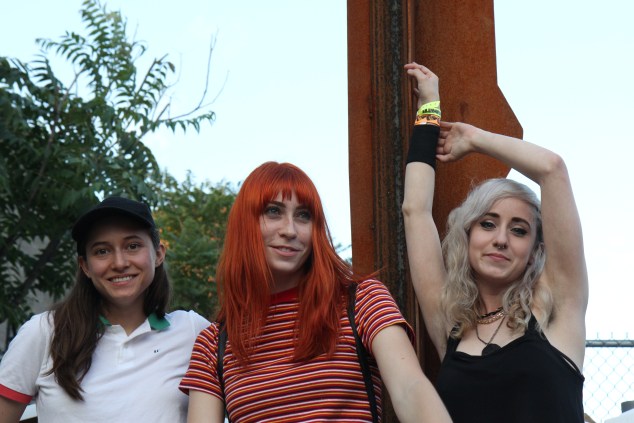 After learning that two of the members went to Smith College, famous for its female undergraduate program, the Observer couldn't help but ask Potty Mouth how difficult it is for them to simply talk about themselves as people who make music instead of "women making music."
"It's perpetuating the idea that women are separate by asking us what our problems are within the scene," said front-woman Abby Weems. "It is valid to ask what the differences and struggles are, but it's mainly all we get asked."
"That's a question that's always been asked of women in rock, and I don't see it going away any time soon," added Ms. Einbinder. "Heart was asked that in the '70s, Kim Gordon was asked that in the '80s and '90s… I don't see it going away. It's a self-perpetuating cycle."
'It's perpetuating the idea that women are separate by asking us what our problems are within the scene.'
"It's always going to be talked about even in a time when you see more and more women in bands, the quantitative gap is getting smaller, and there's still the same narrative about women in relation to the status quo."
Anamanaguchi was Saturday's headliner on that outdoor stage at The Well, but, unmoved by their 8-bit Japanese-themed pop music and frustrated at the amount of pre-recorded tracks that found their way into the live performance, I got my fill of their light show and headed inside. That this group felt out of place on the line-up was a testament to the legion of anime fans who seemed to show up for them, and nobody else .
Despite what the posters read, Boston's mighty, pummeling Pile was the true headliner of Saturday night. One of Exploding in Sound's earlier musical acquisitions, Pile are often referred as a post-hardcore project like Fugazi, but perhaps a better way to understand them is as an amalgamation of indie-rock's heavier but tuneful forebearers—faint traces of The Jesus Lizard, Hüsker Dü and Boston's Mission of Burma all loom large. But none of this is to say Pile's compositions aren't special snowflakes of their own. Words can fail to describe sounds that don't have an immediate frame of reference, and Pile are happy to leave listeners at a loss for words.
"We sound like Aerosmith, Dropkick Murphys, Mayor Menino…" front-man and guitarist Rick Maguire told the Observer, evoking Boston's finest. Mr. Maguire explained that their relationship with Exploding in Sound records was all borne from co-founder Dan Goldin's love of the band. "We hadn't been interested in having anyone put out our records until we met Dan," said Mr. Maguire. "He said, 'I'm gonna start this label, I'm a fan, I wanna work with you guys,' and we thought, 'O.K., we'll try it out.' It was great because we were both trying to navigate through this whole thing together."
'It was great because we were both trying to navigate through this whole thing together.'
Though such communal comradeship was a welcome refresher from the fractured scenes mentioned by other bands, Pile said Boston equally is at risk of losing the basement show scene that gave them life.
"It seems like there are no mid-level bars opening in Boston, and all the venues opening up are either Live Nation-run or just bougie," said lead guitarist Matt Becker. "Or it's a house venue that's open for three months. You could open up and get bands coming to town, then the cops come and you're not doing shows anymore."
Asked if a lack of concentrated scenes keeps artists from communicating with fans, Mr. Maguire replied, "Nah, cuz the Internet. And we've been lucky to have Dan to idiot-proof our tour."
Sunday was the final day of Gigawatts, and by that point the festival felt front-loaded with stronger acts on earlier days. New York's Ludlow Ejacula won the award for best band name, while Philadelphia's Swearin' were a highlight—they would be just another'90s indie-rock throwback were the songs not so tight and perfectly realized.
Swearin' songs like "Watered Down" prove that a band needn't reinvent the wheel to make cathartic, powerful music. They've been spending time as Waxahatchee's backing band—front-woman Allison Crutchfield is the sister of Waxahatchee's Katie Crutchfield—and that time on the road seems to have served them well. While Swearin' were tight before, as February's show at Baby's All Right proved, Sunday's set felt like a victory lap.
Headlining on Sunday was reunited emo band Braid, which I confess I only caught briefly between sets inside The Wick from two awesome Brooklyn acts—the thumping, bluesy psychedelia of LODRO and the wild, rollicking, mullet-friendly rock and roll of Dirty Fences. That both sets were more invigorating than Braid was simultaneously a testament to the quality of Brooklyn's musical output and the tired, obligatory boredom of yet another band milking their reunion.
Whether Gigawatts was a success was hard to gauge. The real crowds didn't start to show till later in the afternoons for bigger acts, and people dissipated soon after that big last set on the outside stage. Those crowds were also scattered—some acts seemed to have a bigger draw than they deserved, while others felt criminally under-attended—but that room to move also made the whole weekend feel special and intimate. If there was something to take away from these three days, of grease, crud and music, it was that New York actually is rife with the great bands and great spaces to have a strong DIY scene. What we need now are even more passionate people committed to helping it grow.