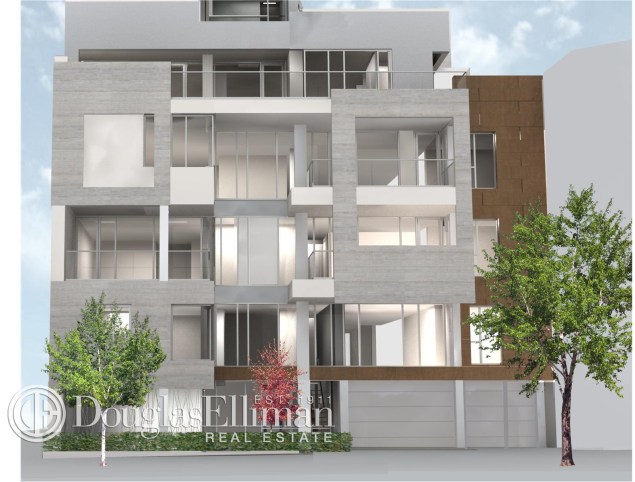 For more than a decade, Park Slope denizens have witnessed Joseph and Ivona Hertz's slow-moving efforts to build their dream house. But after years of glacial construction, during which the Hertz's kids grew up and a 15,000-square-foot spread came to seem less than ideal, the couple has decided to put the still-unfinished 277 First Street on the market for $11.5 million.
The Hertzes, who own Ocean Empire Management, purchased a vacant Park Slope lot for $825,000 in 2000. During the intervening 15 years, they erected a 60-foot-wide, five-story construction of glass, concrete and steel with an additional 6,000 square feet of outdoor space, which they've listed with Douglas Elliman's Nicola Nicoletta.
Mr. Nicoletta has dubbed the property "The First House," in honor of its many alleged Brooklyn "firsts," such as having nine balconies and private terraces (possibly a first), an elevator (surely not a first) and an operational car lift with room for three vehicles (probably a first). There's also a custom forged iron floating staircase and a private backyard with a two-story outdoor rock climbing wall.
In an email, Mr. Nicoletta wrote that while the owners "began building as a labor of love" and were, throughout, "relentless to create the most unique property in New York," they wanted to complete the home when their children were young so that the whole family could live there. But now the kids are in their twenties and the house still isn't finished, so they're "passing on the baton to one lucky person."
In 2013, Ms. Hertz told the New York Post that she and her husband have been through "such heartache. This house has been blood, sweat and tears… We love Brooklyn, but this has been a nightmare." She added that she felt "terrible for our neighbors. It is an eyesore."
(Indeed, the lengthy construction timeline, DOB violations, at least one stop-work order and incidents in which  scaffolding damaged nearby cars and surrounding properties did not endear the project to the neighbors.)
As the home is not yet completed, it's being offered as a "vanilla box – with no finishes," according to Mr. Nicoletta, though the purchaser can opt to finish the home to the current specs or design the finishes to taste.
Mr. Nicoletta said he envisions the likely buyer as someone who's interested in the progressive and ever-evolving real estate market, someone who wants a mansion in an urban area while still connected to New York City, perhaps a "powerful woman CEO, creative, or budding entrepreneur," someone like "Diane Sawyer, Arianna Huffington, Anna Wintour…[someone] who needs a lot of space, full service amenities, in the privacy of their home."
The listing for 277 First claims that this is the first time Brooklyn has seen a house of such magnitude; Mr. Nicoletta opined that the home's combination of opulent amenities, nearly 15,000 square feet and asking price under $12 million made for a potent combination that could not be found elsewhere.
There have, however, been other Brooklyn homes that rival "First House," such as 70 Willow Street in Brooklyn Heights, where Truman Capote once lived, with approximately 9,000 square feet, 11 fireplaces, 11 bedrooms and a private gated driveway and a record-setting sale of $12.5 million in 2012. Or the approximately 10,000 square-foot Tracy Mansion, which was once Brooklyn's priciest single-family listing with an asking price of $25 million and sold for $9.5 million this spring. Or 17 Prospect Park West, a 5,200 square-foot townhouse at one time owned by Paul Bettany and Jennifer Connolly, that hit the market for $14 million last November.
Not that 277 doesn't have some unusual merits. Despite still awaiting full build-out, the eight-bedroom, eco-friendly home has radiant floors, a gunite pool and hot tub, as well as a geothermal heating and cooling system. There are also floor-to-ceiling windows throughout and nearly $1 million-worth of glass in the front entrance. Hope the neighbor's kids don't like to play baseball!