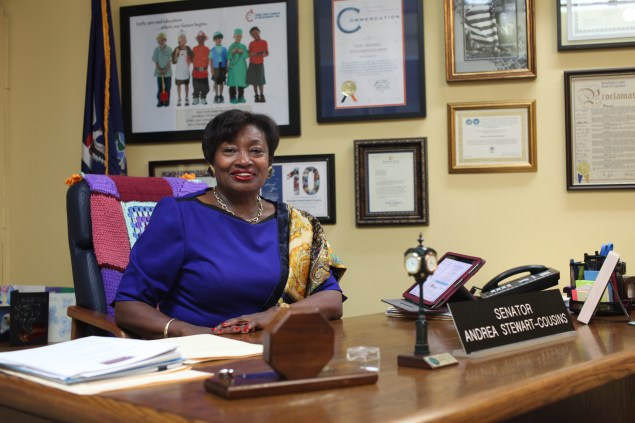 Speaking days after the the convictions of upstate Republican State Senator Thomas Libous and Brooklyn Democratic State Senator John Sampson in separate corruption cases, Democratic Minority Leader Andrea Stewart-Cousins said she hoped Gov. Andrew Cuomo would consider calling a special legislative session to handle ethics issues.
Ms. Stewart-Cousins, appearing on the Capitol Pressroom radio program today, called Mr. Libous' conviction on charges of lying to federal agents "tragic" in light of his struggles with cancer and of ongoing issues with corruption in Albany. The Westchester Democrat said the case—which started with a federal probe into Mr. Libous' dealings with a law firm that employed his son—reinforced the need for public financing of elections, capping legislators' outside income and preventing business interests from donating to campaigns through multiple limited liability corporations.
"It just goes back to, to what we must do as a legislature, as sure government, we have to understand that people really expect us to be on a higher level. At least do the right things with their resources and their trust," she said. "So it goes back to ethics, and ethics, and you know, I've sat here and said for the past three years Democrats have pounded, pounded, pounded, we've got to let people know that we are paying attention to the breaches."
State Senate Democrats picked Ms. Stewart-Cousins to replace Mr. Sampson as conference leader in 2012, after allegations arose that the Brooklyn Democrat had embezzled money from foreclosed properties he handled as a lawyer. Mr. Sampson, who Democrats barred from their legislative caucus, was ultimately convicted on charges of lying to the FBI and of witness tampering.
Ms. Stewart-Cousins said she was hopeful that Mr. Cuomo would decide to reconvene the legislature at some point this year for a special session to handle issues of ethics reform.
"If there's a special session that the governor calls, to get things done, we're there," she said. "It goes to the point that we can do more, my Senate Democrats are willing to do more, and I'm hoping that very soon we'll have the opportunity to do something."
Mr. Cuomo did not immediately respond to requests for comments, but dismissed the notion of a special session last week, arguing that it was unlikely that the legislature would pass substantial reforms that they rejected in the regular session that ran from January through June. Ms. Stewart-Cousins, nearly powerless in a body led by Republicans and a single Democrat who caucuses with them, blamed the Senate GOP for holding up significant legislation.
"I have not, he has not, we collectively have not been able to get our Republican Senate colleagues to actually be serious about real strong ethics reforms," she said.