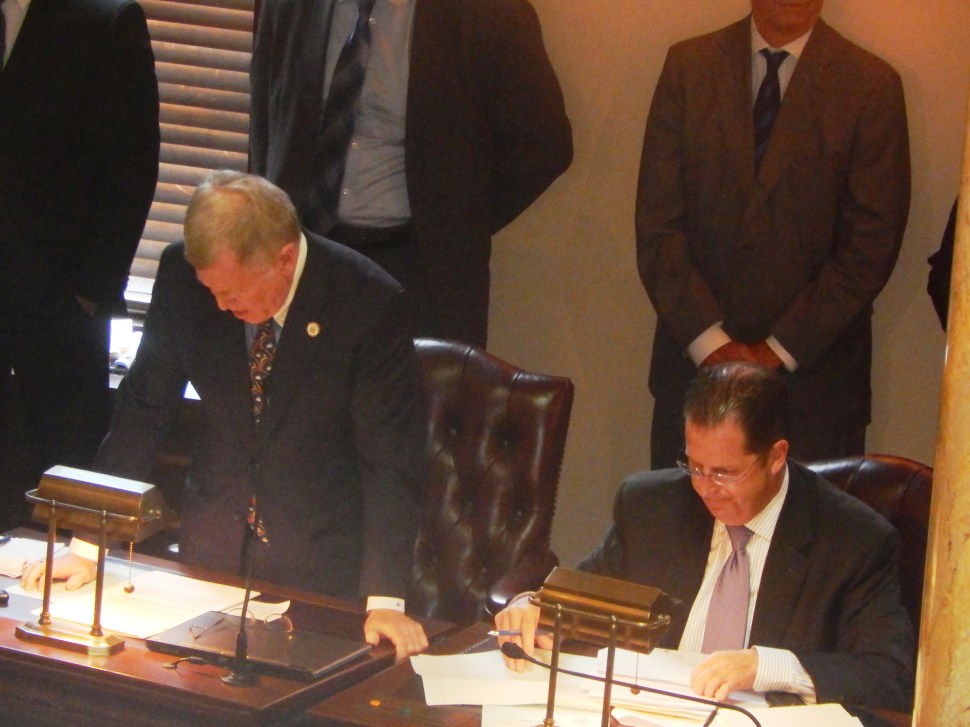 TRENTON – Under a cheering gallery of public advocates, the Senate this afternoon passed S-3117, a developmental disability bill. while individual members praised a legislative outcome built  not on the arm twisting of high-powered lobbyists but people power bipartisan work from advocates to lawmakers to the front office.
"Everyone in this chamber is proud that we found a solution," declared Senate President Steve Sweeney (D-3), "but it was the community that fought back."
State Senators Robert Gordon (D-38) and Christopher "Kip" Bateman (R-16) stood at the vanguard of senate work to get the bill done. The bill prohibits the Division of Developmental Disabilities from compelling transfers of indivudals with developmental disabilities from out-of-state to in-state facilities unless certain exceptions apply.
"People didn't feel quite right about the original legislation," said state Senator Joe Kyrillos. "It strikes me what's possible when we focus. We can do it on an array of public policy issues."
Having slapped at Gov. Chris Christie earlier this morning for his out-of-state travel, Senate Majority Leader Loretta Weinberg (D-37) on the floor praised Christie's role on this issue.
"Because of the leadership shown by the governor… most of all the families," agreed state Senator Jeff Van Drew (D-1). "There are times when we are more proud, and this is one of those times. It's about truly helping individuals in need."
The bill passed unanimously.
"To hell with this nice stuff," Sweeney cracked. "Now we can go back to fighting."