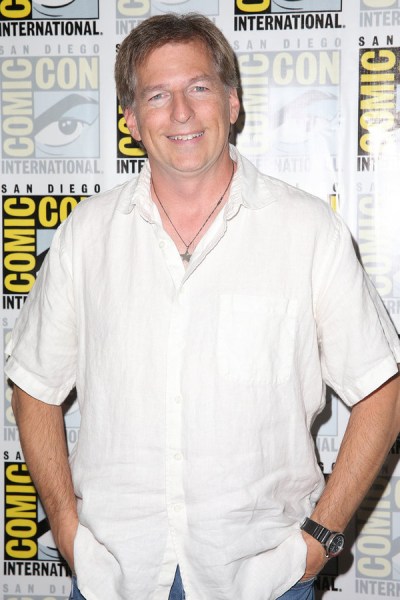 It may have started out as just a campy movie about sharks caught in a bizarre weather pattern, but somewhere along the way it grew into something much more.
"Up until the week before the premiere of the first one, I thought it would be just another sci-fi movie that fans of the genre might tune-in to see. Then some buzz started in the B-movie circles and we thought, 'maybe we could have a cult hit here. Maybe we'll be something like The Rocky Horror Picture Show. We absolutely never could have expected what happened to happen."
This is writer Thunder Levin talking about what has become the Sharknado phenomenon. He's written all three films, Sharknado, Sharknado 2: The Second One and now Sharknado 3: Oh Hell No!
The first Sharknado premiered in June of 2013 and created an immediate social media storm. Tweets about the movie were flying almost as fast as those sharks.
Syfy was quick to order a sequel which aired in July 2014 and was greeted with equal enthusiasm (I tweeted during it and Levin responded to my message. I was like a hero in my office the next day!)
Now, as the third installment is set to hit the air Wednesday night, Levin was gracious enough to talk about the interesting journey he's been on since all of this high-flying fishiness started.
Right away, he admits that the third go-around has him just a bit nervous. "There were no expectations for the first one so it was just all fun. With the 2nd one and now this 3rd one, yeah, there's some level of jitteriness," says Levin, "The main thing we're thinking about is, 'are we still in synch with what the fans want?'
Every time we do one you wonder, 'what if our 15 minutes are up? What if people have become bored with the sharks?' You never really know until the movie comes out so I guess I'll get the answers to those questions when it airs."
Levin explains that it can be a bit tough to keep the audience engaged, but that he's up for pushing the limit to do just that. "Well, now that people are onboard with what an actual 'Sharknado' is and they seem to accept that part, it is a little hard to reach another level with the story each time — to keep topping ourselves with each one — but hopefully we'll keep finding ways. It's a challenge, but it's a really fun challenge," says Levin.
Many of the plot points in the Sharknado series have actually started out as off-hand remarks, reveals Levin. "What's really funny is that many of our best moments have essentially come out of jokes really. Like we'll say, 'we can't really do this but wouldn't it be funny if….' and then everyone says, 'yeah that's funny, but we couldn't possibly do it,' and then it starts to seem not so ridiculous and then we do it."
Levin discloses that his favorite part of the whole experience is interacting with fans. "The way people have taken to it is heartwarming for me, especially kids. They don't get the irony, but they enjoy it." He pauses a moment and then goes on, saying, "Last summer there was this video of two little kids playing Sharknado. Two little boys at the beach – one with a little play chainsaw and the other one was the shark. It reminded me of when I was little and playing Star Trek or Godzilla with my friends. For our movie and characters to have that kind of impact on the next generation is a knock me over with a feather moment."
Now that the series has garnered so much attention is Levin ok with being known as 'The Sharknado Writer Guy?'  He chuckles a little as he recalls, "I have to laugh about this because when I was writing the first one, I remember telling someone that I was writing this really preposterous shark movie and how I was absolutely certain that someday I was going to win an Oscar but I just knew that even then all anyone will ever want to talk about is Sharknado. I didn't expect it to really happen this way, but here we are. So, in truth, I pretty much know what the first line of my obituary will be if I keel over dead tomorrow and honestly I'd really like to add to that. I'm not content to rest on the Sharknado laurel as it may be. I have a lot of other things I want to do and I'm pretty convinced I'm going to do them."
For all of the hype that's happening, Levin wanted to make sure that one particular aspect of the series isn't getting overlooked. "I know that it's a little ridiculous to take about character development in a show called Sharknado, but the arc of these characters is very real," says Levin. "I mean let's look at our main character Fin. In the first movie he's a broken man – he's lost his family and his career, he's running a bar. Over the course of three movies he's worked to win back his wife and mend his relationship with his kids and now in the third one he's getting a real second chance at life. He's realized that fame isn't important as family and consequently he's become more famous than he ever was." Levin continues to clarify his thoughts offering this, "I think that's a very interesting part of the story but people don't really pay attention to it but I think if we didn't have a certain amount of heart that it might not work for people as well as it does. That's the thing that I'd like to see talked about a little more. Obviously, it's about the absurdity of flying sharks and I know that and that's what people are mostly going to talk about, but there are real characters here and they've been on a journey.  And, if you really think about it, this story totally parallels our journey as filmmakers and actors. We were making this outrageous ultra low budget film that we weren't sure anyone was going to watch and now here we've become sort of the event of the summer. That's kind of amazing. This whole journey has been surreal and extraordinary, both on and off screen."
Should Number Three prove to be the hit that everyone expects it will be, Levin confides that he does have a few ideas for Sharknado 4. "Well, I do have some things in mind, but let's be clear here, there's been no official announcement as yet." He hedges a little, but adds, "Ok, well, the director and I and the cast would like it to be something international. And personally, I'd like to take a right turn with what we've done in the past, but that's all I can say now. At this point we just have to see what happens."
Fortunately, for Levin and everyone involved with the zany Syfy series, the forecast seems primed for another Sharknado to blow through in the summer of 2015.
Until then, fire up those chainsaws and get ready to tweet it up while you watch Sharknado 3 on Wednesday night. Levin says he'll be online and ready to go. "Of course I'll check out what's going on on social media. That's the really fun part of all of this. I like seeing what everyone is saying and the jokes people are making. I also really like surprising people by responding to some messages too. The interact is absolutely the best part of any Sharknado event."
Sharknado 3: Oh Hell No! airs Wednesday night at 9/8c on Syfy.