Artist Shepard Fairey has been arrested following felony charges of malicious destruction of property in Detroit. The artist was arrested by customs agents at Los Angeles International Airport on Monday while returning from a trip to Europe, and spent the night in jail, reports The Detroit News.
Mr. Fairey, who created Barack Obama's now-famous HOPE poster, was accused of vandalizing 14 buildings and walls, including two city-owned locations, during a visit to Detroit last month. A warrant was issued for his arrest on June 19.
"Our warrant was evidently discovered as he went through customs, and he was placed under arrest," Douglas Baker, chief of criminal enforcement for the Detroit Law Department, told the local paper.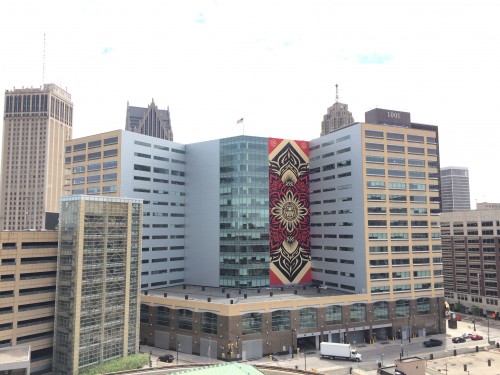 The California-based artist was in the Motor City to create a commissioned mural measuring 184-feet-tall on the downtown Compuware building. However, according to Sargent Rebecca McKay of the Detroit police, property owners at eight of the locations where Mr. Fairey placed stickers used to make the mural did not grant permission to the artist and want to prosecute.
After spending the night in a jail cell, Mr. Fairey has been released. Michigan's Wayne County does not extradite on "lower-level" cases, according to Mr. Baker.
City officials and Mr. Fairey are discussing his return to Detroit to face charges. If convicted, he faces up to five years in prison and a fine of three times the monetary damage of the crimes.
Detroit's mayor Mike Duggan has been cracking down on graffiti, and over the last seven months 13 people have been arrested for blight violations.