It's possible that the most beautiful room in New England right now, and even all of the East Coast, is in the Sterling And Francine Clark Art Institute in the Berkshires, currently site of the "Van Gogh and Nature" exhibition. Specifically, one particular triangle-shaped room in the museum features rich, vivid dark blue wallpaper (unusual in the sleepy museum biz), a wide, velvet-covered couch, a sunny yet shaded window, a smiling guard and a slew of van Gogh landscapes painted while the artist was in a mental hospital in southern France's Saint-Rémy. Directly outside the gallery's window—and you can't quite see them but it helps to know they are there—is a hilly slope where, almost every afternoon, a herd of Massachusetts cows contentedly munch.
The Van Gogh landscapes in the room are on loan from all over the world and the grass and water in them seem, at times, to be moving, melting and creamy, the roads look like waterfalls and the trees shimmy in the wind. "He was at the top of his game, turning out masterpiece after masterpiece after masterpiece," said Richard Kendall of the Clark, co-curator, in an interview—still surprised by the magnificence of the walls, even though he hung them.
It's a stunningly soothing space, especially since it documents the period in his life when the artist was supposed to have been most unhappy, depressed… even craziest. What's interesting is that the show's trio of co-curators—though they clearly and completely grant the sadness the artist undoubtedly felt before his suicide in 1890—dismiss or play down some of the tired old tropes about him.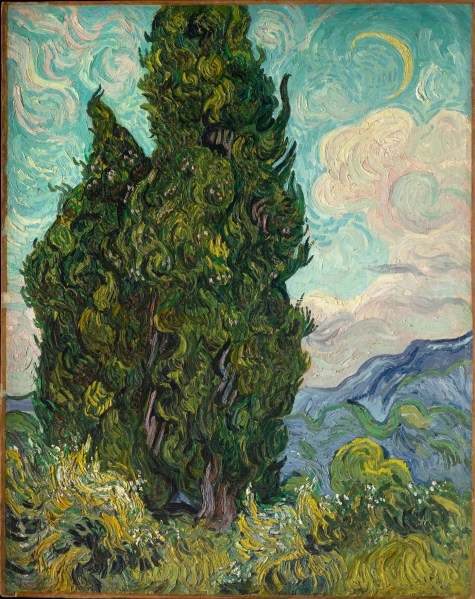 Out go the speculative mental and physical diagnoses of Van Gogh's condition that have filled so many, many, many MFA thesis papers. (Among them:schizophrenia, glaucoma, Meniere's disease, porphyria, lead poisoning, borderline personality disorder, Geschwind syndrome and malnutrition.) And they also play down some of the old clichés of Van Gogh scholarship (i.e., crows = death). Curator-at-large Mr. Kendall—who worked with Van Gogh scholars Chris Stolwijk and Sjraar van Heugten, both affiliated with the artist's namesake museum in Amsterdam—just rolls his eyes at this one.
Indeed, citing his extensive scholarship of the letters of the painter among other sources, Mr. Kendall argues that while Van Gogh sadly suffered from epileptic seizures there were times he was actually happy. He was head-over-heels in love with nature—from childhood a fancier of bugs and flowers, even to knowing species by name. "Nature here is extraordinary beautiful," the artist wrote upon arriving in Provence in 1888, and wrote, too, of his "calm frame of mind" and of "gaity." Those feelings are on evident display in the dozens of artworks shown.
It's a fresh conceit for a show. Van Gogh museum crowd-pleasers, and there have been lots of them, are normally broken up by cities, by particular years, portraits vs. landscapes, the painter's stormy months with frenemy Paul Gauguin, or unspecific titles that amount to: "Come look at this amazing stuff we talked someone into lending us."
Curiously, the curators claim there has never been a show of Van Gogh's work concentrating on his love of nature, although Mr. Kendall said the artist mentions nature about 300 times in his letters.
The Metropolitan Museum of Art has loaned its own Cypresses (don't worry, it still has four Van Goghs on view this summer, it is the Met after all); The National Museum of Wales, Cardiff, has sent a how-did-you-get-this-one almost unheard-of hypnotic rain scene, Rain-Auvers; and then there's The Sower, an emblematic image from the Kröller-Müller Museum in the Netherlands. These, and other works, are wonderful. But so is the chance that the legendary artist might have known, in his life, even a tiny bit more joy than we had thought.
The Van Gogh show, concurrent with an exhibition on James McNeill Whistler—including that famous picture of his mother, Arrangement in Gray and Black No. 1, on loan from France—runs through September 13 at the Clark.