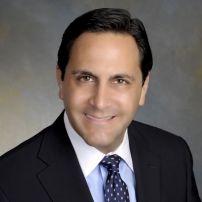 Chris Porrino, chief counsel to Gov. Chris Christie, told his senior staff yesterday that he is leaving his position in government to return to the private sector, sources tell PolitickerNJ.
The replacement as counsel for Charles McKenna, Porrino, formerly of Lowenstein Sandler, hit some political turbulence earlier this year when news reports revealed that he owned stock in a mutual fund valued at $100,000. ExxonMobil is one of the holders of the fund. Porrino played a key role for the Christie Administration in the settlement of a highly controversial and much criticized settlement of a lawsuit against ExxonMobil. 
According to sources, Porrino's replacement as Christie's counsel will be Thomas Scrivo of McElroy, Deutsch, Mulvaney and Carpenter (pictured). The firm's website identifies Scrivo as managing partner of the firm's Newark office and Co-Chair of the firm's Commercial Litigation Practice Group. 
"He is an experienced trial lawyer and a trusted advisor to clients in the public and private sectors.," the firm notes. "He is certified by the New Jersey Supreme Court as a Civil Trial Attorney.  Mr. Scrivo has been listed in Super Lawyers® (2005-2015), a Thomson Reuters business, in the areas of Business Litigation and State, Local & Municipal since and in 2015 was listed as one of New Jersey's Top 100 Lawyers. A description of the standard or methodology on which the accolade is based can be found HERE (No aspect of the advertisement has been approved by the Supreme Court). He is also the author of the New Jersey Local Government Deskbook, a leading governmental treatise covering a wide variety of topics, including ethics for public officials."