A bitter fight between a New York City financial powerhouse and the most important company in Korea has taken an ugly turn with media outlets either sympathetic to or outright controlled by Samsung (SSNLF) lobbing anti-Semitic bombs at Paul Singer and his Elliott Management fund.
First some background.
The Samsung Group has been consolidating many of the 80-plus companies under its corporate umbrella in an effort to keep the conglomerate in the hands of the Lee family when its patriarch, Lee Kun-hee, who is 73 and the Samsung Group chairman, eventually shakes off this mortal coil. This Friday, July 17, shareholders of the construction company Samsung C&T, which is a large tentacle of the vast Samsung empire, will vote on whether to merge with another Samsung subsidiary called Cheil Industries. Samsung C&T says that the combination will allow it "to become the top class global company leading F&B, clothing, housing, leisure and biotech businesses" and on May 26, the boards of both companies approved the proposed merger at a ratio that will give .35 shares of Cheil stock for every share owned by a current holder of Samsung C&T.
Not everyone is thrilled with the terms of the merger, which would place Cheil, which is already 42% owned by the Lee family, even more firmly under the control of the family plus grant them the nice chunk of Samsung Electronics that's held by Samsung C&T. Samsung Electronics is the jewel in the Samsung crown and the Lee family actually holds a smallish stake in Samsung Electronics. The New York-based hedge fund Elliott Associates, which owns 7.12 percent of Samsung C&T, has been harshly critical of the terms, charging that the deal dramatically undervalues C&T's stock in an effort to hand a bargain to Cheil and the Lee family.
Elliott is hardly the only entity opposing the deal. The advisory firm Korea Corporate Governance Service, which is somewhat analogous to proxy advisory firm Institutional Shareholder Services in the States, is said to have recommended that the Korean National Pension Service (NPS)—which had owned 10% of C&T and actually acquired a bunch more after the merger was announced—reject the merger. And even that rumored recommendation has been controversial, since KCGS recommendations are issued in secrecy and rarely trickle out. For its part, Institutional Shareholder Services itself produced an analysis that also concluded Cheil was dramatically underpaying for C&T. The merger needs 66.67% of the voted shares to vote yes to proceed.
Anyway, what looked like a garden variety fight pitting acquirer who wants a bargain versus target who wants a payday has turned into an unusual and unfortunate culture war between the traditional Korean business custom of powerful "chaebol"— family-led conglomerates—and a Western style fight for transparency and competitive bidding. And then it got anti-Semitic.
Last week, the South Korean business press began attacking Elliott Associates, noting specifically that it has a Jewish owner and chief executive, Paul Singer. The business news site Mediapen.com has led the way, having published five stories on its homepage about the deal, including one valentine to the wisdom and integrity of Samsung's leadership and four supporting the merger under the current tems. Last Sunday, writer Kim Ji-ho chimed in on the Samsung-Elliott dispute: "Jews are known to wield enormous power on Wall Street and in global financial circles … It is a well-known fact that the US government is swayed by Jewish capital."
"Jewish money" also was said to explain why the independent "referees" of these deals sided with Elliott, as well. After ISS opposed the terms of the deal, Mediapen bizarrely attacked them along the same lines. Kim wrote that "ISS will be supportive of Elliott's claims because ISS, like Elliott, is founded upon Jewish money. Elliott's CEO is Paul Singer, a Jew. ISS is an affiliate of MSCI, which is owned by Jewish major shareholders. … ISS's opposition to the merger can be interpreted along the lines of Jewish alliance. Jewish money has long been known to be ruthless and merciless." The story was illustrated by a photo of Mr. Singer, who is identified in the caption as the "greedy, ruthless head of a notorious hedge fund."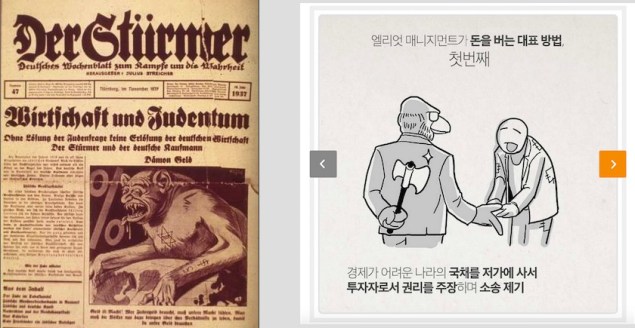 For context on the authority of Mediapen, it's not CNBC, but it's not a one-man crazy blog either. But Seoul-based MoneyToday kind of is CNBC – it's the definitive Korean business site. And on June 22, MoneyToday reacted to the ISS recommendation as follows: "The fact that Elliott and ISS are both Jewish institutions cannot be ignored," it wrote, sounding unhinged. It gets better. Or worse. "Elliott is led by a Jew, Paul E. Singer, and ISS is an affiliate of Morgan Stanley Capital International (MSCI), whose key shareholders are Jewish. According to a source in the finance industry, Jews have a robust network demonstrating influence in a number of domains."
One can only wonder if that "source in the finance industry" is someone like Mel Gibson, but ISS is not an affiliate of Morgan Stanley Capital International (MSCI) and hasn't been for a year. (Not that such an obnoxious and crazy statement would be justified if it were.)
It doesn't take a lot of theorizing to see Samsung's hand behind the attacks emanating from Korean media.
For one thing, the site itself is saturated with Samsung ads. It's been four days since the outrageous comments appeared on Mediapen and there's been no word yet of Samsung distancing itself from the remarks or pulling its ads, which are so prevalent that Mediapen looks as though it's an official product of Samsung. Further, according to a Jewish blog, "A member of Samsung C&T's board of directors, Cheng Gyu-jae, has a podcast that is featured on Mediapen's front page."
That's not exactly a smoking gun, but one needn't look to surrogates for Samsung nastiness – the company itself throws below-the-belt punches of its own.
The Observer is the first to report that Samsung C&T's own corporate website, newsamsungcnt.com, features a slide show on its front page, which went up before the Mediapen "Jews are known to wield enormous power" story first appeared.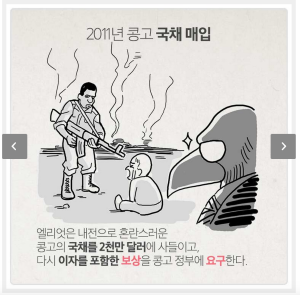 In an act of propaganda more in keeping with Der Sturmer than an international consumer goods company, Samsung has created a "vulture" character to lambaste Mr. Singer. According to an Observer translator, the slides paint an unflattering picture – obvious to non-Korean speakers, as well. The one that shows the vulture and the Korean currency reads: "The court's verdict on Elliott's application for a merger injunction?" The cartoon that depicts the vulture sitting on a throne reads: "Elliott, the repeated perpetrator of illegal acts." And the one showing Vulture Man with his eyes behind the glasses says: "Who is Elliott Hedge Fund? Case 1: Argentina."
A reader who clicks further into those slides is taken to further adventures of Vulture Man, wielding an ax and a bag full of US dollars. In another, Vulture Man is hiding a hatchet behind his back while he accepts payments from a destitute and oddly clown-faced vagrant. One particularly over-the-top image shows Vulture Man hovering over a Congo soldier who holds a machine gun to a crying baby. The caption reads "Purchase of Congo Government Bonds in 2011: While the country was in the shambles of civil war, Elliott purchases government bonds for $20M and then demanded payment including interest from the government."
Until yesterday, Samsung was 100% silent on the matter. Finally, after the Simon Wiesenthal Center and the Times of Israel covered the spat, Samsung put out a statement attributed to the CEOs of C&T and Cheil, Chi Hun Choi and Joo Hwa Yoon: "We are a company that is committed to respect for individuals and enforces strict non-discrimination policies. We condemn anti-Semitism in all its forms." That was sufficient for the ADL, which praised what it called Samsung's "clear and public stand" against anti-Semitism and thanked the company for its "letter" to ADL's national director. But there doesn't seem to have been a "letter" if the word letter means what it does when I tell my kids to write me letters from camp. The ADL has yet to release the full "letter" but sources familiar with the text maintain that's all it was—the two simple and generic sentences above. We will see if the ADL finds its backbone now that the venerable anti-discrimination group has seen these outrageous cartoons.
(Paul Singer and other representatives from Elliott Management declined to comment for this story. An email sent to Samsung C&T was not returned by press time – this story will be updated to reflect their comments if they reply.)
Fights over the terms of merger & acquisition activity are often bruising. Sometimes they're even personal. Indeed, the Samsung corporate website, on which ten of the last twelve press stories in the "Merger-Related News" tab were about Elliott's untrustworthiness, is actually more typical of the battles that take place, albeit with some hometown help from the Korea Times, which gleefully discusses a war between "chaebol" and "vulture." But this kind of race-baiting and anti-Semitic personal attack is virtually unheard of in the modern era.
With the key vote approaching this week, let's hope the worst of it has passed and the feuding parties will return to more conventional M&A weapons.