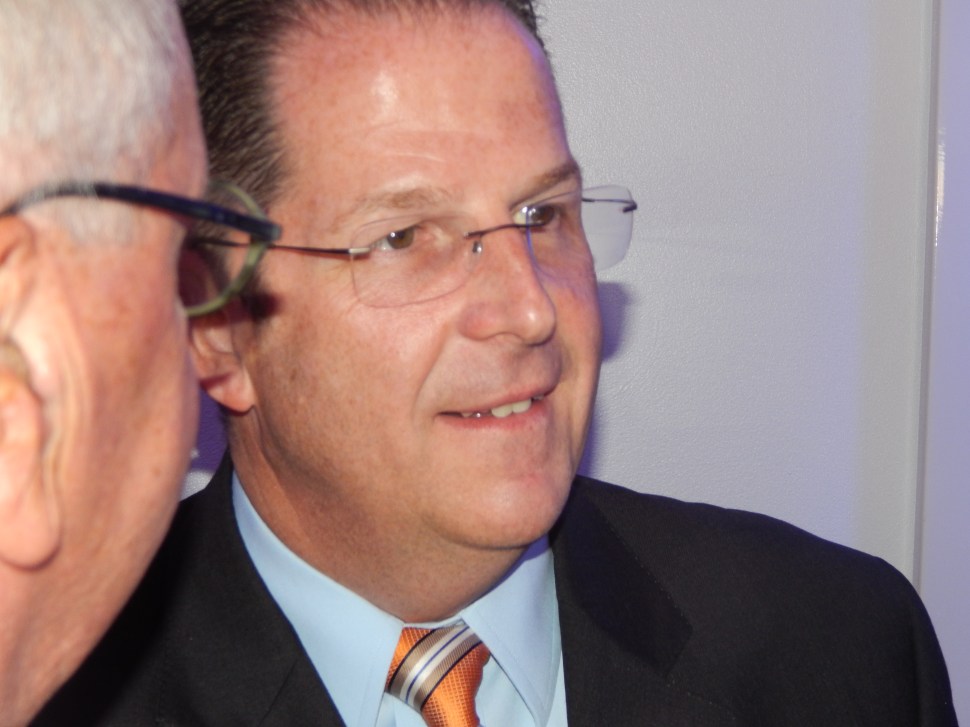 NORTH BERGEN – A saran wrapped opaqueness at dusk dominated the Hudson harbor, which looked like some cinematic homage to the work of Joseph Mallord (not Weehawken Mayor Richard) Turner, but it was actually the real thing, with New York glistening somewhere in the distance as a crowd of politicians jammed the floor of the Waterside Restaurant to pay fundraising tribute to Mayor Brian P. Stack.
There was a former U.S. Ambassador to Germany (details upcoming) in the room, in addition to a U.S. Congressman, former Governor and a Senate President, but the sharpest image that emerged tonight was that of the mayor himself, a street tramp in the Bill Musto years turned undisputed denizen of City Hall, where even his old enemies were all but choking back tears as they acknowledged his body of work.
Stack always felt that special kinship with Musto, his mentor, the World War II combat veteran who used to sit within a tight circle of advisors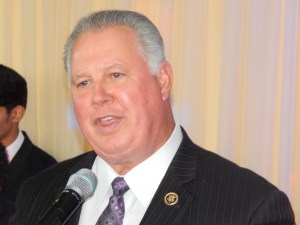 as the young Stack pressed his nose against the windowpane, trying to get into that world. While other kids were getting ready for the junior prom, Stack was preparing to go to the next Musto rally. His father, who worked for the Port Authority, tried to jog that early fixation on politics and got his son his job working on the PATH. The younger Stack lasted three days. He couldn't help it. He wanted to be a politician. Specifically he wanted to be mayor. "It's my passion. was infected with the political bug," he admitted to the crowd, which included former Governor James McGreevey, Senate President Steve Sweeney (D-3), former U.S. Ambassador to Germany Phil Murphy, U.S. Rep. Albio Sires (D-8), Hudson County Executive Tom DeGise, state Senator (and North Bergen Mayor) Nick Sacco (D-32), Hoboken Mayor Dawn Zimmer, Weehawken Mayor Richard Turner, Assemblywoman Angelica Jimenez (D-32), Assemblyman Raj Mukherji (D-33), Menendez advisor Michaal Soliman, attorney Donald Scarinci, former Senator Bernard Kenny, Hoboken Councilman Ravi
Bhalla, and all the commissioners from Union City. The local contingent included Commissioners Tito Rivas, Lucio Fernandez, Maryury Martinetti, and Celin Valdivia; Educational Facilities Director Justin Mercado; and Housing Inspector Alex Velazquez.
"Musto was a good man," Stack said of his infamously indicted mentor, who had a dream about turning Hudson County into Hudson City, and the remark had people muttering into their drinks about Stack's recent accelerated organizing forays into Northern Jersey City: maneuvers that suggest his desire to help shape the outcome of the next mayor's race in the county's biggest city in 2017 and beyond, and of a possible future endeavor to succeed DeGise as county executive. He spoke in bigger terms tonight than his longtime exhaustive insistence on only the dimensions of local and district politics.
"Many people like to badmouth Hudson County," said Stack. "But it's the most progressive county with people who have the greatest ideas."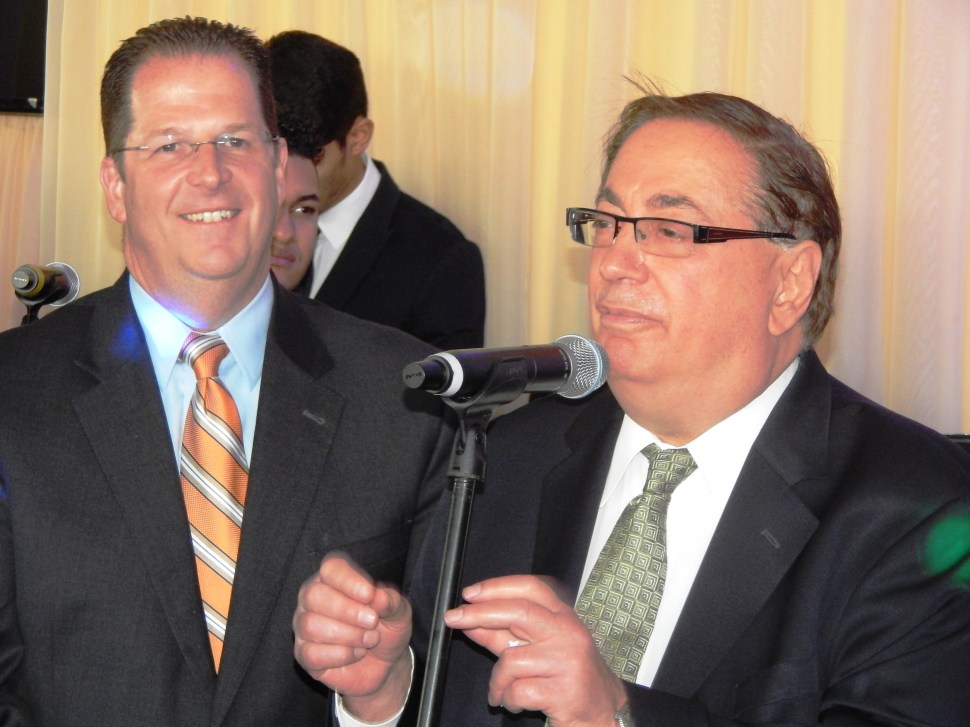 The pieces are all there for countywide domination, or so it appears. Having finally scaled Musto's Union City model, Stack once brooded on the outskirts of this inner countywide circle, camped as far as he could from those establishment types helmed by the likes of Sacco and others. But when Stack's once fierce political nemesis took his turn at the microphone, the North Bergen mayor gushed over his North Hudson neighbor. "There is not a more effective mayor in New Jersey than Brian Stack," said Sacco. "I'm happy and relieved that we are friends. Welcome to North Bergen, Brian."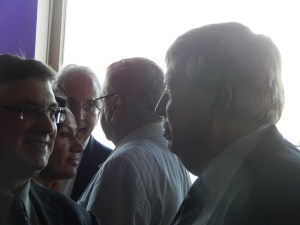 They hugged, and later DeGise described Stack as "the hardest working mayor in America."
Another mayor, Jersey City Mayor Steven Fulop, a likely 2017 candidate for governor, was not present tonight, but his closest allies were, among them McGreevey and Chief-of-Staff Mark Albiez, Stack's former chief who from his new position in Jersey City maintains a northern toehold as one of Stack's closest friends. Fulop's fingerprints were all over the politics of the mixer. It's almost as though his presence would be redundant. Fulop's two rivals in the 2017 game, meanwhile, Sweeney and Murphy, radiated their respective force fields of positive energy, evidently ably pretending they enjoyed each other's company.
PolitickerNJ asked Sweeney, a longtime ally of Stack's in Trenton, how over time he will be able to avoid Frank Pallone Syndrome, or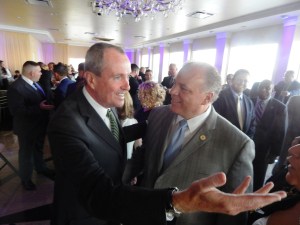 that condition of wearing out car tires driving across the state to Northern New Jersey only in the end to lose key party lines to a Northern Democratic rival, as Pallone, following years of diligent politicking in Essex, for example, got buried by Cory Booker in the 2013 Democratic Primary for U.S. Senate.
Sweeney said he won't be deterred by the time and travel. "I'm an ironworker," he said. "When you're working on a bridge and it starts to shake, that's tough. This is not tough. You see that building." He pointed across the Hudson River at the Freedom Tower. "Ironworkers built that building."

Murphy bounded electrically about the room prior to the start of the program. Veteran Democratic Party operative Jenny Davis floated nearby. She's joined the Murphy team, recruited by Murphy minder Brendan Gill, the Essex County Freeholder. Only recently has Murphy begun to mobilize in Hudson, home to Fulop, once territory believed by insiders to be a worthless undertaking for the Monmouth-based Murphy. "A complete waste of time," a Hudson source sneered in the former ambassador's direction. "He would have been better off hitting a flea market in Englishtown."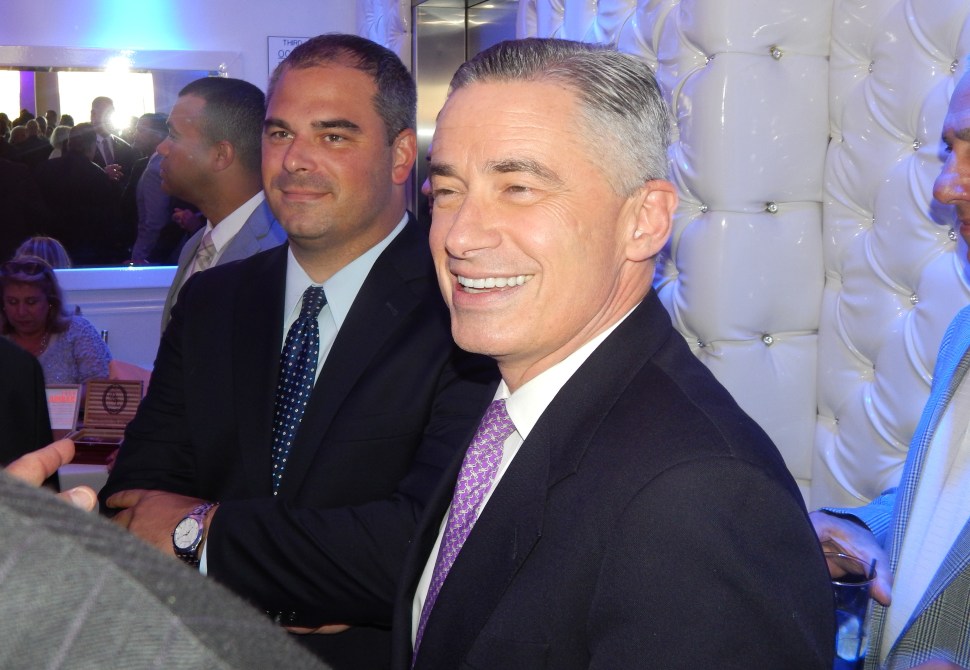 Then there was McGreevey, another long time Stack ally going back to when McGreevey was governor. Long before anyone in politics was comfortable mentioning his name in a positive light following his epic fall from grace in 2004, McGreevey began his public political rehabilitation tour in Union City, in fact, when Stack, remembering the then-governor's advocacy for his home town, named the high school library after the Jersey City born Irish-American politician.
"That place over there," McGreevey said with delight, casting a dismissive hand in the direction of New York and smiling in the wave of proud parochialism that ensued, the Hudson City or its idea more scintillating even than the so-called capital of the world. The insulation of mayors seemed agreeable to the former governor, who once served as the mayor of Woodbridge, who amid ongoing rumors about his own possible return to politics, picked them each out of the crowd when he stood at the front of the room with Stack, one of just a handful of speakers.
It seemed, along with the Musto dream of Hudson City, to be all of a piece tonight of a picture, the lines of which have yet fully formed. Hyper-kinetically political, Stack briefly turned philosophical when he stood in front of the crowd, thanking his beloved mother, who died two months ago after a long illness, for putting up with him because of his love of politics, and thanking too his late father. Then he mentioned his girlfriend, Mercedes, and how it had been her birthday the other day, and this time there was no Queen soundtrack or laser lights display, as there have been at past Stack free-for-alls, only the goodwill of the roomful of fellow Hudson pols and insiders clapping and cheering as someone brought forward an elaborate cake for Mercedes and Stack, with the rest, applauded.