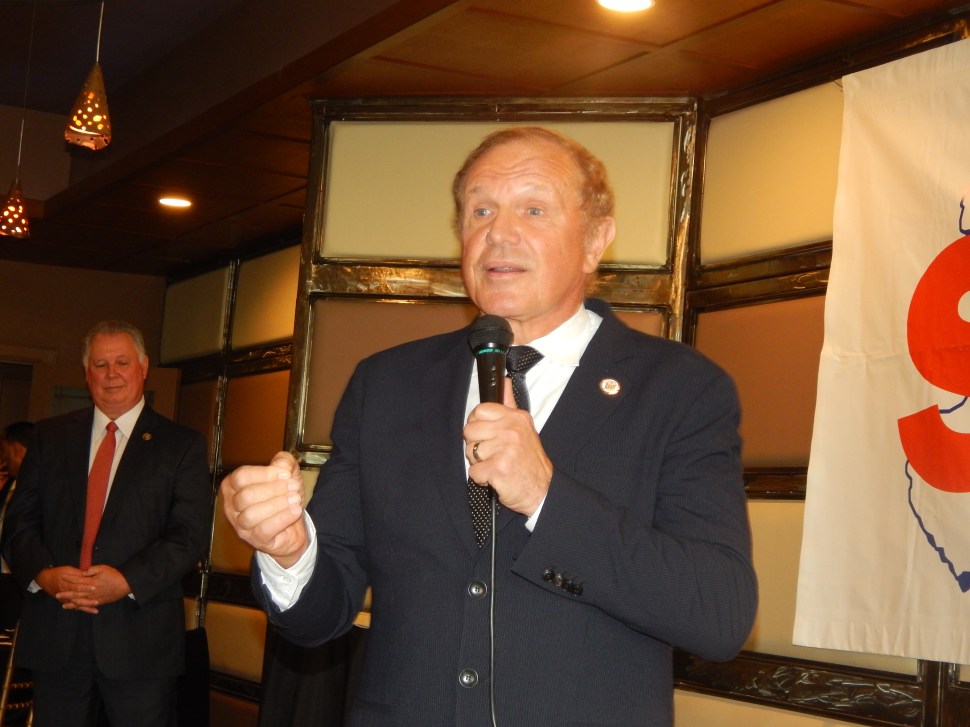 State Senator Raymond Lesniak (D-20) is calling on fellow lawmakers to reinstate Dominican citizenship to Dominican Republic-born people of Haitian descent. In 2013, the Dominican Republic announced that it would be stripping citizenship from people whose parents were illegal immigrants to the island nation. Last month, deportations began.
On Thursday morning, Lesniak will be joined by Linden Mayor Derek Armstead (pictured), Assemblywoman Shavonda Sumter (D-35) and Assemblywoman L. Grace Spencer (D-29) in Trenton as he announces his resolution.
According to Lesniak, the issue needs to be addressed in New Jersey because it is an overarching human rights issue that is "of immediate concern."
"I have an extensive background in working on human rights issues," Lesniak told PolitickerNJ. "I think that this is something we need to address."
Lesniak's legislative district has the third highest percentage of residents who are foreign-born in New Jersey, according to the U.S. Census. Almost 36 percent of residents are immigrants. Legislative district 20 also has a 26 percent black/African American population (including a large Haitian base) and a 42.6 percent Hispanic population (including many Dominicans).
For Lesniak, it is his district's ties to the island nations that make the issues especially relevant at home.
"I do have Haitian constituents along with Dominicans who are equally concerned," he said. "These are Dominican citizens who have been stripped of their citizenship. Dominicans of Haitian decent."
Assemblywoman Sumter agrees that, while the issue is international, New Jersey's large Dominican and Haitian populations make the issue significant in the state. "I hail from the city of Paterson which has a large Haitian population," she said. "We have a large Dominican population as well. This impacts people in New Jersey with family members in the Dominican Republic and in Haiti."
For Sumter, one of the biggest issues of concern regarding the Dominican Republic's dismissal of those of Haitian descent as citizens is that they will be left stateless and without the proper documents to immigrate to other nations or find employment.
"We need to create a pathway for them to get citizenship as well as opportunities for them to live and earn a living in their country as well as the ability to move to other places," she said. "A lot of our population wasn't born in New Jersey but they had the opportunity to come here. I know they want to same for others."
Archange Antoine is the President of the Roselle Schoolboard. He is one of Lesniak's most vocal allies on the issue of human rights.
"Many Dominican Americans understand this is a human rights issue and regardless of their strong national beliefs, they are also calling for justice for their fellow Dominicans of Haitian decent," said Antoine, whose parents emigrated from Haiti to the U.S. in 1976. "The Haitian American community is excited about Senator Lesniak's leadership."
Senator Lesniak has a long track record of supporting human rights issues. After the 2010 Haitian Earthquake, he spearheaded a fundraising effort to get supplies to the struggling nation. In 2009, Lesniak won the Mémorial de Caen International Human Rights Award in Normandy, France.
"This is beyond politics," he said.
Mayor Derek Armstead agrees that the issue is apolitical.
"Politicians sometimes tend to jump up and down when it is election season but this is something that has to be done now," said Armstead, who organized a rally on July 18 in Linden to support the issue.
While Linden has a large Haitian population, Armstead that his primary motivation stemmed from not wanting to "stand idly by."
"We don't do this to get support from our voters," he said. "We don't do this for people's support, we do this because it is right."
The full text of Lesniak's resolution can be found here. [LINK: http://raymondlesniak.com/reinstate-dominican-citizenship-to-dominicans-of-haitian-descent/]