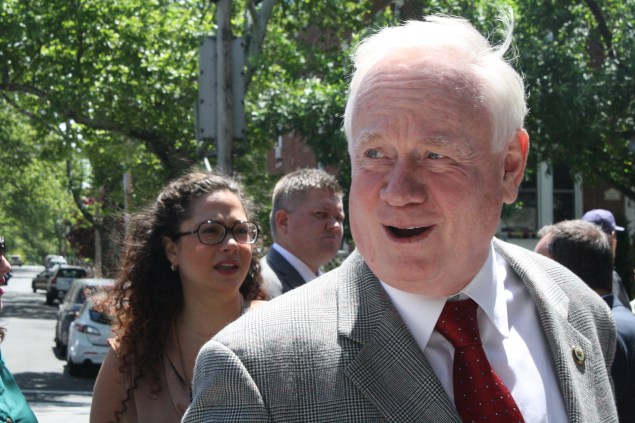 A salty joke a Republican state senator shared about same-sex marriage has drawn the ire of local Democrats.
State Senator Martin Golden, a Brooklyn lawmaker, posted the joke to his personal Facebook page Sunday afternoon and later removed it. A conservative who voted against same-sex marriage in 2011, Mr. Golden's post appeared to compare the Supreme Court's narrow decision last month to legalize same-sex marriage nationwide to a vote (taken in certain states earlier this decade) to legalize marijuana.
"It all makes sense now. Gay marriage and marijuana being legalized on the same day. Leviticus 20:13 – 'if a man lays with another man he should be stoned.' We've just been interpreting it wrong all these years," the post read. (Marijuana was not legalized on June 26, the day of the Supreme Court decision on same-sex marriage. An internet searched showed the meme is several years old.)
Mr. Golden shared the joke from the humor website Mandatory, which describes itself as the "greatest men's site on the internet." The Bay Ridge Democrats, a local Brooklyn club often critical of Mr. Golden, was not amused.
"To make a crass joke involving the stoning of gay people is beneath the dignity of his office," said a Bay Ridge Democrats spokesman. "Senator Golden should not only immediately apologize but start recognizing that all his constituents are equal. It's 2015 and there's no place for bigotry in our society."
This is not the first time Mr. Golden has landed in hot water over an impolitic message. In 2012, the Brooklyn state senator sponsored a class on "how to be a lady," teaching women about "posture" and "feminine presence." He eventually had to cancel the class.
Mr. Golden's office did not return a request for comment.