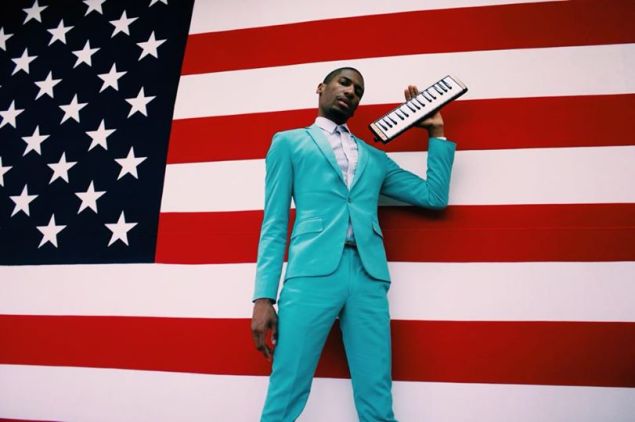 If anyone can match Stephen Colbert's big personality when he debuts The Late Show with Stephen Colbert on September 8, it's his new bandleader Jon Batiste.
If anyone can match Stephen Colbert's big personality, it's his new band leader, Jon Batiste.
When the New Orleans musician first appeared on The Colbert Report in 2014, the studio couldn't contain his band's infectious performance: Batiste and his group Stay Human began playing in the studio, but soon spilled out the studio's doors, marching outside to perform for a gathered crowd.
Such behavior isn't unusual for Batiste. His performances are explosive, unpredictable, and somehow not driven by garnering cultural cache by way of shares and likes and all manner of social media's transactions, either; this is what they mean when they say performer. Such showmanship should serve The Late Show well in a TV landscape increasingly dominated by next-day clips—but it's also just pure Batiste.
In a video announcing Batiste as bandleader for The Late Show with Stephen Colbert earlier this summer, the Julliard grad played a few bars of heady jazz at a baby grand piano before jumping up from that static—if traditional—house band setting. Grabbing his melodica, he stood center stage, backed by two members of his band Stay Human on sax and tambourine. The already vivacious sound somehow gained energy, Batiste's physical freedom revealing a catching spirit rarely seen among late-night TV bandleaders.
[youtube https://www.youtube.com/watch?v=dlxXCBPBnus&w=560&h=315]
House bands have been a late-night tradition since The Tonight Show began as a local New York program, before NBC picked it up for national broadcast in 1954. Growing out of the format's radio roots, music was a necessary component in the hour-long broadcast. Yet, it wasn't until Doc Severinsen replaced original bandleader Skitch Henderson in 1967 (with Johnny Carson then helming the show) that the bandleader's role went beyond music. Sometimes taking co-host Ed McMahon's place when he had the night off, Severinsen had a natural, comfortable exchange with Carson that often made the host laugh, which in turn made for good TV.
Rapport between host and bandleader might not seem instrumental to a show's success, but today late-night TV is as much about the house band as the host; bandleaders fulfill increasingly comedic expectations. That much became clear with Carson and Severinsen. When Jay Leno took over The Tonight Show in 1992, famed jazz musician Branford Marsalis served as his bandleader but chafed under the role in part because it required him to play jokey sidekick. He quit in 1995.
Batiste's innovation, and the spark of improvisation that fuels it, stand to bring a new energy to late night.
Over the years, bandleaders and their house bands have developed larger, and larger personalities. Perhaps none more so than The Roots, who joined Jimmy Fallon when he took over Late Night in 2009. The Roots, especially drummer Ahmir ?uestlove Thompson and rapper Tariq "BlackThought" Trotter, are as much a part of the comedy as they are the music.
The Roots have proven that taking on more than bumpers and banter provides late-night shows with a greater identity, all the better to attract and keep audiences in an increasingly competitive market.
Steeped in jazz, Batiste has a similarly impressive musical resume. In the spirit of his musical generation, Batiste draws on tradition in order to innovate it. His most recent album Social Music demonstrates his technical proficiency. But he likes to color outside the lines, too. That innovation, and the spark of improvisation that fuels it, stand to bring a new energy to late night.
Batiste's music exudes a nomadic quality. As temporal as it is physical, it wanders the highway linking past and present, gathering styles, forms, and genres along the way in order to weave them together in the name of accessible jazz. In one particular track off Batiste's Social Music, "The Jazz Man Speaks (Maple Leaf Rag)," Jelly Roll Morton's voice echoes from Alan Lomax's recordings, providing an answer to a question Batiste poses on the previous track, "What is jazz?" Underneath and around and through Morton's voice, Batiste and Stay Human play Batiste's original arrangement of "Maple Leaf Rag." He invokes the past, showing that he's familiar with and steeped in musical tradition as much as any, but he's willing to—he very much wants to—add his own voice to that cacophony.
Batiste's inventiveness doesn't end with composition and arrangement. He shows how a jazz performance doesn't have to perpetuate the hushed listening atmosphere found at some of the top clubs in New York and New Orleans. His playfulness invigorates jazz with a youthful vitality, and its effect on audiences is telling.
During a live performance at Baton Rouge's Manship Theatre in early March 2014, Batiste and Stay Human began a second line that wended its way through the audience, encouraging any and all to join their impromptu parade. Many did. Laughter added to the music, an instrument all its own, and one that suffused the moment with a palpable joy. This expressive nature, both musically and physically, hints at what Batiste could possibly bring to The Late Show. While he's perfectly capable, and content, sitting at his piano and performing, he's as likely to get out of his seat and break down the fourth wall between audience and stage. How that will translate to television remains to be seen, but it seems fitting to think he will keep Colbert on his toes and bring a fresh approach as bandleader.
Late-night TV has come a long way from its start in the early 1950s. The restrictions limiting Marsalis in the early 1990s seem to have also lessened. With a particularly innovative spirit, and a willingness to not just create music that will bring people together—blurring societal boundaries as much as musical genres—but to play around, Batiste stands to be an exciting choice to join Colbert when The Late Show debuts with its new host on September 8.
Amanda Wicks is a freelance writer specializing in music and comedy. She has also written for Paste Magazine and Consequence of Sound. Follow her on Twitter.
[youtube https://www.youtube.com/watch?v=AyULWaSTo5w&w=560&h=315]
***

Long Live Youth Revolt: Thurston Moore Expands His Sound With a New Band
Teaching Kendrick Lamar and Social Justice in and Outside the Classroom