NEWARK – They poured forth, one after another—Freddie Gray, Eric Garner, Mike Brown, Abdul Kamal, Kashad Ashford, Rekia Boyd, Jerame Reid—blacks killed by men wearing uniforms, names hammered into an anti-police brutality battle cry of remembrance on the streets of downtown Newark. "We're here united in opposition to racism, poverty, bigotry, inequality, and all forms of oppression," yelled People's Organization for Progress Chairman Larry Hamm, citing a pandemic of police brutality across America. "Stop killing us! Stop killing us! Stop killing us!
"There is a burgeoning police state in the United States," said Hamm, standing at a podium at the top of the steps to the Essex County Courthouse addressing a crowd of 1,000 people. "We want an end to police violation of Constitutional rights. We want an end to police murder and torture and terror. We are not going to be paralyzed with fear. We are going to fight back every day of our lives. …This is not just a depression. It's a criminal act of economic oppression."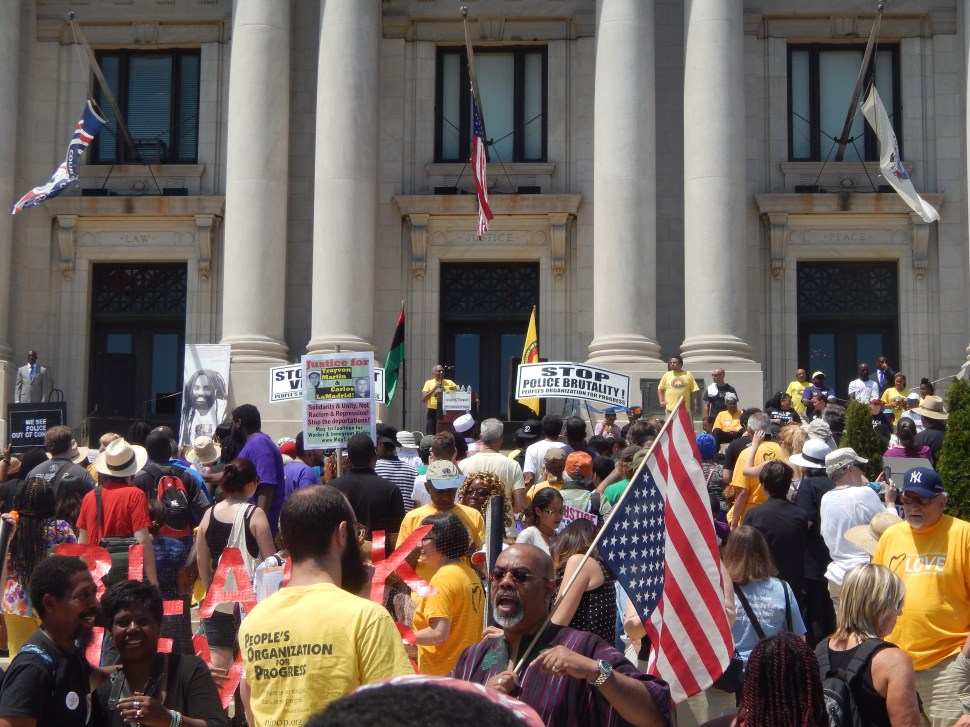 Hamm cited the killings by police of young black males in high profile cases, then, his voice breaking with outrage, reminded the crowd of the racist murders in a church in South Carolina by a white supremacist. "That is an act of racist terror," Hamm said. "He should be prosecuted as a terrorist." Activist-author Cornel West joined Hamm in a march here today backed by 185 organizations and simultaneously reinforced by actions in cities around the country. Newark Mayor Ras Baraka was not present – he's out of town in New Orleans – but Council President Mildred Crump stood in for him.
"To say that we have equal rights is a lie," said Crump.
When reporters mentioned efforts in the state to equip law enforcement personnel with body cameras to help eliminate departmental misdeeds and crimes, Hamm acknowledged it's the right move, but said the country needs a more deeply penetrating plan of attack. "Technology helps," he said, "but it's not enough. We still have to abolish the institution of racism."
The nimbus of radicalism that suckled both Baraka and Hamm finally propelled Baraka into City Hall last year, leaving family ally Hamm, an active agitator going back to 1967, street level as the consummate unreconstructed rebel.
It's said that college radicals leave their organizing on campus once they graduate, but Newark's Hamm took the agitating from his student days at Princeton University
into a lifetime of people power hell-raising, persisting through a marriage that fell apart, a car accident last year that almost killed him and all the counter invective awaiting one who takes the political stances he does year after year. A survivor among friends and followers, he jogged up the steps of the courthouse this morning as the undisputed unelected local leader of the movement to empower poor people.
Now he's got a longtime friend in City Hall, activist turned principal turned councilman turned Mayor Baraka, whose mother Amina, widow of the late poet Amiri Baraka, gave a speech in support of Newark reclaiming local control of the schools system.
As a calypso beat seared the summer heat, Police Chief Anthony Campos walked up to Hamm prior to the start of the march. "If there's anything you need," he told the activist, "call me. I'm going to be around all day. Whatever you need, we're here."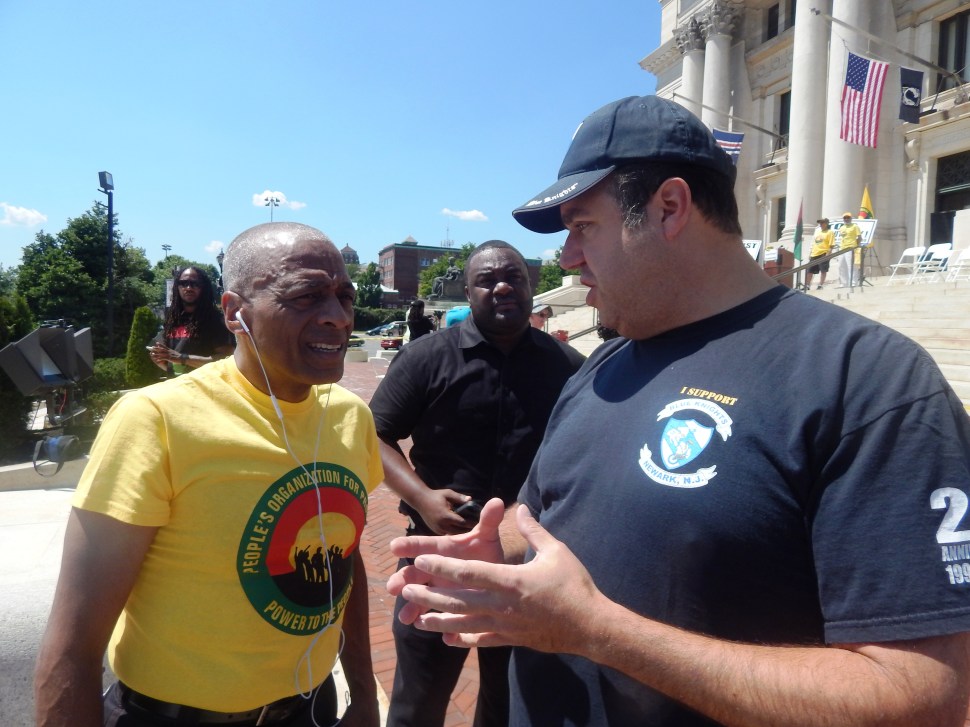 One of Hamm's lieutenants snapped, "Who are you?"
"I'm the chief of police," said Campos, and received a stunned look in response.
"I… I guess it's dress down day," the aide managed.
Campos cracked a grin.
"Let's just say we're in a better situation with the current administration than with the prior administration," explained Hamm. "It's much more cooperative."
Campos had been in the Booker Administration, as police director at one point, but didn't leave on good terms. He revived his career as a law enforcement leader with Team Baraka.
His signature black scarf aflutter, West arrived amid love and a shower of cameras and immediately dropped to his knees when he saw Hamm and bowed. "POP and Larry Hamm are holding police accountable," he told reporters.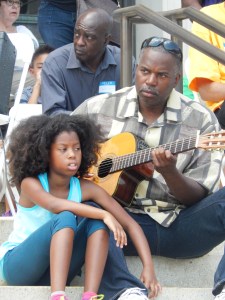 Leading the chants of "Stop police brutality, stop police brutality," the POP chairman would take his troops – Black Panthers and some priestly black cassocks among them – from the Courthouse, up Market, down Broad, to the federal building, and then back to the courthouse. Hamm said he wants the abolition of all stand your ground laws in the country, in addition to the abolition of all voter ID laws "by this racist Supreme Court," and a "restoration of the Civil Rights Act gutted by this racist Supreme Court."
Hamm called on President Barack Obama and the U.S. Congress to pass a jobs program to put to work 23 unemployed Americans. He wants a moratorium on all foreclosures, single payer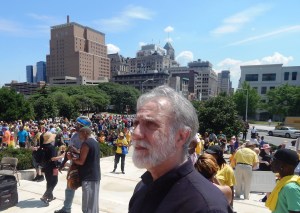 healthcare, and a return of local education control to the City of Newark. Calling for a complete restructuring of the society and its priorities, "a radical transformation of the socio-economic system," Hamm smiled when PolitickerNJ suggested that surely he's backing U.S. Senator Bernie Sanders (D-VT) for President in 2016. "I'm not ready to go there yet," he said.
Assemblywoman L. Grace Spencer (D-29), of Newark's South Ward, a prosecutor by trade, attended the march. "Across the country the words are spoken, 'Black lives matter,'" she said. "Today those words came as a cry from the people assembled and rose above the crowd." Pointing to a brutal killing in Newark just this past week where one man murdered another in front of the victim's children, the assemblyman noted the broader fight against violence. "The fact is all lives matter," Spencer said. "It's not just the police committing crimes against black people, we must fight against heinous vicious crimes committed all people."  The assemblywoman is co-sponsor of the police body camera bill that is not yet out of committee in Trenton.
Click here to subscribe to the Politicker NJ Wake Up Call