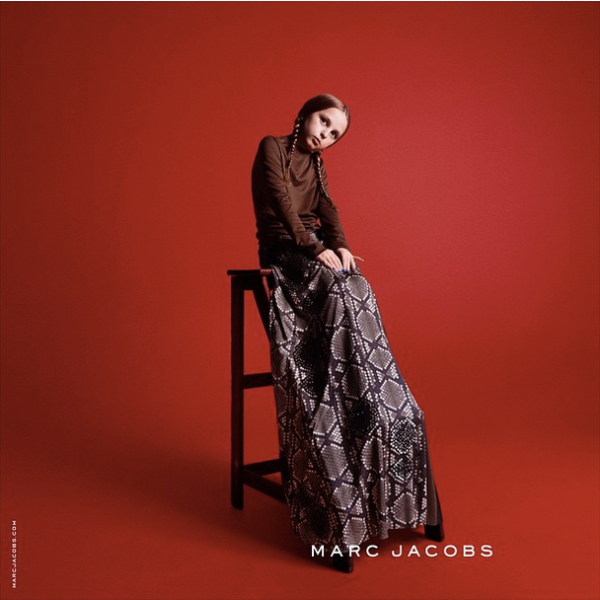 Marc Jacobs has never failed to draw together a interesting crowd for his ad campaigns, and his Fall/Winter 2015 images are no exception. The upcoming series, shot by David Sims, features Mr. Jacobs' chosen clad in his latest designs, each arranged in front of a deep red backdrop. While this season's models include Cher, Sofia Coppola, Willow Smith and Winona Ryder, perhaps the most surprising of his eclectic selections is the 9-year-old Betty Lowe.
Ms. Lowe is no stranger to the flashbulb. In 2010, at just four years old, she modeled for the children's label Alexa and Alexa alongside her two brothers. Plus, she has family ties to Mr. Jacobs: Her older sister, Daisy Lowe, was featured in the 2009 Marc by Marc Jacobs campaign. The preview of the the younger Ms. Lowe's campaign, leaked by Mr. Jacobs himself, featured the child perched on stool with a python-printed skirt extending long past her feet, which stick out daintily through the falling fabric.
"Beauty, style and talent know no age," Mr. Jacobs claimed on his Instagram page, with reference to his employment of the prepubescent model,  "It is those individuals whose creativity, unique vision, and voice inspire all of us here to create and express ourselves through our medium: fashion."
Marc Jacobs is not, however, the first luxury designer to put child models to use. Baylor and Hudson Cryder are two of the top pint-sized muses in the fashion world, already having booked campaigns for Ralph Lauren, Oscar de la Renta and J. Crew by the ages of seven and ten. Baylor, not yet a graduate of the fifth grade, continued on to be featured on the cover of Vogue Bambini. And younger still, a 6-year-old Hudson Kroenig has become a muse of sorts for Karl Lagerfeld, resulting in many Chanel ad campaigns, as well as a few runway appearances for the luxury label. Additionally, 12-year-old Julian O'Neill has worked with Roberto Cavalli and has been featured in a 12-page spread for Elle UK.
Betty Lowe, however, has made it clear to the public that she also enjoys the less glamorous perks of adolescence. Her instagram, packed with snapshots of tug-of-war games, french-fries and puppies, certainly seems reflective of being an average pre-teen. "We weren't sure whether they'd be a bit grumpy and not enjoy it. You never really know whether it's the right thing to do," the little model's mother, Pearl Lowe, told Vogue UK  in 2010, "but they LOVED it." Perhaps it is possible to enjoy all of the usual dramas and delights of pre-teen life, even with a Marc Jacobs shoot under your belt, a factor Ms. Lowe will prove to be true.
Mr. Jacobs closed out his Insta-leak of campaign photos writing, "[A]s I look at all the portraits of David's beautiful campaign, it touches me so deeply to see the profound effect this cast has on my life and work."