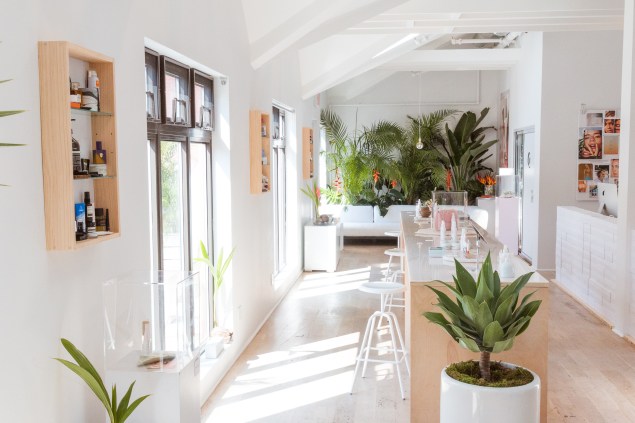 For those New Yorkers lucky enough to experience summer Fridays, the city is your oyster, well, from about 1 to 5 p.m. So how will you spend your few hours of freedom? By grabbing an early cocktail? Or catching some rays in Central Park? What about shopping in an exclusive boutique?
We're all about the latter option, especially when the perusing includes is a range of simple-yet-effective beauty products, in a carefully curated penthouse. Which is exactly what you'll find at the Glossier's Summer Fridays Pop-Up. Not only will members of the Glossier team be on hand, but you might even catch some face time with founder, Emily Weiss, who also started the beauty website Into The Gloss. Just in case you don't get to pick her brain, we did some questioning of our own, to figure out what this pop-up showroom is and how many shoppers have stopped by. P.S. Happy Friday!
Where did you get this idea for this Summer Friday Showroom? We are constantly getting feedback from our community on Instagram, in ITG's comments section, via email; everywhere. We thought a showroom would be a great opportunity to meet them IRL, play with products, and just get to know them better. I love the idea of our Summer Fridays Showroom as us inviting our friends over to hang out, that's really what we're doing.
What type of people have been stopping by? The Showroom has been open for two Fridays now, and we've had hundreds of guests come by. The energy has been incredible. Everyone is so excited to say hello, try the products, and of course go home with some Glossier. The people who visit are a great mix of our NYC community who know and love us well, along with Glossier fans visiting from out of town. But best of all, these people are bringing their friends, so we're meeting tons of new people as well.
What kind of feedback have you gotten from the pop-up visitors? Most people are excited about the Coconut Balm Dotcom, as well as our two masks, the Mega Greens Galaxy Pack and Moisturizing Moon Mask. The response has been really exciting. As for new products people want… SPF! And we're working on it!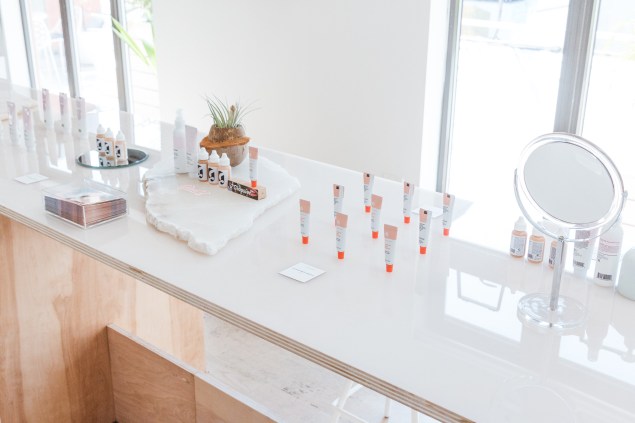 Who designed the penthouse space? We have a fantastic creative team at Glossier that oversaw the whole project, and we enlisted Marguerite Wade who helped design our Pop-Up in October. The concept was to create a summertime oasis that felt very tropical and bright, but still very cozy and inviting. I think we succeeded; it's truly stunning, and I love scrolling through Instagram to see everyone's photos of the Showroom.
How did you choose Grace Villamil to revamp your conference room? I fell in love with Grace's work after seeing her silo installation at an LES boutique called Coming Soon. There's a small conference room in our penthouse and when we were coming up with ways to make the Summer Fridays Showroom really special, I immediately thought one of Grace's installations would be an amazing addition. We call it The Escape Room, and it totally fits into our oasis vibe. It's the perfect place to unplug, chill out, and have a really unique experience.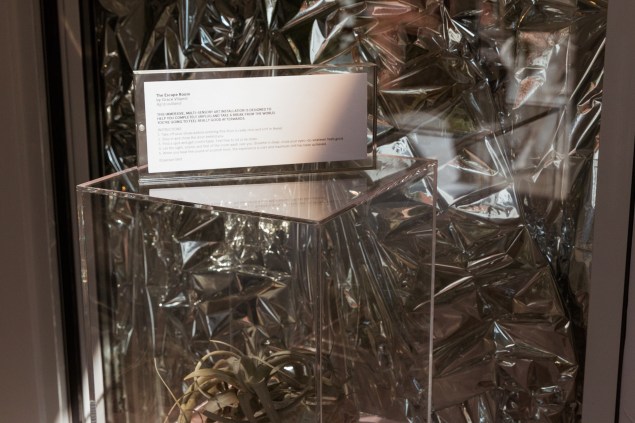 When you're not spending summer Fridays at the office, where can you be found? I've taken a couple short mini-vacations here and there this summer, but mostly I've been here at Glossier HQ working! We're at such an amazing inflection point in the company, I am 100 percent focused on growing this team and empowering them to make Glossier everything we want it to and know it can be.
What's the next step for Glossier? So many announcements! Nothing we can talk about here, but lots to look forward to.