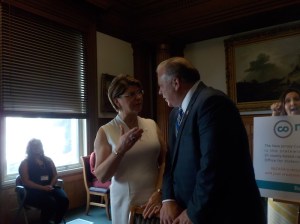 PATERSON- New Jersey Senate President Stephen Sweeney joined with state Senator Nellie Pou (D-35) and members of the New Jersey Coalition Against Sexual Assault (NJCASA) in an effort to urge Governor Chris Christie to sign legislation that would extend rights to sexual assault victims that are only currently available to victims of domestic violence.
The bill, S-2686, was passed in by a vote of 40-0 in the Senate and passed the Assembly with a vote of 73-0 in June. In it's provisions, it calls for the state to allow restraining orders to be placed on those who have inflicted sexual assault and bar them from places victims regularly frequent and from visiting victim's homes.
Now, according to Sweeney, the legislation is just "sitting on the Governor's desk."
"I am a little annoyed he hasn't signed it yet," said Sweeney of Christie during a roundtable discussion at the Passaic County Women's Center at the Passaic County Community College. "He is a father, I am a father. To delay it is one more person who is not able to get the protection they need."
Pou echoed Sweeney's statements, saying that the legislation was a critical step in protecting victims of violence.
"For victims of sexual assault or domestic violence, it can be a daily struggle to live in fear knowing that their attackers are free and could strike again," she said. "This bill will extend better protection to all victims against future attacks and allow them to live with a greater sense of security."
While the sexual assault act legislation has yet to be signed by Governor Christie, he did approve the Senate's FY 2016 budget which allocates $2.24 million for support services for victims of domestic and sexual violence that, though included in FY 2015, were left out of the governor's FY 2016 proposal. It allocates another $2.8 million for the organizations like NJCASA that help victims of these crimes.
"It is just remarkable that in 2015 we don't recognize this for what it really is," Sweeney said. "The government needs to spend smart. Spending smart is working with non-profits. The governor just needs to get back here and sign this."
Twenty-five states offer similar protections to victims of sexual assault.