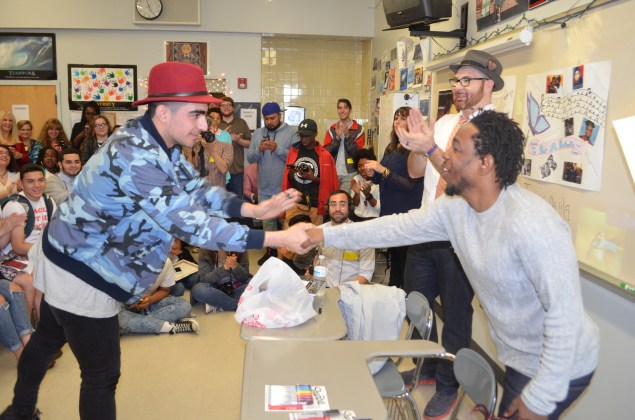 Hands up, don't shoot. Pants up, don't loot. Black lives matter. White lives matter. We live in a white supremacist culture. We live in post-racial America.
I can't breathe
I can breathe
I can't breathe
It is a frustrating time to be living in America. Imagine being a teenager, and growing up trying to make sense of two narratives: One that validates the black experience, acknowledges systems of oppression and unapologetically states what should be obvious—black lives matter; and another that mocks and ignores that first world view, and asserts racism does not exist.
In 2015, most public schools still privilege and teach a dominantly white canon, in literature and in history. If you are a person of color and have no representations of yourself or your history in any of the materials you're taught in the school system, how are you expected to relate to it? How are you expected to learn?
I tried to pay attention but they classes wasn't interestin'
They seemed to only glorify the Europeans
Claiming Africans were only three-fifths a human being

These are lyrics from the song "They Schools" by the hip-hop group Dead Prez. But in the hands of educator Brian Mooney, who teaches the song in his extracurricular History of Hip Hop Class alongside literature written by people of color, they're sparks, engaging minority and white students in discussions on race and privilege, providing students with an outlet for their frustration, a way of understanding how and why our country is the way that it is—and a way of fighting a paradigm that tells people of color, daily:
Your experience does not matter.
Your culture does not matter.
Your history does not matter.
In a recent blog post, the High Tech High School English teacher wrote of his class' inspirational dynamic, which sees Mr. Mooney teaching Toni Morrison's The Bluest Eye alongside Kendrick Lamar's To Pimp a Butterfly. Mr. Mooney's students weren't the only ones stirred up by his innovative teaching. The story soon drew the attention of Kendrick Lamar, who visited the North Bergen, N.J., high school this June, where he listened to students' slam poetry, gave feedback on their work, and threw a surprise performance.
Lamar's visit validated the work that Mooney and other hip-hop educators have been doing for years, bringing national attention to why it matters to teach hip hop in our schools today.
"If we're talking about the most urgent and immediate reasons that hip-hop is important now, I think it's because of the fact that as a country, nation and society, we haven't internalized that black lives matter. And the reason that this became a movement and a hashtag, and we've seen this coming up in the news over and over again, you know, 'the unarmed black man being killed,' it speaks to the nature of institutional racism, and hip-hop can be an incredibly powerful tool to address some of those systemic problems that still exist."
Rapper Khafre Jay, another hip-hop educator, founded Hip Hop For Change, a nonprofit that brings hip-hop education and workshops to inner city schools in the San Francisco Bay Area. His workshops teach the history of hip-hop, how to break dance, do graffiti, and how to rap. He sees Hip Hop For Change as an organization that is providing high school kids with education that they do not currently receive in schools.
"To be quite blunt with you, we have a white supremacist education system. And what that means is that it places the history and the contributions of history of white people above all else," Jay says. "Black people, our history is really a footnote, mostly relating to slavery, as are the contributions of Latinos and other different cultures."
These cultural blind spots directly impact how these students see themselves and how they view their potential. "When we talk about the impact of a young brown person going through a school that shows them no representation of people like them, it doesn't value their cultural expressions or their learning styles, you are talking about setting up kids at a direct disadvantage."
Mr. Jay and Mr. Mooney have both experienced hip-hop's transformative power in the classroom. They say learning about the history of hip-hop has given their students the freedom to think critically, become more fully engaged, and allowed students to think for themselves. What better way for students to learn that black lives matter than teaching youth about the history, movements, music and politics of resistance?
By giving students the language of hip-hop to voice their experiences and culture, black lives matter becomes something more than a meme or a hashtag—innovative educators like Mr. Jay and Mr. Mooney are ensuring it's a permanent part of the curriculum.
[youtube https://www.youtube.com/watch?v=Z-48u_uWMHY?list=PLIen3IPVo_U30dpwJd2RDrPxYVXTplcq7&w=560&h=315]
***
Searching for American DIY at Gigawatts Fest

Stephen Colbert's New Bandleader Could Change Late Night TV