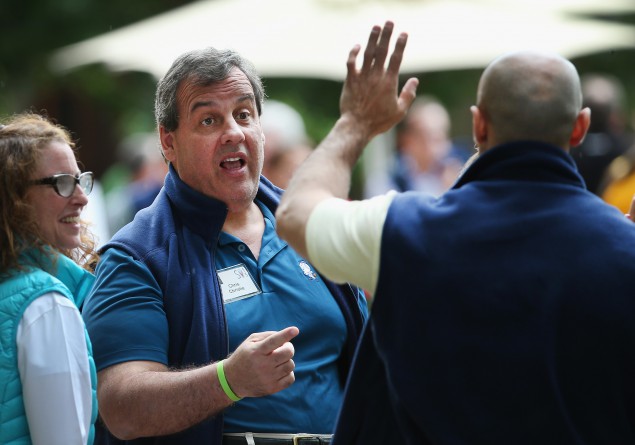 One of the central planks of Chris Christie's presidential candidacy—its very thesis—is that he'll do for the country what he's done for New Jersey. Whether that record is admirable or not is for the voters to decide and Christie's campaign is clearly confident that they'll like what they see. But one piece of inside Jersey baseball that might not translate so well when projected on a national stage is the strange lack of success Christie has had in permanently filling open spots, including important ones.
According to a PolitickerNJ analysis, Christie's failure to secure confirmation for permanent nominees is unprecedented for New Jersey governors. So much so that Democrats in the legislature are proposing bills to address what one state senator calls Christie's "sidestepping of the constititutional process."
As PolitickerNJ has detailed, Christie's people are starting to turn over at a rapid pace. Late last month, the Star-Ledger named an additional three cabinet members who are leaving, Health Commissioner Mary O'Dowd, Treasurer Andrew Sidamon-Eristoff, and Banking and Insurance Commissioner Ken Kobylowski. Every administration is bound to have vacancies and temporary replacements – eight years is a long time. But PolitickerNJ's analysis reveals that once a post becomes vacant Christie tends to fill it not with a permanent appointee who passes a Senate confirmation but instead with a temporary appointment who serves at his pleasure. And it's not just cabinet officers but judges, as well.
To wit:
A seat on the New Jersey Supreme Court has remained unfilled for five years.
John Hoffman has been the Acting Attorney General since June 10, 2013. That's more than two years, with no nominations having been submitted to Senate. That makes him one of the longest serving NJ AG in recent years; he's already been AG for longer than Paula Dow and Jeff Chiesa.
Four cabinet members are currently serving in an Acting capacity: Peter Hartt, Banking & Insurance; Elizabeth Connelly, Human Services; Mark Larkins, State Comptroller; Robert Romano, State Treasurer.
That will soon be six as Mary O'Dowd, the Health Commissioner, leaves to take a seat on the Blue Cross Blue Shield NJ board. When her seat is filled with a temp, she will help comprise a kind of family tradition of acting appointments because she is married to Christie's ex chief of staff Kevin O'Dowd, who almost became the permanent Attorney General and is now at Cooper Hospital.
In Christie's defense, some of these spots have remained vacant despite strenuous effort by the governor. For the Supreme Court, for example, Christie has tried to appoint at least three judges: Phil Kwon, Bruce Harris, and Bob Hanna. The Senate wouldn't confirm any of them.
And other "actings" are more reasonable, being the result of people who left very recently.
As the governor's spokesperson Nicole Sizemore told PolitickerNJ, "The nomination process is complex and lengthy, and the Governor takes the appropriate time to identify and put forth qualified nominees who will best lead our state's largest agencies."
It's unclear how that will play to a national audience. Presidents have to clear appointments through a sometimes-hostile Senate as President Obama just succeeded in doing when the Republican-controlled US Senate confirmed Attorney General Loretta Lynch.
But Senator Nicholas Scutari (D-22) says the problem is indeed lack of effort.
"Christie hasn't been trying at all. He hasn't nominated hardly anyone. It's easier for him this way. This way he doesn't have to go in front of my committee."
That explanation might be true, but it won't necessarily fly with national voters, especially Republican primary voters, who pay a lot of attention to whether a president will likely be able to shepherd conservative judges through an unpredictable US Senate.
This Governor may have simply decided it's easier simply to install someone as "acting" rather than pick a fight with the Senate Judiciary Committee. That tactic is also at odds with another selling point for a Christie presidency: his reputation for forging bi-partisan relationships.
According to Scutari, "This is about control, my friend. He's sidestepping the constitutional process. It sidesteps the constitutional process of advise and consent so we can have balanced government. No predecessors did this. And there's no way to stop it unless we impeach the guy."
For his part, Christie views the nomination-confirmation as a two-way street where the other party won't meet him half-way. According to Sizemore, "The process is also built on participation and the advice and consent obligations of the Senate. Sadly this Senate has routinely proven that this is a process they will obstruct or certainly put at the bottom of their priority list." That kind of toughness might actually play well in a national Republican primary. Conservatives are wary of executives who tried to appoint true-believers and were denied, and then nominated more moderate justices who ended up actually voting that way. Think of Anthony, who Reagan nominated only after Robert Bork was rejected by the Senate.
Scutari isn't buying the "permanent temp" role and is trying to stop it. He has a bill in the legislature that would force governors to make nominations within six months of appointing an acting cabinet officer or the acting official cannot stay.
Why does this even matter? After all, a full appointee can be expected to act in accordance with the governor's wishes just as much as a temporary appointee, one would suppose.
According to governmental experts contacted by PolitickerNJ, there are two key benefits that full appointees provide the citizens of New Jersey. For one, temporary appointees lack the authority to create long-term initiatives since their agencies aren't confident that they'll be around to see them through. Then there's the check-and-balance function. An appointment who will have to face the State Senate can be presumed to be a more selective choice and also better prepared for the questions he or she will face. In essence, there's a self-selecting process that goes on as the governor chooses people with a good chance of passing Senate muster.
Scutari agrees and says that these are particularly pressing in New Jersey because of the governor's frequent absences as he campaigns around the country.
"These guys lack the full authority to do these things. And Christie's not here to do them – he's never here. The one that's most telling is Attorney General. The guy's been there for two years and Christie won't nominate him. He's still making up his mind."
Indeed, given the governor's background in law enforcement and fighting public corruption, the absence of a fully empowered Attorney General has been a mystery. Scutari's theory is that the governor isn't just avoiding a fight with the senate but actually prefers having people in acting capacity.
"It looks to me like he wants to control the AG office by having one who's only in an acting capacity. If you do confirm him, he gets a term and can only be removed for cause. If he's acting, the governor can do what he wants."
Click here to subscribe to the Politicker NJ Wake Up Call
CORRECTION: An earlier version of this story indicated that Charles Richman from Community Affairs was serving in an acting capacity. The governor's office has indicated that Richman was confirmed by the senate late last month. The story has been revised to reflect that change.