It is a depressing rite of modern American life that the threat of terrorism spikes during every national holiday, especially on the Fourth of July. The threat warnings are somewhat routine by now: the police bulk up, and usually nothing happens. But the difference this year is that terrorism has been promised by the Islamic State, or ISIS, which is coming off a successfully bloody past two weeks.
ISIS claimed credit for the attacks in Tunisia and Kuwait that killed 65 people last Friday, as well as those on Wednesday that caused nearly fifty Egyptian casualties in the Sinai Peninsula. It has now called for strikes against America over Ramadan, which happens to encompass America's independence day, and according to intelligence officials, the system is blinking—if not red, then certainly carmine.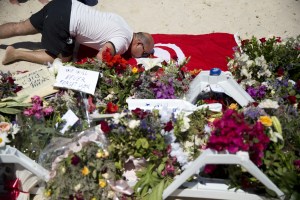 The main threat this weekend is not the ISIS gunman of Tunisia or suicide bomber of Kuwait. It's the singletons, the American radicals, who have come no closer to Syria than cohabiting Internet chatrooms with the Islamic State's gif-men. Like most liberal democracies, the US has trouble catching its homegrown terrorists, which usually requires some degree of policing political dissent. France, for example, is probably the most vigilant Western state, and was still unable to prevent January's Charlie Hebdo massacre or last Friday's decapitation outside a U.S.-owned chemical plant.
The Islamic State and Islamic radicals more broadly are trying to terrorize us, and it is working. We are. The Edward Snowden-Rand Paul civil liberties debate is all but dead in Congress and is completely dead in the Presidential campaign, where it is inconceivable that Hillary, Jeb, or Rubio would roll back state surveillance in the face of ISIS. It is almost as inconceivable that they would contest the militarization of police, or any of the now-passé arguments from Ferguson last summer. Certainly, there's less of a hue and cry for it, what with monsters on the loose. Let them drive tanks.
But it is incumbent upon us not to overreact, and to remember that homegrown terrorism is not a new phenomenon. At the turn of the last century, before communist and nationalist terrorism, there was the specter of anarchism. Homegrown anarchist radicals were just as nihilistic and just as willing to kill people as Islamists, and they were probably better at it, knocking off several European heads of state and a US President. True, the anarchists were less focused on killing civilians than the Islamic State, but they were a more unpredictable threat in other ways. It's not like the NYPD could monitor anarchist mosques. And like the lone Islamist wolves, anarchists also came from the grassroots American public.
The main difference between ISIS and past threats is thus not their desire for wanton destruction, but their easier means to do it. Terrorists today are more empowered because technology has changed, magnifying the damage one person can do. Instead of an anarchist with a homemade bomb, they are Islamists with a commercial airliner.
This thing we have now, with Islamism and al-Qaeda and ISIS, will go on for quite a while, but not forever. One day we'll get our holidays back.
So does this increase in capacity mean our future Fourths of July are destined to become ever-more granular battles with terrorists? No. Because at some point, like anarchism and communism, the societal norms supporting allowing Islamist violence will change. It will no longer be acceptable to shoot up a convention of people drawing Mohammed, no matter how crudely. There's not a Catholic church in America that would cheer a massacre at The New York Times, no matter how many pornographic Jesus paintings it published.
Terrorist movements in the past were defeated in part because the state hardened up its targets and enforcement capabilities, but also because the norms of that violence changed. It became unacceptable and unattractive, even among those fed up with Western society. People didn't stop calling for communist or anarchist revolution – a quick Google search will lead you to the modern Lenins and Bakunins—but the disaffected body politic stopped listening.
Unfortunately, changing norms is hard and takes time. The watchword for Americans protecting their barbecues must thus be sustainability. We must pursue the counterterrorism policies that do not bankrupt us, politically or economically. If there is not a preponderance of support for a counterterrorism technique, the US should not use it. Our liberal democracy is in a constant national contest for legitimacy with a thousand radical creeds, one of which—Islamism—is at the height of its power. Why it became so powerful is a broader question, but its attraction will not last. One day that norm will change.
This should mean erring on the side of policies that the American supermajority favors. Do not waterboard suspects if it is highly divisive, because that erodes support for the whole enterprise. Do not record Americans' telephone metadata unless there is a broad consensus for it. Err on the side of disclosure. This thing we have now, with Islamism and al-Qaeda and ISIS, will go on for quite a while, but not forever. One day we'll get our holidays back.