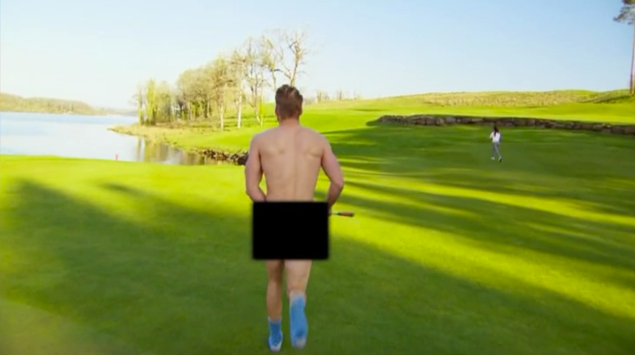 The Bachelorette is so good, it's frustrating that we have to cap it off at a measly two hours per week. That's why each Tuesday, we'll be having a Bachelorette Morning-After Rose Ceremony to celebrate the people, places and moments that really made the previous night's episode shine.
A rose to all the animals that were definitely harmed in the making of this episode.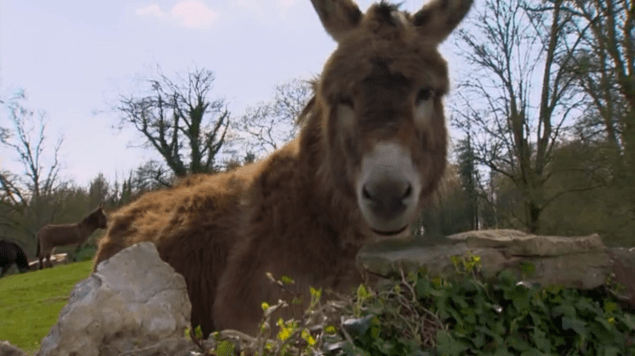 A rose to the Irish sweater merchant who now, thanks to this season, has the financial security to retire. May he move to some tropical island and be neighbors with the guy who made all those ~Europe-y scarves~ in Andi's season.
A rose to every way a Bachelorette contestant has ever talked about sex in the Fantasy Suite without actually talking about sex in the Fantasy Suite. "We stayed up all night and… ate chocolate." "I got to know her on a deeper level than ever before." "It was so nice penetrating her… opinions on relevant global issues."
"Tonight will be a night that we learn more about each other, and I'm excited just for that," Ben H. says before heading to the sex castle with Kaitlyn. (Speaking of "learning more" about each other, Kaitlyn later announces she had "a half hour" of sleep.)
A rose to the extremely specific fetish millions of Americans just learned they had: naked dudes sporting nothing but socks and golf clubs.
A thousand roses to Shawn, who, despite keeping things smokin' hot on the golf course, was forced to endure the least sexy Fantasy Suite lead-up imaginable: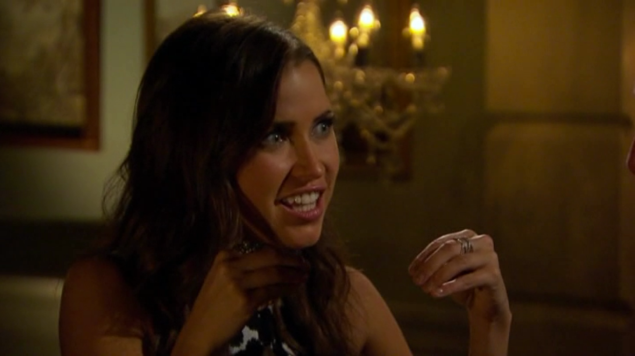 A rose to drying paint, televised poker, the magazines in my dentist office's waiting room, and all of the other horrifically boring things that are STILL MORE INTERESTING than yet another pointless fight between Tweedle Dum and Tweedle Dee Nick and Shawn about who's the manlier man… or something.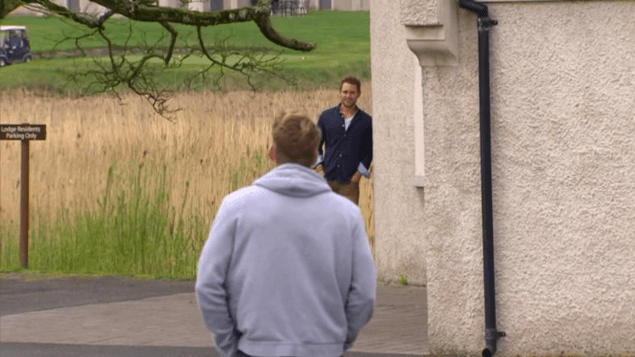 A rose to Sweet Baby Jesus, who I hope grants my prayers and never makes me hear the phrase "eskimo brothers" ever again for as long as I live.
The world's tiniest, wilt-iest, thorniest rose to Kailtyn, who's having such a tough time because—as she tells Chris Harrison during #girltalk time—she can't understand why Nick and Shawn keep fighting with each other and "wasting precious time."
Gurl. Can you seriously not figure out why these dudes keep fighting each other? You literally just denied Shawn his only chance at premarital sex because you made him lie in bed and talk about Nick for 17 hours straight. I hate to break it to you, but YOU ARE PART OF THE PROBLEM.
A rose to every quaint backyard barbecue and family game of hide-and-seek Kaitlyn will never ever have, because she just sent home noted BEST GUY EVER, BEN H., in favor of Rock'em Sock'em Robots, Nick and Shawn. This is an indisputably terrible decision, Kaitlyn.
In other news, BEN H. FOR BACHELOR?!?!?!
A rose to the very intriguing social experiment conducted on this week's episode: What happens when you're stuck in a room with someone you absolutely hate, but the producers took away your iPhone so you can't even "check Twitter"? Answer: You obsessively hitch up your suit pants, apparently.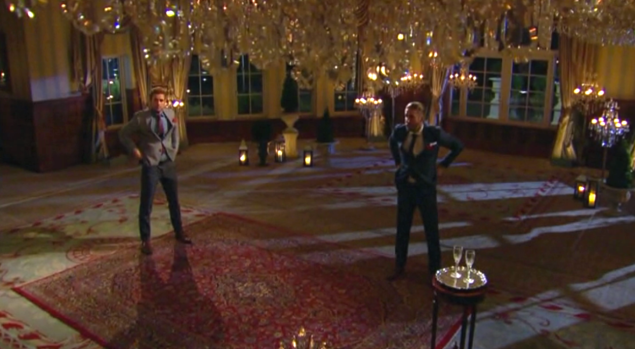 I've said it before and I'll say it again: No roses to Nick's beyond-terrifying "head-tilts-down, eyes-look-up" routine while talking to women whose blood he'd like to taste he's attracted to:
But in all seriousness—as much as it pains me—Nick's fireside speech to Kaitlyn is actually pretty good. "I don't think it's a big surprise, but I am totally in love with you—more that I can say in words," he tells Kaitlyn, after assuring her he totes likes her more than Andi. Un-sarcastically calling this now: Nick's winning this thang. SHAWN FOR BACHELOR (but actually no, because he'll have like 47 mental breakdowns during the first night cocktail party alone).
A rose to anyone who can explain explain to me why this year's "hometown" dates are taking place in the random state of… Utah.
A rose to 19 Kids and Counting coming back on the air—OH WAIT, THAT'S JUST NICK'S 7 BILLION CREEPY SIBLINGS.
Is it just me, or is this the creepiest hometown in Bachelorette history? Nick's family is sitting miserably in a semi-dark hotel room, all quietly weeping at the thought of Nick attempting to find love again. Does Kaitlyn really want to marry into this freak-fest? Does this family know laughter or joy? Are they the 19 Kids and Counting Family?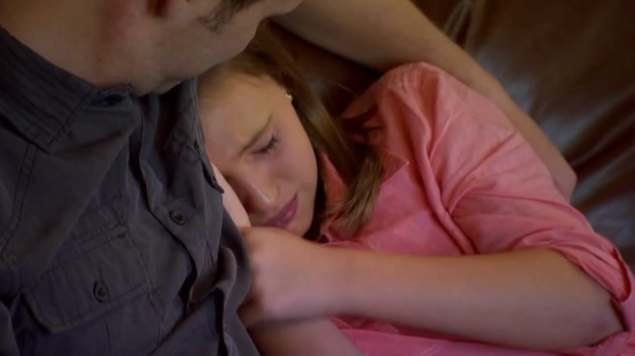 A rose to what is truly the most pressing question of this season: Which attractive person is better at contorting their face into bizarre, heretofore unknown configurations? Is it Kaitlyn Bristowe, or Shawn Sister #1???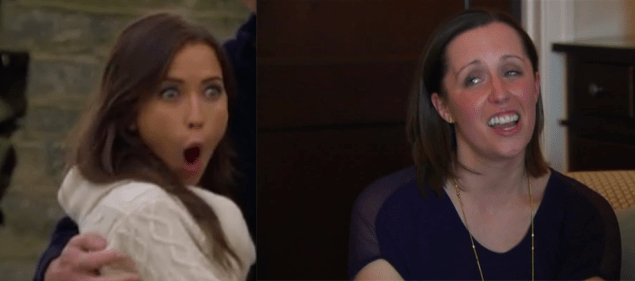 A rose to the new worst way to tell someone you love them: making them, like, 100 percent sure you're about to break up with them: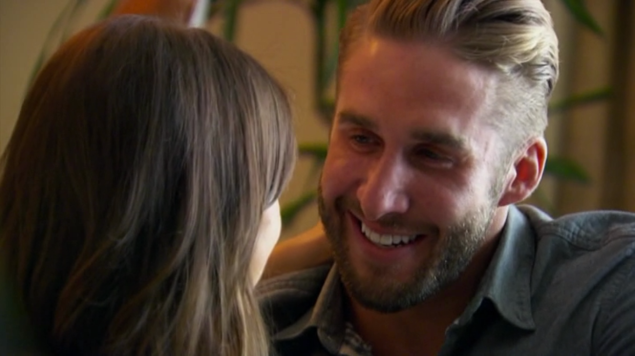 No roses to the previews for next week's Men Tell All episode, which promises we'll explore important topics like Ian being a jerk and Scary Jared being an angsty teen, but makes NO MENTION of whether we'll finally find out what's growing on the side of Clint's neck. I DEMAND ANSWERS, CHRIS HARRISON.