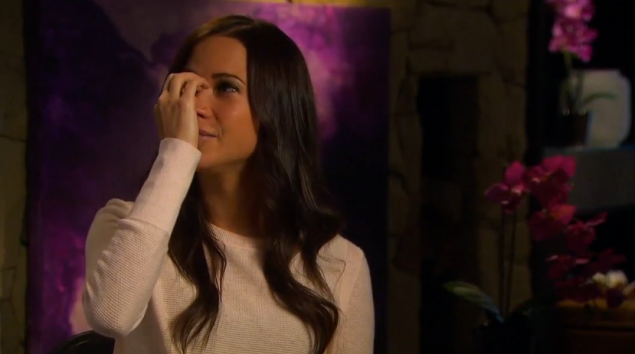 The Bachelorette is so good, it's frustrating that we have to cap it off at a measly two hours per week. That's why each Tuesday, we'll be having a Bachelorette Morning-After Rose Ceremony to celebrate the people, places and moments that really made the previous night's episode shine. 
A rose to The Bachelorette's travel budget, which has evidently sunk so low, ABC had to make "Malibu" look like an ~exotic~ destination.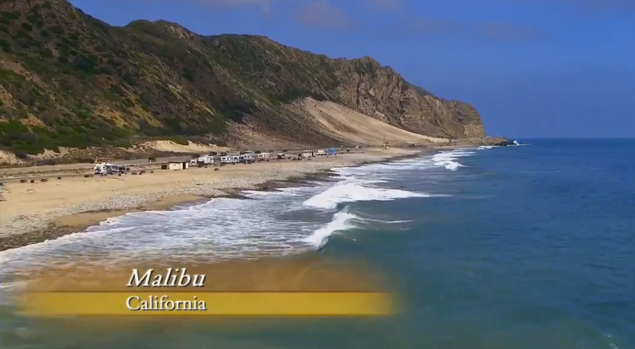 A rose to Kaitlyn's family, perhaps the only people on Earth with more expressive reaction faces than Kaitlyn herself.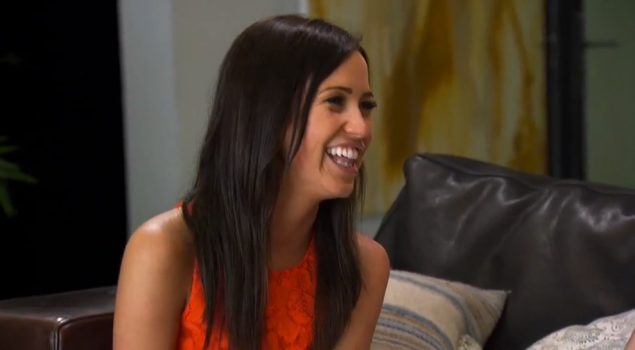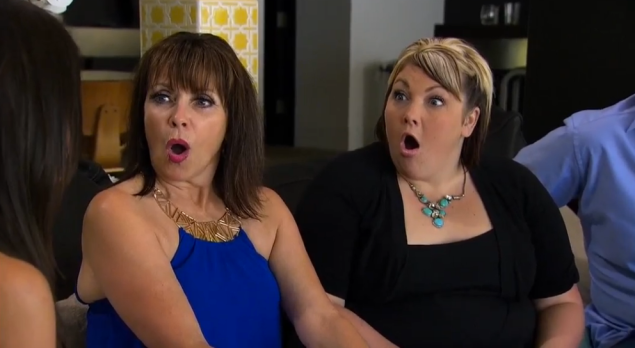 A rose to that time Nick thought he could totally fit on the couch next to Kaitlyn and her family, but he couldn't, but it was too late to switch to the other couch, so he spent the entire seven hours visiting Kaitlyn's family seated like this:
A rose to the worst thing that can happen when you ask a man why he loves your daughter—he whispers, "Kaitlyn is incredibly attractive," while making this exact facial expression:
No—wait—a rose to the fragments of brain matter now strewn about my living room, because OH MY GOD CREEPY ROBOT NICK JUST WEPT REAL HUMAN TEARS, AND MY HEAD JUST EXPLODED INTO 8,203,493 PIECES. You guys. In this moment, I think I actually like Nick, and I believe that he loves Kaitlyn and does not want to siphon her blood out of her jugular and blend it into a smoothie.
Kaitlyn's parents are big into Nick, too, despite their negative preconceptions. They give him the go-ahead to pop the ol' question.
A rose to Shawn, who can totally breathe a huge sigh of relief: Even if things don't work out with Kaitlyn, her sister is, like, SO DOWN.
Shawn has an easier time impressing Kaitlyn's family—namely because he doesn't have to convince them he isn't an arrogant butt-head, but also because Kaitlyn's sister definitely wants to marry him if Kaitlyn doesn't—and he scores permission to propose, too. Obviously.
No roses to the horrible thing I can never un-see, the one hideous thing that marred an otherwise beautiful yacht laden with Crate and Barrel throw pillows: this shot of Nick chewing daintily on Kaitlyn's finger:
A rose to literally the worst thing Kaitlyn could say, as far as Shawn is concerned, about her feelings towards the two remaining contestants: "I know that I am in love with Nick, but I love the way Shawn makes me feel." This is the Bachelorette equivalent of "I love you, but I'm not in love with you." Or when you tell someone you love them and they say "thank you."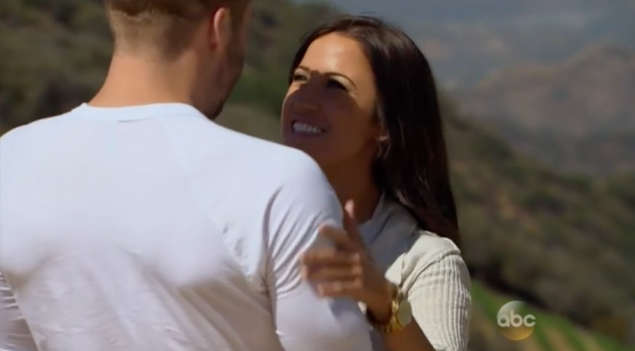 In short, I am #Praying4Shawn real hard.
No roses to Kaitlyn, who could be asking Shawn important questions like "Where will we live?", "How will we handle six months of not seeing each other?", or "Do you think we'd be the kind of couple that's okay pooping in front of each other?", but instead spends the entirety of their last one-on-one date squirming around and complaining about how anxious she is.
A rose to the only thing that could unite Shawn and Nick after their season-long vehement hatred of one another: their mutual love of Pinterest-inspired crafting projects.
No roses to Kaitlyn for remotely stressing over this decision, because it's literally the easiest thing ever. All she has to do is ask herself what she'd rather wake up to:
This…
…or this:
No but seriously, a rose to anyone who can donate to ABC's seemingly-dwindling Bachelorette travel budget. Why, sweet Baby Jesus, is the most sacred of all reality TV events—the Bachelorette finale proposal—happening in the stinky old backyard of the Bachelor mansion, I ask you? Is everyone aware that former Bachelor Ben Flajnik proposed in the Alps, to a woman wearing elbow-length gloves and a fur cape? But sorry, Kaitlyn, you gotta make do with the dirty-ass pool into which generations of drunk dudes have pitched themselves on the first-night cocktail party. If you listen closely, I'll bet you can still hear the ghosts of junkyard specialist Ryan's naked butt cheeks hitting the surface of the water.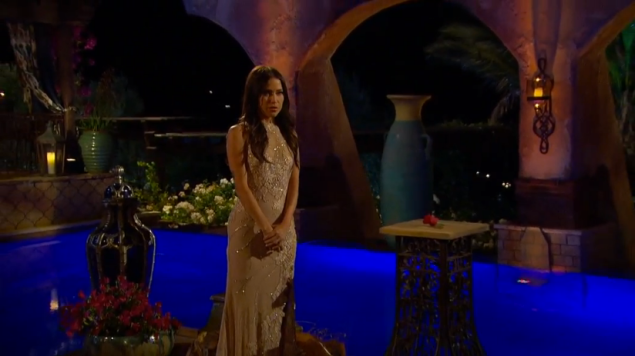 Ugh, no roses to Nick's babyish, combative response to getting rejected. Okay—I get that it sucks to be getting down on one knee, only to have your intended fiancée be all, "can u not tho??" But on the other hand, Nick begged—begged—Kaitlyn to let him come on the show. A show where one woman dates a zillion different men and only picks one of them. Dude had to know there was a chance this would happen.
And yeah, yeah, I know Nick told Kaitlyn to send him home as soon as she stopped having feelings for him, but…Nick shouldn't get to make his own rules! This is reality TV—we have to see him get rejected three nanoseconds away from asking Kaitlyn to marry him. This show isn't about Nick's happiness. It is about America's happiness. And also Kaitlyn's happiness. But mostly America's happiness.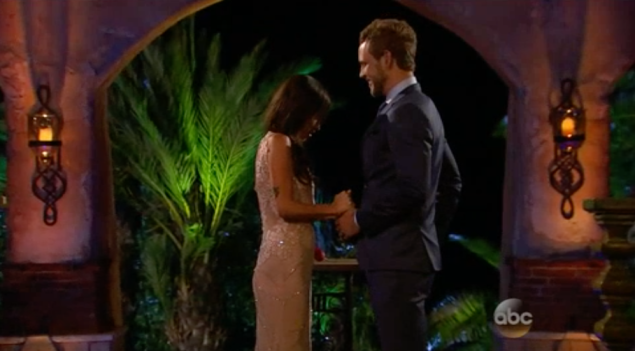 A rose to Nick's 87 siblings in the front row of ABC's live studio audience, who now realize they'll have to deal, again, with whatever mysterious horrific thing happened after the first time Nick got dumped on national television:
LOL whoops, sorry: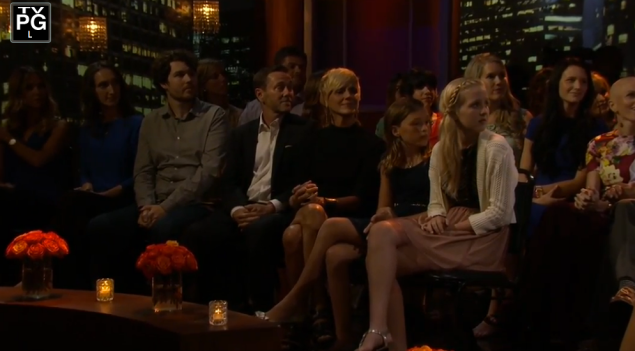 A rose the important psychological discovery I just made about myself: The only reason I ever betted on Nick to win was because I was repressing my deep, deep love of Shawn out of a gut-wrenching fear he'd get rejected. I love Shawn. I LOVE SHAWN SO MUCH!!!!
Shawn gets down on one knee without Kaitlyn clawing at him to stand back up, and Kaitlyn says yes, and she really likes her NEIL LANE ring made by NEIL LANE, and gosh darnit I am so happy, if these two break up I will cry more than Virgin Ashley on the upcoming season of Bachelor in Paradise.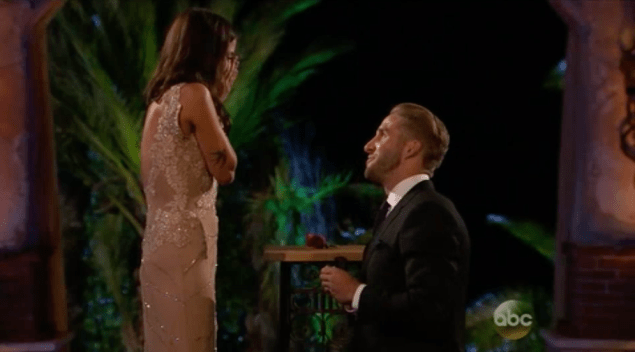 A rose to Nick's After the Final Rose suit, which I'm pretty sure is the exact same as his Proposal suit. In fact, I am almost positive he has not once removed it from his body in the six months since Kaitlyn rejected him.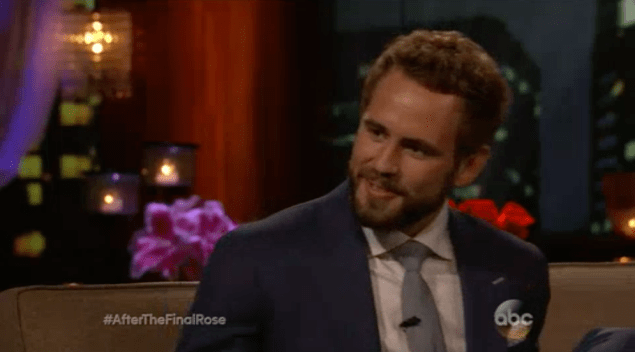 A rose to Dr. Drew Pinsky, who can rest assured his job as reality TV's most famed therapist is at no risk of being stolen, at least anytime soon, by Chris Harrison.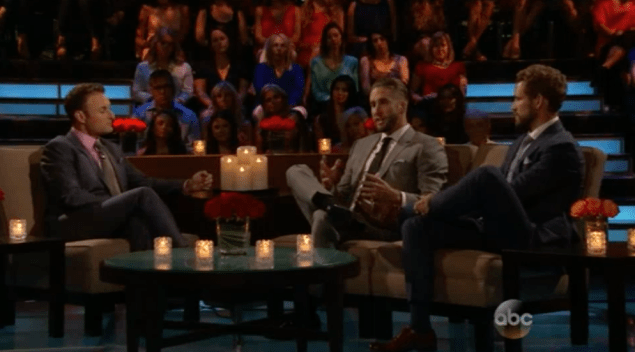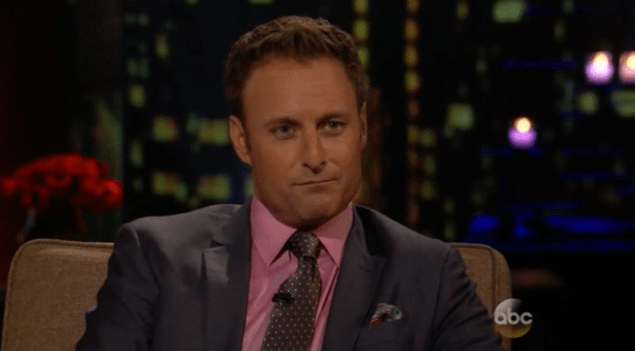 A rose to every person in America who would unflinchingly sacrifice their first-born child to have Shawn say, about them, "I can't wait to stand up and defend my girl."
HELLO SHAWN I AM HERE FOR YOUR DEFENDING AT ANY TIME JUST FYI!!!
No roses to this incredible season being over, but a huge, HUGE rose to what we have to look forward to this Sunday: