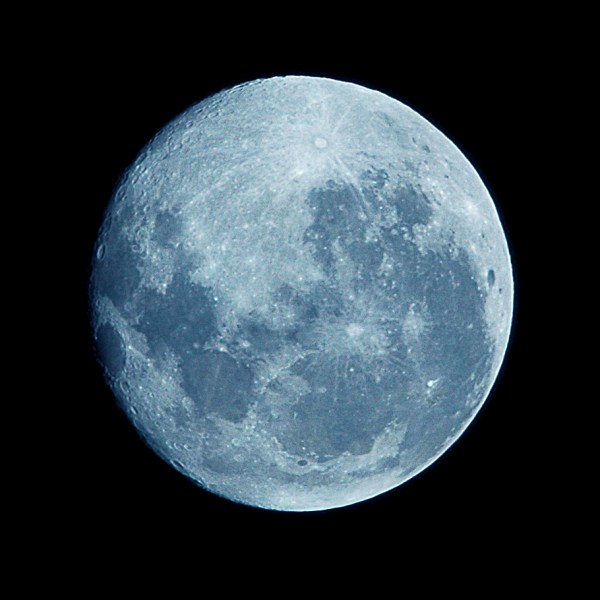 Friday night's blue moon is a rare and special occurrence. Blue moons technically happen every two to three years, when two full moons appear in a single calendar-month. But literal blue moons are even rarer—they're only ever actually blue when the red light is dispersed by particles in the air, be it dust or volcanic eruption. Nonetheless, we here at the Observer are playing the classic American standard "Blue Moon" on repeat all day. Here are a few of our favorites.
[youtube https://www.youtube.com/watch?v=j3t0cBC6g5U]
The standard "Blue Moon" was written in 1934 by Rodgers and Hart and used for the theme to the radio show Hotel Hollywood, but the theme popped up earlier in the film Manhattan Melodrama. As this YouTube user explains, "Rodgers liked the melody and when MGM asked for a nightclub number for Manhattan Melodrama, he had Hart write new lyrics and 'Prayer (Oh Lord, make me a movie star)' became 'The bad in every man' sung by Shirley Ross. The song made it into the film but did not become a hit. The press kit shows sheet music on the song, but I've never run across any. It was Rodgers & Hart's publisher, Jack Robbins who told them he thought the song would be a hit, if Hart could make it more commercial. Hart was reluctant to write a fourth lyric, but Robbins swore he'd plug the song from California to Maine. Hart caved in and wrote 'Blue Moon'. Robbins 'gave' it to the Hollywood Hotel, a radio program that used it as their theme, and on January 15, 1934, He had Connie Boswell record it for Columbia. 'Blue Moon' turned up in at least seven other MGM motion pictures including Marx Brothers At The Circus and Viva Las Vegas."
[youtube https://www.youtube.com/watch?v=dqwSde_eEv4]
Many subsequent versions of the song followed. "Blue Moon" didn't chart until 1949 though, when swing singer Billy Eckstine released a somber rendition on MGM Records. That same year jazz singer Mel Tormé's version also hit the charts, and the standard became part of the American consciousness. It soon took off as a staple for singer-songwriter types, big-bands, you name it. Billie Holiday recorded a fantastic version in 1952. Elvis Presley recorded it in 1956. But it's Ella Fitzgerald's 1957 evolution of the song into a swelling, heartfelt lament that gets us every time.
[youtube https://www.youtube.com/watch?v=v0fy1HeJv80]
Doo-wop group The Marcels had a huge hit with this more upbeat version in 1961. It took "Blue Moon" even more into mainstream America, to the point where the great crooners of the day like Frank Sinatra and Dean Martin were having a go. But more importantly, the song was starting to become a jazz standard, too. Here's hard-bop jazz legend Art Blakey's amazing instrumental version from 1962.
[youtube https://www.youtube.com/watch?v=inAnipfo1m0]
Suffice to say, the song "Blue Moon" is part of the American cultural zeitgeist, not nearly as rare as an actual blue moon. Over the years, other artists have co-opted the song title to make their own work. The Walmart-core singer Steve Holy released his own "Blue Moon" in 2000, and it did pretty well on the charts, too, much to our befuddlement. Beck's "Blue Moon" on 2014's Morning Phase was a hit single, and although that album can be seen as a faux-retread of his fantastic Sea Change album, it's still an inspirational tune. The best non-standard "Blue Moon" might just be off Big Star's Third, a 1978 masterwork worth spending time with. We'll leave you with that one, which hits us right in the feels. "Let me be your one light/And if you'd like a true heart/Take the time to show you're mine/ and I'll be a blue moon in the dark," sings Alex Chilton to maximum cathartic effect. Let any of these blue moons soundtrack your lunar gazing tonight—you may be blue, but the moon will be, too.
[youtube https://www.youtube.com/watch?v=Ub9N8IP8hao]