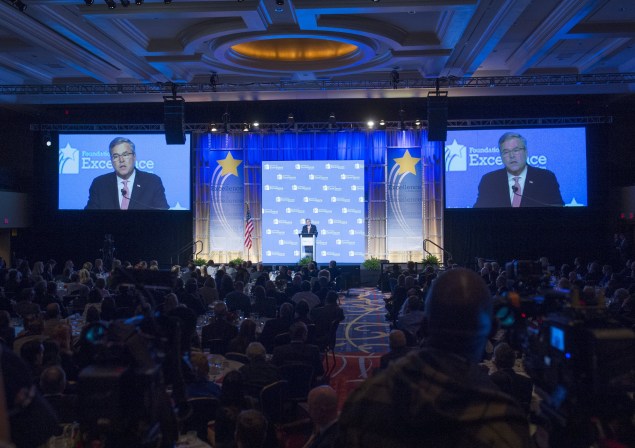 At the 2012 Republican National Convention in Tampa, Jeb Bush posed the following question:
Everywhere in our lives, we get the chance to choose.
Go down any supermarket aisle – you'll find an incredible selection of milk.
You can get whole milk, 2% milk, low-fat milk or skim milk. Organic milk, and milk with extra Vitamin D. There's flavored mil—chocolate, strawberry or vanilla—and it doesn't even taste like milk. They even make milk for people who can't drink milk.
Shouldn't parents have that kind of choice in schools?
In his time since leaving the Florida Governor mansion, Mr. Bush's nonprofit, the Foundation for Excellence in Education, pushed public policies that offer the educational equivalent of spoiled milk. These policies also happened to benefit one of his foundation's donors, Herndon, Virginia based K12 Inc., a pedagogically controversial virtual charter school management company.
Founded in 2000, the for-profit company on the New York Stock Exchange operates virtual public charter schools that enroll more than 130,000 students around the United States. The company has contributed between $85,000-$175,000 to Mr. Bush's foundation since 2011.
For Jeb Bush, expanding virtual learning has been a core part of his education philosophy. In 2010, along with former Democratic West Virginia Governor Bob Wise, he chaired a "Digital Learning Council," which ultimately released "10 Elements of High-Quality Digital Learning, a comprehensive framework of state-level policies and actions designed to advance the meaningful and thoughtful integration of technology into K12 public education."
The document proclaims, "states must advance bold reforms to make systemic changes in education to extend this option to all students."
Prominent education historian Diane Ravitch told the Observer, "Part of it is [Bush] likes any alternative to public schools. And he has promoted charters and vouchers and virtual charters."
The debate surrounding education reform aside, K12 Incorporated has a sketchy record. The company has been entrusted with hundreds of millions in public education dollars, but it has left in its wake a litany of scandals, lawsuits, and pedagogical failures.
"K12 has a record of spending a lot of public money on marketing and recruitment, but they have terrible results," said Ms. Ravitch.
Whitney Tilson, managing partner of Kase Capital Management, a hedge fund, echoed this view. Unlike Ms. Ravitch, Mr. Tilson is an advocate of charter schools. He sits on the board of groups, including Democrats for Education Reform and the National Alliance for Public Charter Schools.
At the 2013 Value Investing Congress he laid out his case against K12 in a 133-page presentation in which he stated that he had "not found a single K12 school that is free of scandal and posting even decent (much less good) academic results." At the time K12 was Mr. Tilson's "largest short position;" he does not currently have any position on the company's stock.
Mr. Tilson's assertion is backed up by local news reports on several imbroglios concerning K12 Inc. schools. In 2013, the Florida Center for Investigative Reporting obtained audio of a conference call on which a K12 Inc. teacher raised a "concern" about their license being used to sign off on classes they didn't teach. The Inspector General of Florida's Department of Education's "found that the publicly traded company employed at least three teachers in Seminole County who did not have the proper state subject certifications."
That same year CBS's Nashville affiliate published leaked emails that seemed to demonstrate the Tennessee Virtual Academy, an online school run by K12 Inc., tampered with grades. The school's vice principal sent an email labeled "important" to teachers, stating, "After … looking at so many failing grades, we need to make some changes before the holidays." Instructors were then directed "to take out the October and September progress [reports]; delete it so that all that is showing is November progress." The school insisted this was done to "more accurately recognize students' current progress."
K12 Senior Vice President for Public Affairs and Policy Communications Jeff Kwitowski disputes both these scandals, telling the Observer by email that in Florida "only a few state-certified teachers were incorrectly placed into classes that were outside their subject matter certification, however that not a violation of Florida law."
In the Nashville case, Mr. Kwitowski claims the story was "completely debunked" citing a article written by a teacher at the school.
The article remains on News Channel 5's website without a notation that it had been "completely debunked." However the state education commissioner ordered the virtual school closed due its poor academic track record. This decision was overturned after a Davidson County Chancery Court ruled the state can't take action until after the 2015-2016 school year.
Imbroglios aside, many critics are concerned with K12's poor academic performance. Mr. Tilson wrote in his presentation, "K12's aggressive student recruitment has led to dismal academic results by students and sky-high dropout rates, in some cases more than 50% annually."
Last year, the NCAA announced it would not accept credits from two-dozen schools operated by K12 Inc., saying the "nontraditional courses did not comply with NCAA requirements for athletic eligibility."
Mr. Kwitowski said that K12 "has met with NCAA eligibility center and is confident it has a path to fully aligning instructional methodology for student athletes to meet NCAA's requirement."  He notes "that student-athletes who graduated from K12 schools – working with K12, their university and the NCAA–have received the necessary waivers to compete in NCAA Div 1 and 2 athletics."
Three years earlier, The New York Times reported on the appalling academic track record of K12's school in King of Prussia, Pennsylvania. "By almost every educational measure, the Agora Cyber Charter School is failing," the paper wrote. "Nearly 60 percent of its students are behind grade level in math. Nearly 50 percent trail in reading. A third do not graduate on time. And hundreds of children, from kindergartners to seniors, withdraw within months after they enroll."
In response, K12 points to its rebuttal of The New York Times story.
In 2012, the National Education Policy Center at the University of Colorado released a report on the performance of K12 Inc. schools nationally. Its author, Gary Miron, a professor of evaluation, measurement, and research at Western Michigan University, explained that K12 students "are more likely to fall behind in reading and math." Furthermore, "the cyberschool is less likely to meet federal education standards."
According to NEPC's report, "Math scores for K12 Inc.'s students are 14 to 36 percent lower than scores for other students in the states in which the company operates schools."
NEPC's director Kevin Welner offered an assessment of what was going wrong at the company's schools. "Part of K12's problem seems to be that it skimps on special education spending and employs few instructors, despite having lower overhead than brick-and-mortar schools," he said.
K12's Mr. Kwitowski responded to the Observer, writing that the NEPC is "funded by state and national teachers unions and is actively opposed to public charter schools and parent choice in education."
Yet while K12 was facing reports of poor academic performance and a multitude of dire headlines, Jeb Bush's foundation, with its stated mission to "build an American education system that equips every child to achieve his or her God-given potential," accepted contributions from the oft-criticized company and lobbied state regulators on its behalf.
This lobbying was critical to the future of K12 and other virtual charter companies, including education giant Pearson, which aggressively fought to change state and local regulations, so they could expand their footprint and subsequently grow their customer base
Lee Fang, of The Nation, described the scene at the 2011 National Summit on Education Reform's conference, sponsored by Mr. Bush's foundation where "lawmakers mingled with education-technology lobbyists from leading firms, like Apex Learning and K12 Inc." According to Mr. Fang, "Some of the distance learning reforms were taught in breakout sessions, like one called 'Don't Let a Financial Crisis Go to Waste,' an hour-long event that encouraged lawmakers to use virtual schools as a budget-cutting measure."
The Foundation for Excellence in Education's conference was not simply a lobbyist boondoggle. The Portland Press Herald reported that following the San Francisco event, Maine's education commissioner, Stephen Bowen, worked directly with Jeb Bush's "top education aide" Patricia Levesque to put in place policies that served the interest of virtual schools, including K12 Inc. which was seeking to open a charter in the state, where Mr. Bush's family has long had its compound.
Maine officials complained to Mr. Bush's foundation about having "no 'political' staff" which jumped at the opportunity to "help" according to emails unearthed in public records requests by In the Public Interest, a Washington, DC based nonprofit that conducts research on the privatization of public services.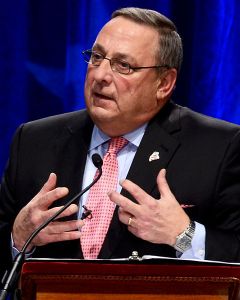 Ultimately Maine's Governor Paul LePage issued an executive order "organized around [Jeb Bush's] 10 elements" of high quality digital learning.
Governor LePage's push for an expansion of digital learning was stalled after the state's charter school commission "set aside" two applications to open virtual charters the would have relationships with K12 and Pearson. The proposed boards of these virtual schools lacked independence from the companies who would profit from their opening.
Governor LePage responded to this rejection with an angry letter demanding the commission "reconsider [their] decision." He threatened the body, writing "no doubt that countless Maine people would be glad to have the opportunity to take a seat on the Commission in order to pursue new and innovative educational options for our students."
K12 supported the Governor's 2010 campaign making $19,000 in contributions to the Republican Governors Association's Maine PAC. The company contributed $1,500 directly to the Governor's reelection campaign in 2014.
After a second failed attempt, the Maine Virtual Academy will open its doors this fall finally giving K12 a foothold in the state.
Jeb Bush has long touted his education policy expertise as a key reason he is qualified to serve as President. His campaign launch video featured scenes of the former Florida governor filmed at Academica another for-profit charter school he supported that is reported to have a "checkered past."
While there is no evidence Jeb Bush personally profited from his relationship with K12, his foundation accepted contributions from and pushed public policies to the benefit of a company that was widely reported to be failing its students on multiple levels.
Witney Tilson tells the Observer, "The last time I looked, which was a couple of years ago, I recall that Jeb Bush was supportive of K12, but don't know any details." Mr. Tilson continued, "I would hope that, if he read my work on the company, that he'd change his views of it."
There is no evidence this is the case.
Jeb Bush's campaign did not respond to requests for comment from the Observer.