Welcome to Future Forecast, a column that will explore the inner workings of our future lives. From artificial intelligence to sleep and music, I'll consult with experts on different topics and rack their brains about the innovation that will shape our future experiences.
If you haven't heard, playtime is under attack. For a few decades, there have been threats against the simple, joyous ways that children have been known to play, and those threats have been strengthening in severity with the release of each new game console and tablet. It's a problem so widespread, that children aren't learning how to color and play with blocks, and some are reportedly having trouble with motor skills as a result. Last week, The New York Times issued yet another PSA about screen addiction in children, and I think it's safe to say playing outside has officially lost the war.
Why should you have to be an engineer to build a robot?
Parents are torn. Many give in and hand over the iPads while others try to limit their kids' technology usage in order to encourage them to play. But there is, however, a type of toy beginning to enter the market that features the perfect intersection of creativity, technology and playtime, and it will be the type of toy all future children grow up loving. We're talking about toys that kids can program themselves.
In September, Brookstone will begin selling a few different robots in their stores. One is EZ Robot, a real robot kids build from scratch and actually program.
"You build it up from all of these little plastic parts," Tom Via, CEO of Brookstone, told the Observer. He explained that EZRobot is perfect for younger children to play with together with their parents but that any kid over the age of 10 can do everything including the programming all on their own.
"A child of one of the employees here was working with the EZ Robot," he said. "He was a middle schooler—13 or so. It took him about three or four hours to build the robot and then do the programming through a smartphone. He was able to get it operational and send it around the office offering water bottles to everyone."
Founder DJ Sures began developing EZ Robot in his basement a little over three years ago. He was inspired by his past work with NASA, Cisco Systems and other companies working with artificial intelligence, and he wanted to make something kids and even adults with no knowledge of robotics could use to explore the field and just have fun.
"Why should you have to be an engineer to build a robot?" he said to the Observer.
Mr. Sures went on to further explain how to build EZ Robot. You start by physically constructing it with the help of their instructions. (They have more than 200 tutorials). You then program (Mr. Sures prefers the word "teach" here") the robot by physically moving it, showing it how to walk, recognize certain objects and do whatever you want it to. You're never typing lines of code.
"It's only limited to your creativity," he said.
Mr. Sures has already seen some people teach their EZ Robots to do some pretty amazing things.
One early customer taught his robot to pour him wine. "This robot was designed and built by a roofer. He spent his whole life doing that with no programming experience. It's a bartender in his home for him and his wife, and it navigates the house and pours drinks," Mr. Sures said.
A retired firefighter made a robot that can teach students math, and there was a man in Indonesia that made his EZ Robot into a garbage can with wheels that he can summon if he needs to throw something away.
"These aren't programmers or designers," Mr. Sures said. "They're people just like yourself who have built Ikea furniture."
And just to be clear, the mentioned examples of what EZ Robot can be taught to do describe what people programmed their robots to do all on their own. There's no tutorial available for programming EZ Robot to pour you wine, and Mr. Sures swears the options are basically limitless, and that, yes, it's really that easy.
"Yesterday, an individual working on his PhD in robotics came to our office for a tour. The conversation, as always, opened up asking about his experience in robotics," Mr. Sures said. "We gave him a demo, and he said 'I feel like I wasted six years of my life in school! You made it so easy, I don't even know why anyone would go to school to for robotics.'"
Currently on Kickstarter is another programmable robot toy perfect for children as young as six. It's game focused but encourages imaginative play and teaches skills at the same time, even including actual coding.
This robot, called Vortex, does require a screen, but with it, kids are only tapping to control and program the robot however their own creativity leads them to. They can play robot soccer, virtual golf and a handful of other games, but what's most important is that the kids can program Vortex to do other things. There's actually an app which helps the children learn more about the robot, access sensors and combine its behaviors in order to have it do more.
"It's like drag and drop programming language, so you just follow the tutorial and you can very easily work with the programing," Ricky Ye, CEO of DFRobot, the company behind Vortex, told the Observer.
Not all programable toys for kids are typical robots. Jewelbots are actually friendship bracelets designed to help get young girls into coding.
Using basic engineering logic, girls as young as nine can program their Jewelbots to do just about anything they and their other Jewelbot-clad friends dream up. From lighting up when a friend is nearby, buzzing to send secret messages, giving weather updates and even flying a drone, again—the options are limitless.
Jewelbots is another product currently on Kickstarter. The campaign reached its goal within hours and doubled it within the next few days.
The project's creators hope their product will encourage young girls interested in STEM fields to pursue them. According to their Kickstarter page, a 2012 study from the Girl Scout Institute found 75 percent of girls were interested in fields related to science, technology, engineering and math—It's no secret, though, that girls young and old are often discouraged from pursuing them.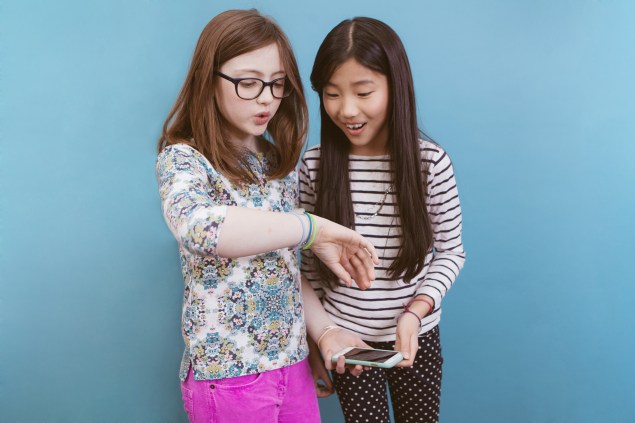 All of the creators we spoke to saw exposing kids to STEM subjects like programming, engineering and robotics at an early age as one of their goals. Currently, classes on these subjects aren't taught until college for most, and that's only if one chooses to take them. But how can a kid know he's interested in one of these subjects—either for a career or just generally—if he doesn't grow up with them like he does writing, sports, drawing, music and life and earth sciences?
"It's taking kids to a different place," Mr. Via said. "It's preparing them for the future. They may choose to go into an engineering field or programming field."
EZ Robot creator Mr. Sures thinks the exposure from a young age is becoming vital.
"This is a necessary." he said. "I use the word necessary, and I bold it and underline it. There's something happening in this world with robotics, and children without that exposure to robots will be in a bit of trouble when looking for a career."
Mr. Ye thinks the problem is just as much about the boring, difficult way in which introductory classes of this type are taught as it is the lack of them. He believes learning with play is the best way to truly expose a child to something, which is why his programable Vortex robot is game-focussed.
"A robotics class is more difficult," he said. "So we thought, if the children learn by playing with these games, they'll be more interested in robotics."
Even for children who may never pursue one of the relevant fields, these programable toys are bringing back the sense of creativity and imagination once associated with playtime. The common theme with all of the mentioned toys is that what one can do with them is practically limitless and only limited by one's own creativity. What's more, these toys accomplish that without shutting the door on technology completely. This is important because, as much as some parents would like to bring back organic, tech-less playtime, we're too far into the digital age for that. Technology is intertwined in every part of our lives, so it's time to embrace it when it comes to kids' toys. It just has to be embraced in the right way.
Brookstone is becoming more and more involved with the toy industry, and Mr. Via, CEO, feels this is the direction in which toys are moving.
"What we see in the toy industry is that these basic toys are still quite strong," he said. "But on the other end of spectrum is this world of toys that can be programmed, app-controlled, and toys that interact with the child. I think we'll see that element of the toy industry continue to involve."