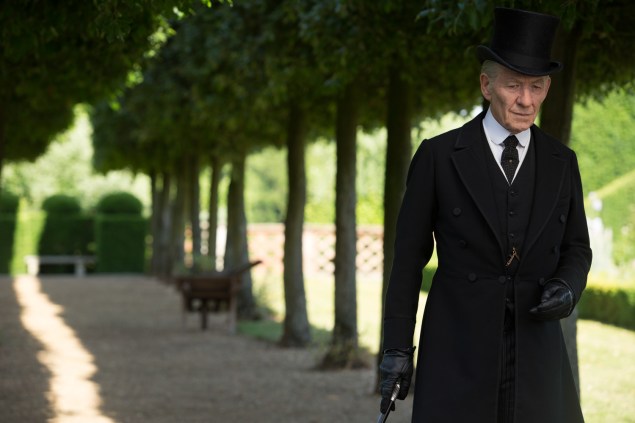 It's always worth the effort to see Sir Ian McKellen in anything, and even though Mr. Holmes is a benign but conscientious little film that doesn't seem to exist for any reason other than to give him a centerpiece role playing Sherlock Holmes at 93, he commands the screen and holds attention as few actors do. I found the whole thing pokey and plodding, but there's no denying the fact that even when sitting through Mr. Holmes seems numbing, Mr. McKellen is a force so powerful he's his own reward.
---

MR. HOLMES ★★
(2/4 stars)

Written by: Mitch Cullin
Directed by: Bill Condon
Starring: Ian McKellen, Laura Linney and Hiroyuki Sanada
Running time: 104 min.

---
The film marks a second collaboration between the star and director Bill Condon, who won an Oscar for writing the critically acclaimed Gods and Monsters (1998)—another picture about a famous man (James Whale, the director of Frankenstein) in the sundown of his years. This time the focus is on the world's most beloved private eye, the fictional resident of the equally fictional 221b Baker Street address where he lived with his partner and crony Dr. Watson. In this dust-off, Watson has long since moved away, although he does make a brief appearance, along with his wife and Sherlock's brother Mycroft.
Mostly it's about demystifying the old sleuth in retirement. Gone is the spring in his step, but not the querulous nature of his mind. Apparently his opium, his deerstalker cap, the mannerisms that made him a character adored by millions, and even his most colorful cases were imaginary inventions of Watson, who also wrote down his mystery stories after making them up himself. Holmes is now retired to the life of an eccentric recluse living in a remote cottage by the sea in Sussex where he's been hiding from the world for 35 years. He keeps bees, works occasionally on his memoirs, and rants grumpily at his housekeeper, Mrs. Munro (a plain, dowdy, miscast Laura Linney), and her young son Roger (a perfect Milo Parker).
Bent and hobbled and suffering from the beginning of what appears to be a form of Alzheimer's, this is nothing like the brilliant solver of riddles we came to know as Basil Rathbone. This Holmes prefers a good cigar to the curved pipes his book illustrators invented for him. In any event, there isn't much left to admire about Sir Arthur Conan Doyle's greatest invention except a legendary reputation, bogus at best.
His housekeeper considers Mr. Holmes the last resort for every lunatic who thinks he can still locate the whereabouts of the Whitechapel ripper, who disappeared in 1888. But her son Roger finds him a source of endless fascination. He serves tea, smokes out the bees for honey and reads him his mail. In the lamentable absence of anything resembling a plot, most of what surfaces are the remnants of parallel stories, told in flashbacks. One retreats to memories of Holmes' last unsolved case in 1919 when he delves into the plight of a beautiful woman who appears to have planned to murder her husband but committed suicide instead; the other involves a postwar trip to Japan to search for a rare potion called Prickly Ash, which is believed to have life-restoring qualities. The movie could stand a few life-restoring qualities of its own.
Mr. Condon directs with elegance, doing his best to clarify the obtuse literary lichens of a tangled script by Jeffrey Hatcher. Ms. Linney wrestles with an accent that sounds more Irish than British. And to make up for all weaknesses, there is always the redeeming presence of Mr. McKellen, who is full of surprises. My favorite scene: he goes to the village cinema to watch a movie adapted by Dr. Watson and observes himself depicted in his Hollywood-designed deerstalker cap and ear flaps with baffled amusement. Another joke, about the hounds of the Baskervilles, falls so flat the audience didn't even giggle.
Doddering and slow, that pretty much leaves Mr. McKellen to carry the film on his own energy. With a bulbous nose, parsed lips and gimlet-eyed look of relentless mischief, he looks more like Sir John Gielgud every day. Or maybe he's just made up to look that way. Nevertheless, there were times when I could not tell them apart and I thought I was seeing a ghost. In a muted and meandering disappointment like Mr. Holmes, that's the only haunting thing about it.