One fateful day in 2003, brothers Scott and Danny Stedman and editor Jonny Diamond thought up the L Magazine, a bi-weekly publication covering Brooklyn arts and culture (which recently announced the end of its print publication in order to "focus on and grow our sister publication, Brooklyn Magazine," the L said in a letter on its website).
'Brooklyn is going to be telling a story for a generation and it's really exciting.'
With its acquired success, the Stedmans proceeded to found the Northside Media Group, which publishes L Magazine, Brooklyn Magazine and BAMbill, and also operates the Northside Festival, SummerScreen in McCarren Park, and Taste Talks.
The Northside Festival, which went down June 8-14 during humid, jam-packed days in Williamsburg, featured a celebration of buzzing and established bands, as well as new faces in entrepreneurship, technology and innovation.
The Observer recently spoke with the tastemaker Scott Stedman all about Brooklyn, from the borough's humble birth as a "slum," to its rapid gentrification and colossal cultural contributions.
Observer: The Northside Group has a monopoly on Brooklyn. When did you first realize all of Brooklyn's possibility?
Scott Stedman: I moved here in 2001. I lived in Berlin and Paris before that doing post-graduate stuff, shortly after deciding that New York was where it was at. I moved to Brooklyn, like all these other dreamers and machers who wanted to do big things on a big stage, just feeling that there were no constraints. We had that early 20s sense that everything was before us and everything was possible. People who had that spirit were really attracted to Brooklyn.
When I first moved here, Brooklyn wasn't a thing. Even though L Magazine was all about Brooklyn, it was a market that still no one understood. We were getting studios to advertise with us, but we couldn't mention Brooklyn because no L.A. studio had any interest in identifying with a slum. Brooklyn was a footnote to New York City, and certainly that has changed in the past 12 years.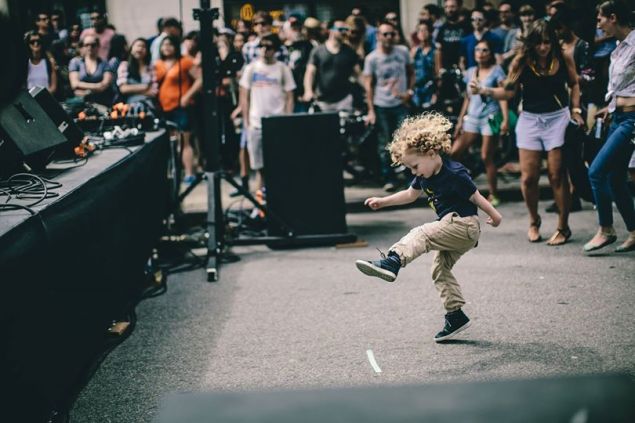 It's actually amazing. So tell me about the development of L Magazine.
It truly is. Well, I knew there was no magazine that spoke to the development of Brooklyn and the scene I was actually interested in. There was the Village Voice, which was full of adult ads—nothing a 23-year-old would have on their coffee table—then Time Out, which is what I bought for my parents. So, capturing the development of the Brooklyn scene was the L, and we named it that because it signified we were still connected to New York City.
And then Brooklyn Magazine and the festival circuit followed in-suit?
Yup. We then went on to launch this media group, Northside, and the community that we engaged was so vibrant, and doing everything we said they were doing, and eventually was recognized. The events started in our second or third year with Summerscreen in McCarren Park, and we immediately realized, when you catalyze your community through events, you can really tell an exciting story to the brands and people who support you.
We increasingly used that platform, and we believed in our mission, and that's what helped us launch Brooklyn Magazine. That was really us "coming out of the closet" as "Brooklyn." We no longer had to pretend that our distribution was in Midtown.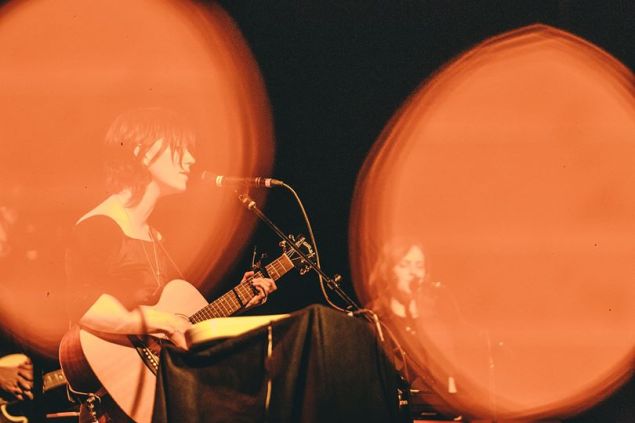 When was that moment that you knew Williamsburg was really changing?
It's funny, because we were so knee-deep in it. Even in 2001, our friends were saying, "Oh, Williamsburg is over!" I remember talking to someone who had a $200,000 loft, and it was a 2,000-square-foot loft on Roebling. He said to me, "Could you believe how much of a bubble we're living in that I would pay $200,000 for this loft?
That loft now would be $2 million or $3 million. It's insane, but the perspective then was that Brooklyn was already over. There was never a moment when we were sitting there and thought, "Oh, we've finally been recognized." It was almost always because we were within the community. In my head it was like, "You guys don't realize this has just begun!" Brooklyn always felt big to us. We always saw it as significant and we knew that it would soon become significant to everyone else.
Amen. How do you guys stay on the pulse of all that is new and noteworthy?
Well, it's certainly not me—I'm old man Stedman at this point! We have a really remarkable crew of content creators and programming people who live and breathe this stuff. They are able to effectively celebrate these different creative communities, which for us all really exemplifies that "Brooklyn thing." Whether they're technologists and entrepreneurs or artists, we're trying to celebrate the creative community in all its iterations.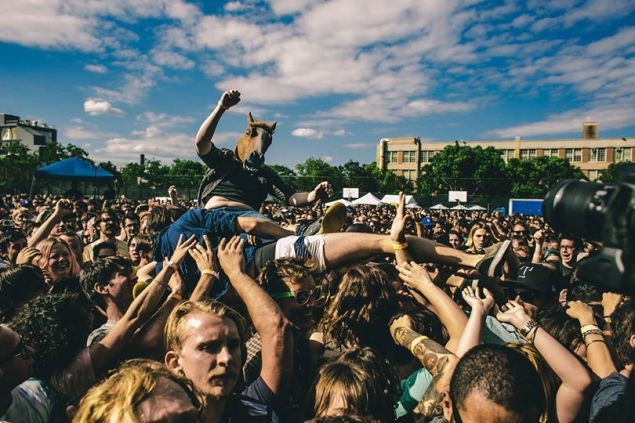 Do you accept the label that the Northside Festival is the "new SXSW?"
Totally! It was modeled off of SXSW. We thought, "Why are all the bands that we're talking about traveling to Austin to hang out?" There was a disconnect and we had one thought; it was because SXSW had this walkable radius down in Austin where you don't need to be at a show to be part of an event. It's not about the venues, it's about the space between the venues, and that's what we spend a lot of time planning around.
Do you remember what your rent was in 2001?
I do remember because it was my first negotiation and I remember calling my cousin like, "How do you negotiate stuff?" He gave me great advice and said "Throw out your dream number." It was in Dumbo, that was still a weird place and starting to gentrify. I said, "Yo, can we do this for $6 a square foot?" and the guy was like, "Yeah, sure." It was a small place we had for two years. It was $6 a square foot and it's now $40 or $50 per square foot. It was at 70 Washington Street, which is now a luxury building, before that it was this big empty warehouse.
Do you think Williamsburg has hit its peak?
I mean, still if you walk up and down, it's still transforming. Half of Bedford Ave. right now is under construction. I think Brooklyn has a lot of life left in it. I think it's one of the markets that is having a generational zeitgeist moment, and those things actually never end. There will be another one eventually, which may be more au courant, but Brooklyn is going to be telling a story for a generation and it's really exciting.