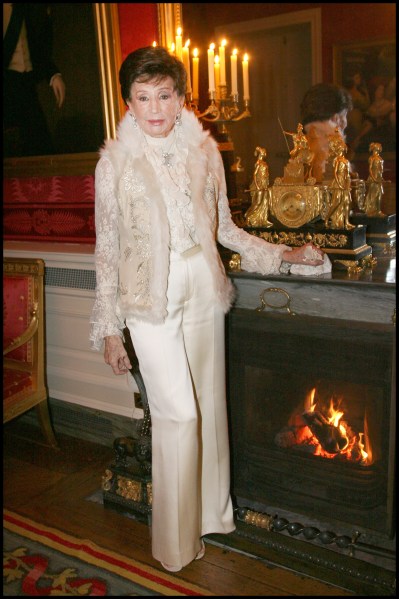 Prepare for some closet envy: The Met is gearing up for their forthcoming Costume Institute exhibit and it promises to include no less than 60 haute couture and ready-to-wear outfits from one of France's best-dressed citizens. Titled "Jacqueline de Ribes: The Art of Style," the exhibit focuses on clothing worn by the Countess, muse, fashion designer, socialite and member of the International Best Dressed List.
Mrs. de Ribes, née de Beaumont, married Édouard, Vicomte de Ribes at the age of 19 in 1948. Barred from pursuing a career of her own, due to the traditions linked with her title, the Countess made a name for herself by donning exuberant outfits to every public appearance she made. She was a muse for the likes of Oleg Cassini and Pucci in addition to working with a dressmaker to craft designs of her own making, as a way to have a creative release. In 1982 she debuted her own eponymous clothing line, which was well-received by her close circle of designer friends. "Yves Saint Laurent gave his blessing to the venture as a welcome projection of her elegance," the Costume Institute's curator, Harold Koda, noted. Her brand produced glamorous ready-to-wear garments until it was shuttered in 1995, due to debilitating back pain Mrs. de Ribes was experiencing.
The museum first announced "The Art of Style" in December 2014, noting that the 84-year-old subject was figuring out the details alongside Mr. Koda. The duo were both hands-on and worked together to carefully pick through the 1,000 pieces that Mrs. de Ribes had to offer. Featuring outfits designed by Pierre Balmain, Giorgio Armani and John Galliano, there will also be ensembles from Mrs. de Ribes' clothing line in the exhibit.
"The Art of Style" will be open from November 19, 2015 until February 21, 2016. This will closely coincide with the closing of the current Costume Institute exhibit "China: Through the Looking Glass," which was recently extended through September 7. As it turns out, The Met isn't the first to honor this style icon: Jean Paul Gaultier dedicated a collection to her in 1999, Truman Capote wrote about her in 1959 and in the '50s Richard Avedon dubbed her a "Swan," alongside Gloria Vanderbilt and Marella Agnelli.