If the tech community doesn't always take the projects of creative people all that seriously, there are of course purists in the creative community too, vocally opposing any imposition of technology on their artistic process.
New Inc., the world's first museum-backed incubator, challenges such assumptions that art, technology and design need be mutually exclusive. After working for one year in an 8,000 square-foot shared workspace adjacent to New Museum on the Bowery, the inaugural class last night showcased eight collaborative projects borne from the incubator. Among the work on display at Red Bull Studios New York was a cotton candy machine tweaked to function as a musical theremin, emitting sounds in response to the motions of hands as they twirled sugar floss around paper cones. There was also Studiostudio's GIF photo booth that provided guests with an easy interface to create and edit animated GIFs on the spot. Off in the corner, Annelie Berner's table-top sculpture called AiryLight projected light patterns onto the ceiling, indicating the room's level of air quality in an aesthetically pleasing manner; various mandala-like patterns correspond to levels of air purity. The work will be on display through July 30. New Inc. was launched by museum director Lisa Phillips and deputy director Karen Wong in September 2014.
'Utility itself isn't usually the end goal,' said Ms. Kaganskiy.
"Practicality is not the driving intention behind these projects, but creators find some utility to their work eventually," director Julia Kaganskiy, 28, told the Observer. "The great thing about creative thinkers intersecting with technology is that they approach it from a completely different place. They're [not] usually concerned with matters of utility and execution, which means that they're able to explore a wider, more varied and full range of possibilities."
New Inc. sets itself apart with workshops, lectures and mentorships geared toward creating a curated community of organic collaborations. "It's an infrastructure of supporting, cultivating an incubating these types of projects," said Ms. Kaganskiy. "We designed New Inc. to be a community first and foremost. When we assembled this we tried to think of who has complementary skill sets, and how would they come together to make this project whole."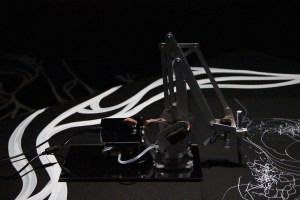 Alongside such far-out projects like Emilie Baltz and Phil Sierzega's cotton candy theremin was "Drawing Operations Unit : Generation 1," better known as D.O.U.G., the drawing robot.  (The Author: I love Doug. I want Doug in my life.) Conceived by Sougwen Chung, an artist-in-residence at MIT's Media Lab, in collaboration with developer Yotam Mann, D.O.U.G. is a simple robotic arm that senses the movements of an artists hand and mimics them in synchronicity. It's also one of the first human/robot drawing collaborations.
"The robots out there usually work autonomously or independently of humans, but this is one way in which we can explore what it is to collaborate and co-create in an artistic context," Ms. Chung told the Observer. "I am curious about programming memory into D.O.U.G., so he learns how to draw my style, then maybe a Sol LeWitt style or a Jackson Pollack style."
Some sculptures of Ms. Chung's work, along with AiryLight, are available in the Red Bull Studios gift shop.