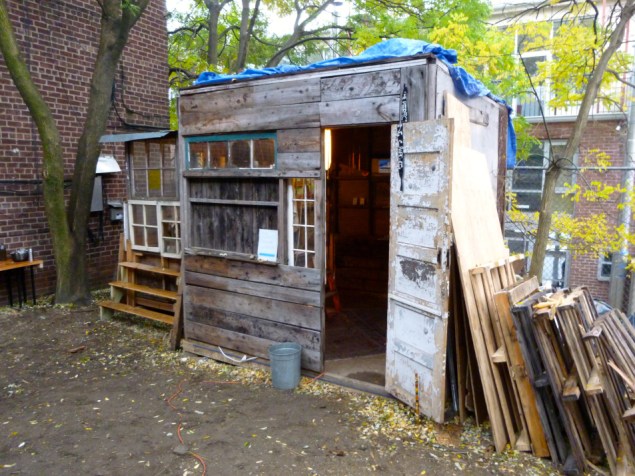 The Perfect Nothing Catalog, Frank Traynor's curiosity shop most recently situated in the backyard of a Bushwick gallery, has resettled in Rockaway Beach.
Mr. Traynor, an eccentric fellow in his early 30s, had for the past few years been selling odd items like fossilized dinosaur poop and orgonite pyramids out of the old wooden ice shack he hauled down from upstate New York, which made it a kind of cult-like attraction. But now that he's relocated to the Rockaways, shack in tow, Mr. Traynor will be making some changes.
The shack, which is located on 96th Street, where Rockaway Taco was, will reopen "as a mud bath and seltzer service" called The Nothing Mud and Seltzer House, according to a press release distributed by Mr. Traynor this afternoon.
"I guess it just felt sort of like some kind of continuation of the same project," Mr. Traynor told the Observer in a phone conversation. "Sort of like moving closer to nothingness, moving closer to—I don't know exactly how I would describe it—just less stuff in an even more sort of powerful aesthetic experience."
Not that he didn't like all the stuff he had, which, incidentally, also included painted seashells from Far Rockaway. He recently had an everything-must-go sale in Bushwick, though he held on to a ceramic plate with holes poked through it that he says he'll never sell.
Mr. Traynor, who is from Miami, recently moved to the Rockaways, hence the shop's relocation, and he's involved with a non-profit organization out there called Arts in Parts, which works to get kids involved in creative endeavors.
The mud and seltzer house, which Mr. Traynor says will be "more primordial, more intimate" than his previous shop, will be open on Saturdays and Sundays and by appointment. It will be slowly opening over the next two weeks, Mr. Traynor said.
In the main room of the shack, Mr. Traynor installed a five-foot-deep cement cylinder, which he says will accommodate four bathers. The side room, he told the Observer, will operate as the seltzer room, though he assumes that customers will probably end up drinking seltzer as they bathe. Baths will cost seven dollars per guest and will last 15 minutes.
"Just being in hot mud and drinking cold seltzer and then jumping into the cold ocean—I think it'll be really good," Mr. Traynor said.