Who would have suspected that right here in New York we're harboring a big cadre of Maoist dance fans, mostly young, full of pep and patriotism, happy to be singing along, tapping their feet, cheering, applauding, as nearly a billion and a half Chinese "artists"—oh no, sorry, that's the entire population of China—rush around the stage striking poses, crouching, clenching fists and waving a gigantic Red Army flag while a corps of cute women soldiers with bare knees fire bravely away at…well, it's not exactly clear who the enemy actually is. He's called Nan Batian, the Lord of the South, and he's definitely Bad, because he's cruel to peasants – especially to our heroine, Qionghua, whom we first encounter in a dank dungeon, bound to a pillar (in a stylish bright red outfit), as she awaits being sold into slavery.
But Nan Batian hasn't counted on Qionghua's spunk. She gets away, she's recaptured, she's beaten and left for dead, she's revived in a thrilling rain storm, and she's rescued by the hero, Hong Changqing, and sent off to the Red Area to join the Red Detachment of Woman. All this, and we're only two scenes in.
Spoiler: after numerous battles and frolics (we're by the sea; think "Bali H'ai"), and having observed grateful peasants picking lychees and making bamboo hats for the style-conscious soldierettes, and having mourned the heroic death of Changqing and been buoyed by Qionghua's rise through the ranks, we see her rewarded by being named the Detachment's Party Representative, while (according to the program). "The whole community joins the Red Army and the sound of their combat songs ring out: 'March, march, march, forward for victory!'" If you were hoping for romance, forget it – what's on everybody's mind is liberating the coconut grove. But don't think all is gloom and oppression; except for the girl soldiers in their snappy gray uniforms, and the dull though well-groomed peasants, everyone's in pinks, turquoises and scarlets, and very jolly except when dying.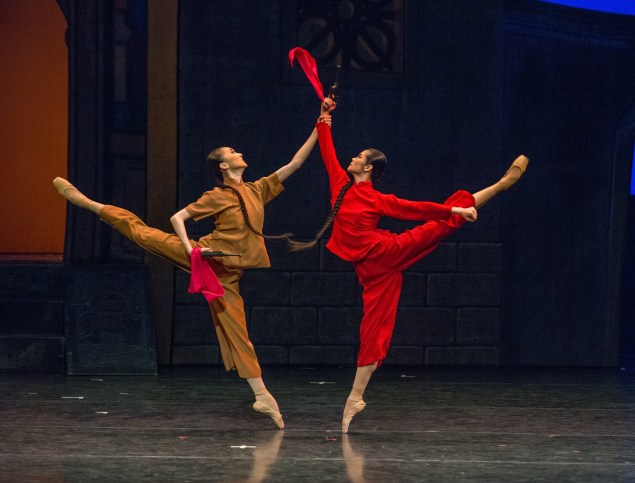 Red Detachment of Women is the most famous and successful of the propaganda spectacles (aka "ballets") staged by the National Ballet of China, anointed as a masterpiece by Madame Mao in 1964 when the Gang of Four was rampant, and performed to date nearly 4,000 times, including the time when it was put on for President Nixon when he was in China on his famous 1972 mission. What can Richard and Pat have made of it? You have to feel sorry for them—at least official visitors to Moscow got Plisetskaya in Swan Lake.
In fact, what can we make of it? What does it spring from? Certainly not from traditional Chinese theater—all that was swept away in the cultural revolution. Its roots clearly lie in the propaganda ballets that flourished for decades in the Soviet Union, but those at least were recognizably dance works, however blatant. Red Detachment makes Spartacus look like La Sylphide. The company's dancers are well trained—prima ballerina Zhang Jian has elegantly pointed feet, a punchy arabesque, a good jump. She's won the big competitions, performed everywhere from Seoul to Copenhagen to Houston, has done all the classics, including Swan Lake and Sleeping Beauty, plus Carmen, Onegin, Sylvia and "many Balanchine ballets," but here she's more like a James Bond sidekick than a classical dancer. The art of ballet as we know it is very thinly pasted onto the whole goofy enterprise. We get a little burst of fouettés here, a sort of tour en l'air there, but no one's fooled—this is animated poster art, not ballet.
So why are young Chinese-Americans turned on by this ridiculous propaganda kitsch from a China they presumably deplore? Don't ask me.
* * *
And then there was Peony Pavilion, a much more recent success for the company, based on a late 16th century play that can take up to 20 hours to perform but here is compressed into two. (You don't have to tell me to count my blessings.) Whereas Red Detachment is terminally ludicrous, Peony is terminally boring. We're told that in China it's often compared to Romeo and Juliet, but you wouldn't know it from the stage action. It's all about dream lovers—that much I was able to grasp, with the help of the program notes. "Du Liniang awakes from a deep sleep in which her subconscious has been playing with her emotions" and is joined by two alter egos "who guide her to learn the truth about her body and to enjoy her restless desire." So far, so good, but that's as far as I can take you.
Du Liniang is dressed in beautiful white, the alter egos in bright red and bright blue, there's a platform that goes up and down and tilts, there's a scene in hell, there's death and ghosts and a lovely snowfall. There's a portrait and several intense passages in which a pointe shoe is clutched by the hero. And there's a big wedding. Not exactly Romeo and Juliet as I recall it, but maybe the weird caterwauling of the Kunqu opera singing explains everything. The rest of the score is made up of music by Guo Wenjing, relieved by long passages from Debussy ("Afternoon of a Faun," "La mer"), Ravel, Respighi, Holst and Prokofiev. (The music for Red Detachment was by five composers, all in a sub-sub-sub Khachatourian mode, as if Khachatourian weren't sub enough to begin with.)
Again, what is Peony Pavilion? Feeble ballet plus Robert Wilson plus Radio City Music Hall? It's not the spawn of any single recognizable art form—it's pastiche glued together by hard-working, sincere people who have no organic relationship to the elements they're working with. The Russian Revolution stored everything away and brought it out again when the storm had passed. The cultural revolution just destroyed. Sadly, the reason these two works have nothing to reveal to us about China and its art is because they're not really Chinese and they're not really art.