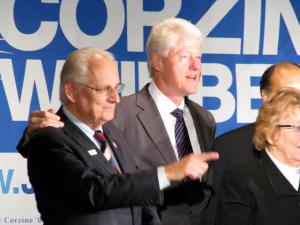 A PolitickerNJ conversation yesterday with U.S. Rep. Bill Pascrell (D-9) brought back memories of the 2012 campaign trail, when Pascrell enlisted the help of old pal former President Bill Clinton in the closing days of one of the most fascinating Democratic Primary elections of recent vintage.
There was an election, however, when Clinton was not in demand here in New Jersey.
Part of what made Pascrell's war with U.S. Rep. Steve Rothman intriguing was the larger rivalry at work between Clinton and President Barack Obama, four years removed from Obama's triumph over Hillary Clinton in the 2008 Democratic Primary for President. Rothman was the only member of the New Jersey congressional delegation to support Obama over Clinton in that primary. Obama's people dispatched chief political adviser David Axelrod to the trail in support of the Bergen Congressman.
When Pascrell turned to Clinton for help in 2012, considerable history abided between the two politicians.
Pascrell entered Congress at the beginning of Clinton's second term as president. In 2008, he not only backed Hillary Clinton, but could be seen wiping away tears in New Hampshire as he and other partisans received news that the Illinois senator had beaten their candidate in the Iowa caucuses.
When he found himself in his own primary battle, Pascrell beckoned Bill Clinton to appear at his side, which the former President did, amplifying his presence with robocalls and radio ads in English and Spanish. It was difficult to walk down the street in Paterson during the closing days of that primary without hearing Clinton's southern drawl blaring from speakers atop passing cars plastered over with Pascrell paraphernalia.
Pascrell won that election with Clinton's help.
In the words of veteran Democratic Party operative Tom Barrett, "Clinton turned New Jersey into a blue state," noting Ronald Reagan's much examined success (twice) in the Garden State and the battleground dynamics at work in 1992 when incumbent President George Herbert Walker Bush campaigned in Madison with former Governor Tom Kean on the eve of Election Day.
Ever since that time, pols have welcomed Bill Clinton and association with the former president. In the words of one fiercely pro-Labor Democratic politician recently in an interview with PolitickerNJ, "NAFTA was the worst thing imaginable and Clinton championed it, but Clinton is my favorite president."
That's Bill Clinton's mystique.
Yet, there was at least one election when  Democrats prevented Bill Clinton from campaigning here for a statewide candidate. Veteran political strategist Bob Shrum wrote about it in his book "No Excuses."
It was 2000, and Wall Street guru Jon Corzine was running for a U.S. Senate seat against U.S. Rep. Bob Franks – a close election. Having weathered the Monica Lewinsky scandal, the outgoing President was campaigning in New York for his wife when he called Corzine and offered, on the final weekend before Election Day, to  appear with the Democratic U.S. Senate candidate.
Corzine happily agreed.
But when Shrum, who at the time was working for both Corzine and Presidential candidate Al Gore, found out about the campaign event, he called Corzine and told him to call Clinton back and make up an excuse for why they couldn't make it happen.
Why?
From Shrum;s book: "I called Corzine's pollster, Doug Schoen, Mark Penn's partner. I half-expected him to say the Clinton visit was fine. He said we had to stop it. The race was too tight. African-Americans were already going to turn our heavily for Gore and Corzine; but Corzine needed some of the normally Republican-leaning moderates he appealed to as a businessman – and anyway he'd win if stayed the course. We couldn't afford some new big event that would have an unpredictable effect."
A reluctant Corzine carried out Shrum's command and ended up beating the late Bob Franks 50.1% to 47.1%.
Someone later told Clinton that it was Shrum who kept him out of New Jersey. The campaign consultant wrote a letter to Clinton to explain why he had instructed Corzine as he had and in reply he received the following note from the President that December:
"Dear Bob:
Thank you for your letter of September 13th – Corzine didn't lose, so no harm done – I believe a different strategy would have produced a victory for Al Gore but no one discussed it with me after I talked with Joe Lieberman the day his selection was announced. We are where we are. I will always be grateful for your help on the State of the Union speeches. Best to Marylouise. Bill Clinton."
When Corzine ran for reelection as governor he called on Clinton, who came in to do a late appearance in Essex County alongside the Democratic candidate. More significantly, Corzine had a final weekend campaign event at the Prudential Center in Newark with Barack Obama – controversial at the time and a follow-up to the governor's much-criticized campaign season supporting role with the President at the PNC Arts Center in support of Obama's healthcare initiative.
Corzine leaned heavily on associations with the overwhelmingly popular Obama a year removed from the latter's historic 2008 victory. But it didn't work finally as Corzine lost to Chris Christie 45% to 48.5%.