For the busy New Yorker who'd like a facial but hasn't the time to spend all afternoon at the spa, a brand new hotspot in the Flatiron District might offer an ideal alternative.
Joining the ever-growing ranks of boutique one-stop salons is Heyday, a facial bar that opened last month at 1130 Broadway. A clean, modern, open-concept space with around 10 geometrically-divided stations, the salon offers 30- and 50-minute treatments ($60 and $95, respectively), each completely customized to your personal skincare needs.
Heyday's mission, cofounder Michael Pollak told me when I stopped by to test out a 30-minute treatment, is to break facials free from the traditional spa set-up—to make the experience feel less "foreign."
"We want it to be friend and familiar, like you're walking into your living room," he said. "We all love beautiful resort spas, they they feel foreign—not like you can walk in after a workout." Heyday's ideal customer is someone who might go to SoulCycle, grab a facial, and then stop in at neighboring Sweet Green for dinner.
Heyday also makes facials more accessible by customizing each treatment to your own face—"you'll never open up a menu and see 18 different facials to choose from," Mr. Pollak said.
Instead, estheticians select treatments and products—many of which are vegan, all-natural and organic—based on detailed conversations about your lifestyle and skincare goals, plus a close observation of your actual skin. For me, that included an enzyme peel and blue LED light therapy, among a host of other lotions and scrubs, each more delightfully-scented than the next. At the end of each session, Heyday makes a digital record of exactly which treatments and products you used. That way, they can track, overtime, to which items your skin best responds.
That element of personalization—as opposed to letting clients choose from a daunting list of specific facial treatments—makes Mr. Pollak see Heyday's estheticians as "personal trainers," in a way. You communicate your goals, and they determine the best way to meet them. "You wouldn't go into a gym and say, 'I want to do these bench presses.'"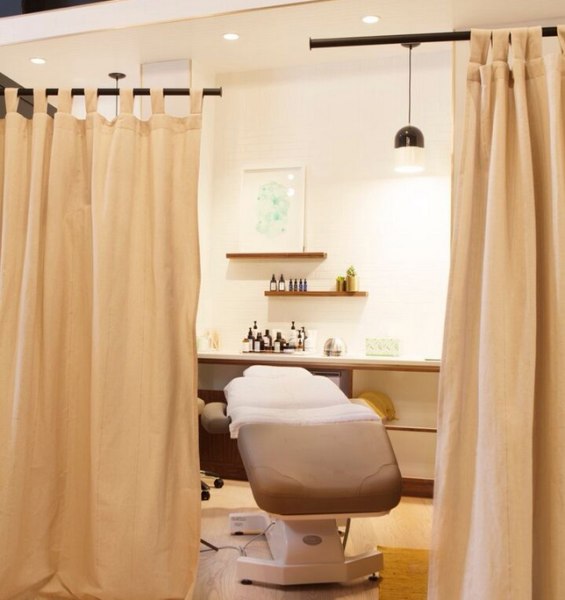 Since opening on June 1, the salon has enjoyed great traffic, Mr. Pollak said, with many clients coming in off the street. Heyday shares something in common with nearby boutique yoga studio Y7: they've been noticing a growing number of male customers—something Mr. Pollak partly attributes that to the salon's gender-neutral design.
"They don't feel like they're in some fluffy pink spa," he said. "And they're coming in without their girlfriends, too!"
Heyday's staff recommend clients get facials once a month, since skin cells renew every 28 days (that's another upside to visiting Heyday—you learn stuff you never knew about your own face). A variety of monthly membership packages are also available for $73 to $150 per month.
Beyond the realm of beauty, Mr. Pollak sees Heyday as more of a health and wellness salon.
"Your skin is the largest organ in your body; it's the think we face the world with," he said. "We're giving people tools to take care of it."