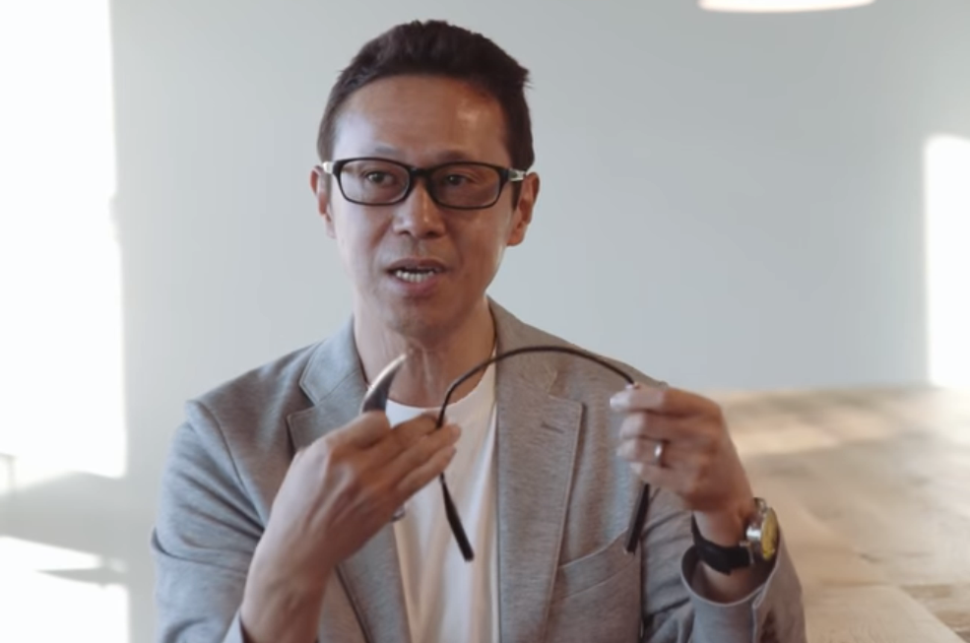 We've got romance fatigue here at the Observer. Seriously, dating apps? Please stop. Farmers Only hit the peak of what today's technology is capable of. That said, a new wearable device out of Japan might know it when you dig someone. That would be new.
Imagine if you went to a party and everyone were wearing it. If everyone opted into notifications, the associated app could send you a notification when you're talking to someone and make their heartrate pick up. Then, you could ask for digits with confidence. That would be something new in the technology of love.
That use case is just in the idea phase now, for Jins Meme, a product that won't see the light of day in the U.S. until sometime in 2016, according to the company's PR manager, Lilian Wouters. In August, though, Jins will first introduce Americans to the idea that glasses aren't just for vision correction, with Jins Screen, which reduces the amount of blue light that reaches your eyes.
Computers, mobiles and tablets all blast us with the stuff all day, which makes our bodies feel like it's day time constantly. Academics have been recommending better managing exposure to blue light.
So Jins Screen (available now in Japan as "Jins PC," because 'PC' refers to all computers there, Ms. Wouters explained) is one possible solution (here's another). Limited tests by the company in Japan showed that it reduced eye strain after extended computer work. The glasses will hit the market on August 8th. Basic glasses will cost $60. With prescription lenses, it will be $120. Other designs will have different prices later on.
We had our Senior Style Editor, Dena Silver, give a look at the design above. While qualifying that she doesn't generally have strong opinions about glasses, she assessed the design as non-objectionable.
Jins also has eye glasses for reducing the effect of pollen and for combatting dry eye, neither of which are available in North America yet. The company also makes regular glasses. Its only US store is in San Francisco.
Jins Meme, which will first become available in Japan later this fall, takes the idea of glasses as more than vision correction a bit further. Considering how badly Google Glass tanked, moving toward another face-based wearable is bold, but Jins is emphasizing that this device is about personal insight, not Glasses creepy constant camera. To that end, Jins Meme doesn't have a camera. Second, it balances its bulk behind both ears, making it look just like regular glasses from the front. Third, the company is launching its glasses in a form that actually makes them usable to people who wear glasses (at first, Google didn't, which was very weird).
In fact, the whole design for Jins Meme puts the computing element into a platform that can fit into a number of frame designs, so that the company doesn't have to start over every time it wants to introduce a new look, as one of the product's designers, Satoshi Wada, explains here:
[protected-iframe id="cbfcc8d27f8443fc2f4db8579aa39eb5-35584880-79214703″ info="https://www.youtube.com/embed/5-eXHLJMeow" width="560″ height="315″ frameborder="0″ allowfullscreen=""]
Jins Meme may not look out on the world, but it is looking at you. The tagline for the product is "Eyewear that lets you see yourself." The product has two sensors that you're already carrying around with your phone, gyroscopes and accelerometers. There's good reason to put these on your head, as academics explain in this video.
What Jins Meme tracks that's more interesting, though, is the movement of your eyes. The technology is called electrooculography. Masahiko Inami, a professor at Keio University, says in the video above that he thinks that tracking this data, along with head movements, could enable the technology to assess moods. Including, he says, how you feel about another person, a point also visited in the first Jins Meme video, featuring two of the technologists who helped envision the device and its associated app.
Hypothetically, if eye movement data were fed into an app and shared with other Jins Meme apps within a social setting, you could imagine a future where a your mobile could use that information to let you know if someone you are talking to is into more than just your conversation. Hopefully, if they opt in, but who knows where this world will take us?
Jins Meme uses Bluetooth LE to send data to mobile devices. A software development kit will be released to develop applications soon.
We asked Ms. Wouters why Jins thought glasses made sense as a platform for wearables. She said, "We only make glasses." This video makes the case a little more strongly:
[protected-iframe id="852574ad612d047abb918a38e83f2213-35584880-79214703″ info="https://www.youtube.com/embed/HEOCn9go4E0″ width="560″ height="315″ frameborder="0″ allowfullscreen=""]