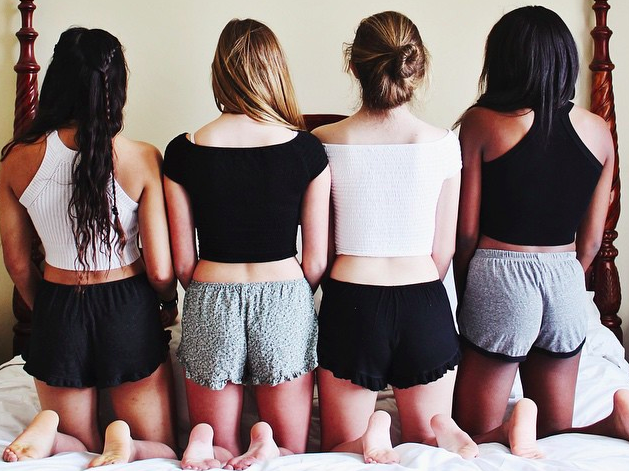 The notorious "one-size-fits-all" clause remains a major cause of contention within the fashion world, as it continues to creep its way onto the tags of more and more labels. The trend itself began to emerge with Brandy Melville, the wildly popular Italian brand that's recently developed quite the cult following in the United States.
The clothing—casual European couture meets Coachella-wear meets socially acceptable pajamas—is meant to be affordable for a demographic of girls and young women ranging from ages 15 to 25. They've been robbing stores like Abercrombie & Fitch and Delia's of their popularity and prestige in the teen market since their 2009 arrival in Westwood, L.A., and yet it's debatable what, exactly, it is that makes Brandy so special. Most believe it's the single-sizing scheme—what the store jokingly calls "one size fits most." The salesgirls and dedicated customers will tell you this is a good thing because it makes shopping "easy"; an item either looks good, or it doesn't. End of story.
The problem here, as has been addressed by a number of furious women, is that one size does not, in fact, fit all—or most, or even many. The one size that is available at Brandy Melville is a size that restricts itself to small-chested and smaller-waisted girls exclusively.
The vast majority of the skirts available on the Brandy website list 12″ to 14″ as the waist measurement (capable of stretching to approximately 25″). Compare that to Urban Outfitters' size chart, and you'll see a garment that size would be labeled size 0. Brandy's extremely popular James Tank, available in over 11 different colors and prints, is 19″ in length with an 11″ bust. These fabrics are thin with an impressive threshold for stretch, but even a 35″ bust, according to Victoria's Secret, is only the bra-size equivalent of a 34A.
Nearly all of the models depicted on the website in their narrow-hipped splendor are at least 5'7″ with waists no larger than 25″. In 2012, the CDC reported that your typical American 16-year-old is approximately 5'3″, with a 31″ waist. This means that the girl that Brandy so successfully markets itself to is dwarfed in height by the store's leggy models, with a waist line that far exceeds the measurement of the majority of the store's clothing. While the lack of size-diversity means that the clothes are often meant to hang loosely, sans-structure on a variety of body shapes, this holds true only if those body shapes err on the side of small.
In the attempt to compete with the monopoly Brandy seems to have built on young adult retail, other brands, too, have attempted to embrace the L.A. girl, laid-back-chic aesthetic Brandy maintains, and that often means adopting the one-size-fits-all policy as well. The most prominent example is the pop-up offshoot of American Eagle Outfitters that's recently opened it's doors on Broadway in SoHo for the summer, called Don't Ask Why. The clothing, noticeably similar to the line available just down the street at either of the two Brandy SoHo locations, "fuses the effortless street style of New York, L.A. and Milan with festival-inspired edge," according to American Eagle's website. Each garment only comes in one size.
Perhaps the transition to one-size-fits-all retail is a way to survive in a market that seems to have outgrown the once-essential clothing items available at stores like Abercrombie, Wet Seal, and Aeropostale. American Eagle, too, found itself struggling to hold the interest of the generation of instagram-obsessed tweens and teens shopping primarily for crop tops and distressed denim shorts. In January of 2014, AE CEO Robert Hanson was abruptly fired with little statement from the company, and the AE chairman, Jay Schottenstein, assumed the role of interim CEO.
In 2013, under Mr. Schottenstein's supervision, the company released their Made In Italy line, one that closely resembled the Brandy aesthetic. According to a 2014 press release, following the release of the new line, AE found that their net revenue was steadily increasing throughout the remainder of the year. "[American Eagle] delivered higher margins and 16% adjusted earnings growth over last year, in a highly challenging and competitive marketplace" Mr. Schottenstein commented in the document. AE had found a way to remain relevant.
Don't Ask Why, in all of its crop-topped, single-sized glory, will continue through August 2015 in its Broadway location, as a larger extension of the "Made In Italy" collection. American Eagle global brand president Chad Kessler felt that the pop up location was a way to test-run the collection, in order to determine which products were worth streamlining into the global AE output.
"The line is a very easy, effortless way to give our girl's wardrobe an edgier, trendier and cooler update," an intern commented on AE's blog. The collection is the somewhat hipper city-kid offshoot of the American Eagle classics. According to Mr. Kessler, If the store continues to enjoy its current level of success, AE will consider opening up a permanent Don't Ask Why location.
That means not one, but two major young adult labels will tirelessly uphold the one-size-fits-all mentality in SoHo. "Doing it in one size allows us to see a style, fit it once, and go straight into production. It makes it faster for us to get ideas from festivals or from the street into the stores, rather than going through the more elaborate fit process we have at American Eagle," Mr. Kessler told Racked New York.
As the Brandy girls have made clear, the strategy benefits shoppers if it makes the process easy. But of course, it's only easy if the one and only available size happens to be your size. The successful establishment of their new pop-up means American Eagle can hold onto their teenage and young adult demographic, but at the price of eradicating the time it takes to create clothing that accurately fits women of all sizes.