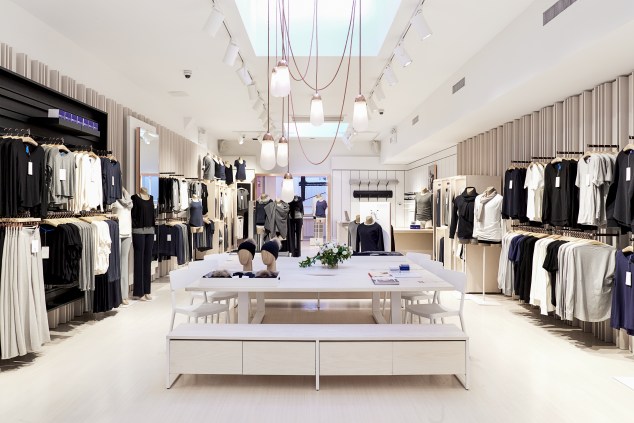 When people first encounter Kit and Ace, they often associate the clothing brand with Lululemon. Who can blame them? Its two founders, JJ and Shannon Wilson, are the son and wife, respectively, of Chip Wilson, the oft-controversial executive who started the massive yoga empire. But the Vancouver-based brand, which has been in a "beta" phase, of sorts, since its launch last year, is gearing up to become a household name come fall—and in its own right.
Hanging from the walls of Kit and Ace's Nolita store is the company's bread and butter—the original products with which it launched last year: men and women's shirts made from "technical cashmere." The unique fabric made from cashmere and other fibers—the result of two years of scientific experimentation—purportedly will never stretch out or bag, and can be tossed in the washing machine and dryer, no problem.
"We designed it for the West Coast 'full contact' life," Mr. Wilson told the Observer, "[someone] sporty, adventurous—a young professional who's successful, and is living a really exciting life."
Since launching as a pop-up concept in Vancouver, Kit and Ace has been rapidly expanding—to the admitted surprise of its founders—on the strength of its magical cashmere blend alone. They now have around 20 stores across the U.S. and Canada, with plans to up that number to 50 by mid-2016, including locations in the U.K. and Australia. For the past few months, they have also been driving their so-called "Copper Studio"—a copper-painted Airstream trailer filled with Kit and Ace shirts—around Canada and the U.S., testing out potential new markets. "The response has been incredible," Mr. Wilson said.
"We looked at it as being in beta," Mr. Wilson said. But "[we] started to get such good feedback on the product, and we started to get such awesome real estate opportunities, that it just sort of spiraled into the growth rate that it did."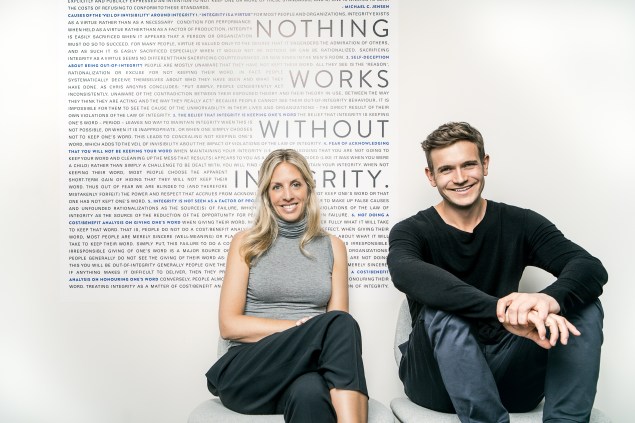 Expect to see heaps of new products in Kit and Ace's stores come fall 2015, in addition to the technical cashmere shirts. Mr. Wilson refers to the season as the company's "flagship product drop—your first real view into what Kit and Ace potentially is going to look like, beyond just technical cashmere t-shirts," he said. There will be a much broader range of products, from outerwear, scarves and hats to mid-layers, bottoms, and even men's suiting.
The team is also working on developing a broader range of technical fabrics—silk, Mr. Wilson hinted, could be on the horizon. "Really what we're up to is technical innovation in fabrications," he said, "and really trying to understand how people are wearing their clothing throughout the day."
"If you can name the fabric and put technical in front of it, we're working on it," he said. "If I could make a chiffon technical, I would do it."
Kit and Ace might be coming into its own this fall, but Mr. Wilson will not forget the evenings and weekends he spent, growing up, in Lululemon stores; "I refer to it as my third parent," he joked.
As for lessons he learned from being involved with the yoga brand, "what I usually tell my team here is that we're bringing the best of the past forward," Mr. Wilson said.
"I don't think we would be able to have such successful brand, have such successful products, and be able to get such successful real estate if we didn't have that previous experience," he said. "I would never take best practices from anywhere and not bring them forward."