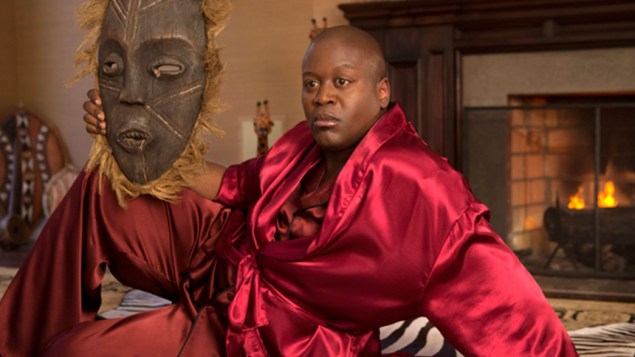 If we were forced to take one and only one thing away from Netflix's break-out comedy Unbreakable Kimmy Schmidt — minus the Emmy nods, the incredible Jon Hamm cameo, or just the general warm feelings the show gives you — it would be the re-emergence of  the brilliant Titus Burgess. Before Kimmy, Mr. Burgess was probably best known for his stage career and Tony win in 2009 (or maybe the best, most exasperated Tony performance in history). But despite a small yet memorable stint on Kimmy creators Tina Fey and Robert Carlock's first project 30 Rock, it appears Mr. Burgess' acting career once hit an alarming stand-still.
The actor had this to offer up during today's Unbreakable Kimmy Schmidt panel at the Television Critic's Association press tour, after the cast was asked about their "unbreakableness":
"I'm kind of the new kid on the block here, and I was almost ‑‑ or not almost.  I actually had started accepting offers to teach at universities.  I was on staff at Marymount Manhattan College, about to teach voice, and my manager called and said, "I think you should quit  and that, you know, let's give this another go‑round."  Things were very slow, just to speak very candidly, but very specific type of a performance.  I can do lots of different things, but it's hard…you have to put me in and then let me do it versus the inverse.  And so to have the great pleasure of waiting it out, I think my unbreakableness is about resilience and patience…"
And to think, there's an alternate universe out there where some student at Marymount Manhattan College is practicing their thesis with Peeno Noir.