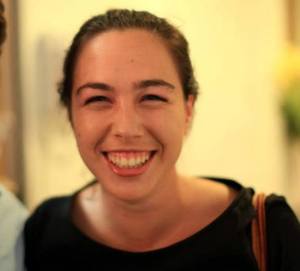 Two of the top contenders for an open Queens City Council seat touted new endorsements this morning.
Rebecca Lynch, a former City Hall staffer and Democratic district leader, announced she had won the backing of the City Council's Progressive Caucus, a left-leaning bloc of 19 council members. The endorsement is further evidence that the city's left-leaning establishment, including leading labor unions, is coalescing around Ms. Lynch's candidacy in the Democratic primary.
"Rebecca will be a hard-working, independent, energetic council member who will fight for seniors, working families, young people, and life-long residents of the district," said progressive Council members Brad Lander and Julissa Ferreras in a joint statement.
The endorsement will likely mean another avenue of fundraising for Ms. Lynch, who has about $56,000 in the bank and is expected to receive public matching funds soon. The Progressive Caucus held a fundraiser last year for State Senate Democratic candidates.
Barry Grodenchik, a former assemblyman and deputy Queens borough president, announced he had secured the backing of Teamsters Local 831, which represents the city's sanitation workers. Ms. Lynch has the endorsements of the Working Families Party and larger labor unions, including 32BJ SEIU, the Building and Constructions Trade Council, and another Teamsters local, but Mr. Grodenchik is the Queens Democratic Party's candidate. Mr. Grodenchik is in the process of locking up the support of most Queens elected officials, past and present, in the district.
Mark Weprin, the councilman who represented the area before resigning to take a position in the Cuomo administration, also endorsed Mr. Grodenchik. In the money race, the former assemblyman is neck-and-neck with Ms. Lynch, with about $46,000 cash on hand.
Ms. Lynch's progressive endorsements could come with some risk. The leafy eastern Queens district, roping in neighborhoods like Bayside, Oakland Gardens, Bellerose, Floral Park and Glen Oaks, is not known for its liberal politics, and Mr. de Blasio is deeply unpopular. Democrats tend to be of the more moderate variety, and could balk at choosing a candidate with so much support from top liberals. (A conservative Democrat in the race, Bob Friedrich, has already taken issue with Ms. Lynch's City Hall ties.)
For political insiders, the race also carries the intrigue of pitting two of the leading consulting firms in the progressive world against one another. Ms. Lynch has retained BerlinRosen, known best for being Mr. de Blasio's campaign consultant, to steer her campaign, while Mr. Grodenchik has tapped Red Horse Strategies, a firm with a reputation for winning local races and carrying out an effective get-out-the-vote operation.
Mr. Grodenick and Ms. Lynch also have similarity that could come back to haunt them both: they were both registered lobbyists. Mr. Grodenchik worked for Parkside, a firm with close ties to the Queens Democratic establishment, lobbying on behalf of the scandal-plagued Flushing Willets Point Corona Local Development Corporation. Ms. Lynch lobbied for Major League Soccer as they tried and failed to bring a soccer stadium to Flushing Meadows-Corona Park, an effort that drew many critics.
Ali Najmi, an attorney also running in the Democratic primary, said he would introduce legislation to prohibit the sale of any parkland without a super-majority approval by the City Council. Parkland alienation was a top issue issue in the soccer stadium controversy.
Also running in the Democratic primary are Satnam Singh Parhar and Celia Dosamantes, though Ms. Dosamantes is the only candidate without filings on the Campaign Finance Board website. Joseph Concannon is running unopposed in the Republican primary.
The Democratic primary will be held September 10.
This story has been updated to reflect that Mr. Weprin already endorsed Mr. Grodenchik.