Just about the only thing we can safely guarantee about future trends, is that something your grandmother wore will eventually find its way back onto the runway—contemporary fashion is often just clever recycling. Between the summer's ever-increasing tribe of festival-attending, Free People clad neo-hippies, the thrift-store frequenting, bearded and bespectacled Brooklynites, and the dapper, manicured men walking the downtown stages of this summer's New York Men's Fashion Week, it is obvious that vintage apparel is perpetually relevant. The difficult part is simply choosing the pieces that are worth bringing back.
That's why Topshop has come up with a clever scheme to take the work out of trend recycling: they've designed a campaign to let you choose what clothing items are worth bringing back. July 16th marks the launch of Topshop's new archive collection; a selection of 33 re-editions of vintage Topshop classics. But in addition to the ability to purchase these items, customers are encouraged to assist in the making of future Topshop archive collections with the British brand's social campaign #BringThatBack. Shoppers are meant to post images of their most beloved vintage Topshop items along with the #BringThatBack hashtag as an indicator of which styles will make worthwhile reproductions.
Keeping with their commitment to irreverently cool British fashion, Topshop has chosen Ella Richards, granddaughter of Rolling Stones Keith Richards, as the face of the campaign. The collection will be available online and in stores on July 16th, full of disco wide-flare blue jeans, gaudy (and somehow, simultaneously trendy) 80's prom dresses, and 70's smock dresses in refurbished florals and polk-a-dots. The idea is to span their limited-edition revisions of older pieces across a number of decades, to keep the vintage line versatile. The collection will be a part of an ongoing series aimed at customer-brand interaction, in the hopes of bringing back a number of cult-classics.
For the number of vintage pieces that have found their way into the typical modern closet, Topshop felt it was high time someone allowed the people to choose which trends were weaseling their way back into the spotlight. The archive collection is a way to re-access Topshop favorites and to do a little self-advocating for the re-emerging nostalgic styles that are worthy of a second run.
Here's a few of this season's pieces, and the classic Topshop designs that inspired them:
With poet sleeves and a mid-calf hem, Topshop stayed true to their old school classic.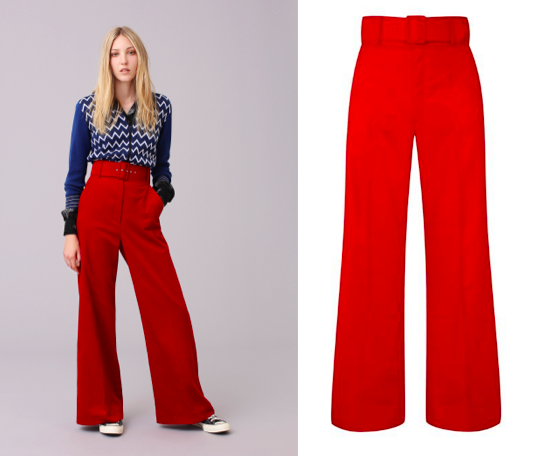 Wide-flare cords in cherry Red, every bit as bright as they used to be. 
The brand's contemporary, ribbed remake of an old going-out staple – a 90's favorite, more than likely sitting in Kate Moss' closet somewhere.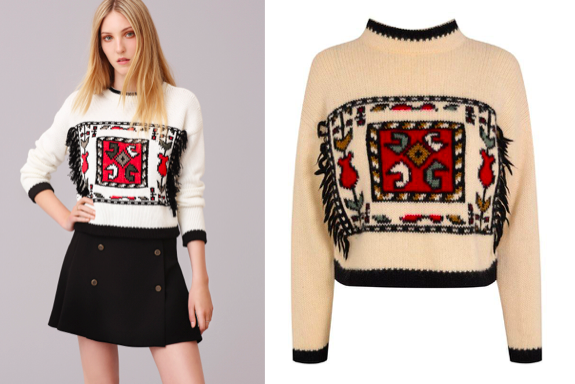 An old patterned retro knit discovered in Topshop's archives was the perfect find.